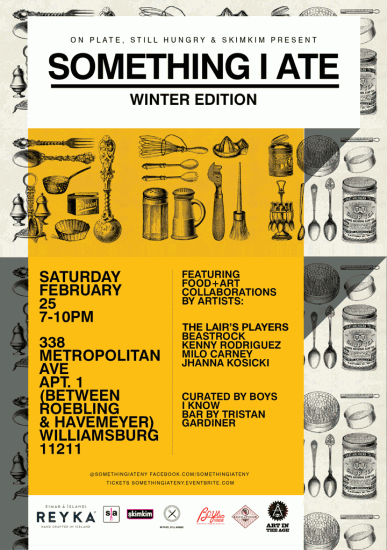 The blending of art and food have always been one our favorite intersections. (Canal and Eldridge is also nice, if you like Chinese food.) So we wanted to say thanks to Daily Candy for sending notice of this "eating installation" and pop-up supper into our inbox. Called Something I Ate, it all takes place in somebody's house in Williamsburg, Brooklyn.
The group behind the gathering hosts an event for each season–sourcing appropriately, natch–and asks artists to document seven days of eating via some art form, which can be photos, music, live performance, painting, sculpture or anything in between. The meal, obviously, also reflects what the artists ate. Buy tickets for the event, this Saturday night, right here.
And if art is your second area of interest (food being first) be sure to  check out NY1 on Friday, when we'll be on 37th Street covering the Horticulture Museum of New York's seed pack exhibit, which is called the Art of the Heirloom.
More from the event planners on Something I Ate:
"Artists document seven days of their personal eating experience, culminating in exclusive works using whichever media they prefer–photo, paint, jewelry, fashion, film, music, etc. The idea is that from food, we derive pleasure, satisfaction, energy and inspiration (or vice versa) and these elements, whether cognizant of them or not, ignite our creative fires. With "Something I Ate", we intend to share various artists' true perception of food & sustenance in everyday life.
Following final submissions of the exclusive work, each artist will pinpoint a defining meal, ingredient, or experience and Sam Kim of Skimkim Foods will present a menu based on the artists' eating. The Bar is curated by Tristan Gardiner with Art In the Age, Reyka Vodka, and Artisan Elixirs. Sip on decadent Chupon drinking chocolate all evening to satiate your sweet tooth. Live music will be provided by our artists, The Lair's Players, who will present improv using samples from their week of eats. You'll hear familiar sounds like crunching potato chips and frying bacon by a 3-piece ensemble."