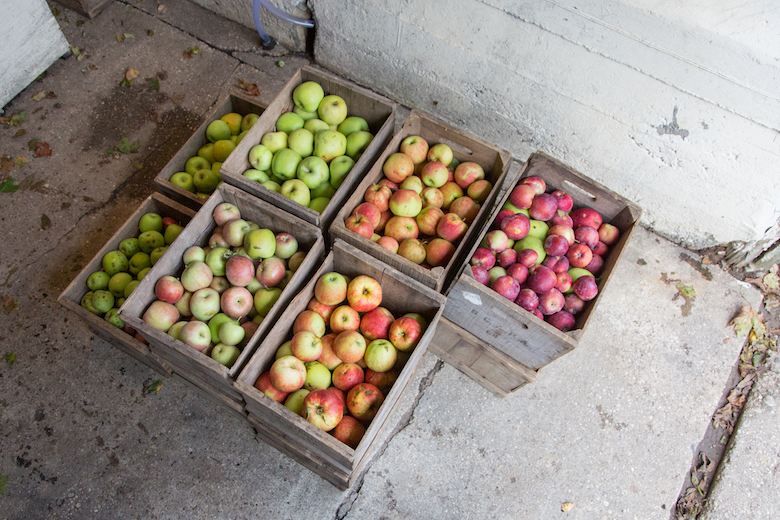 Cider Week Hudson Valley is finally here! There are so many great events to check out that you might find it hard to keep up. And although it's hard to choose which events are the coolest (truth be told, they are all worth the visit), here are some highlights that represent the breadth and depth of this year's Hudson Valley Cider Week. 
Tuesday, June 23 — 6:00 p.m.
Max Pritchard from Rose Hill Farm Tastes and Talks Cider on Instagram Live with Edible Brooklyn
Join Max Pritchard on Instagram Live as he discusses cidermaking and the specificity of New York cider. Access it on Instagram here.
Wednesday, June 24 — 3:00 p.m.
Tie One On Tie-Dye Kit to Go
The 1960s are back with this fun-for-all activity. For $25, you can pick up a tie-dye kit in celebration of the Cider Week Hudson Valley 5th Anniversary. Pick-up is at 4 Warwick Turnpike, Warwick, NY. Growlers are also available for purchase.
Thursday, June 25 — 5:00 to 6:00 p.m.
Sip and Stretch with Pennings Farm Cidery
Yoga and cider at the same time? Consider us sold. Yoga instructor Nico will offer a gentle yoga flow that pairs perfectly with ice-cold New York cider. There will also be a virtual link available for those looking to practice from home. Pick-up cider on Wednesday or Thursday from 3 to 7 p.m. so that you're prepared for class. Class is suitable for all levels. https://www.penningscidery.com/togo
Friday, June 26 — 5:00 p.m.
Happy Hour Cider Cocktail with Angry Orchard and Spirits Lab
Scott Ramsey, Executive Director of the New York Cider Association, will offer a session on cider cocktails with the Spirits Lab, the Hudson Valley's newest craft distillery, and Angry Orchards cider. The featured cocktail will be the Basque Sangria, a mix of Angry Orchard's Supernatural Cider, Spirits Lab Vodka, peach and apricot liqueurs, and fresh lemon juice. Purchase Angry Orchard cider here and Spirits Lab vodka here. Tune in live to the YouTube channel to view this event at the scheduled event time.
Saturday, June 27 — 2:00 to 3:00 p.m.
Sip N' Symmetry
Merchant Daughter Cider will host an afternoon tasting of three ciders along with Hudson Valley ambi-artist Donna Mikkelsen, who will instruct in drawing in symmetry. The cider-tasting will include the Dry, Semi-Dry, and Clara's Reserve. You can purchase ciders at Taste NY, DiCicco & Sons, Suburban Wine and Spirits, All Seasons Wines and Spirits, Boutique Spirits, Wine and Cider or online: https://www.merchantsdaughter.com/shop. Tune in live to the YouTube channel to view this event at the scheduled event time.
Additional supplies needed:
3 sheets of paper
2 markers or pens
Tape (scotch tape, masking tape—whatever you have in the house)
Sunday, June 28 — 6:30 p.m.
Farm Dinner Date with Glynwood and Chef Suzanne Cupps of 232 Bleecker
Chef Suzanne Cupps will be creating a vegetarian meal that will pair perfectly with ciders from the Hudson Valley. Tim Buzinski, of Artisan Wines, in Beacon, will curate the cider pairing. Guests will pick up a $50 farm ingredient box and ciders on 6/27. The actual dinner date will be aired on the online platform and is free to view. https://www.glynwood.org/events/
Menu:
Suggested cider aperitif: Treasury Half Cent
Summer Squash Cavatelli
paired with Rose Hill Farm, Bandwagon or Metal House Arista 
Strawberry-Rhubarb Galette
paired with Orchard Hill Cider Mill Gold Label Cider