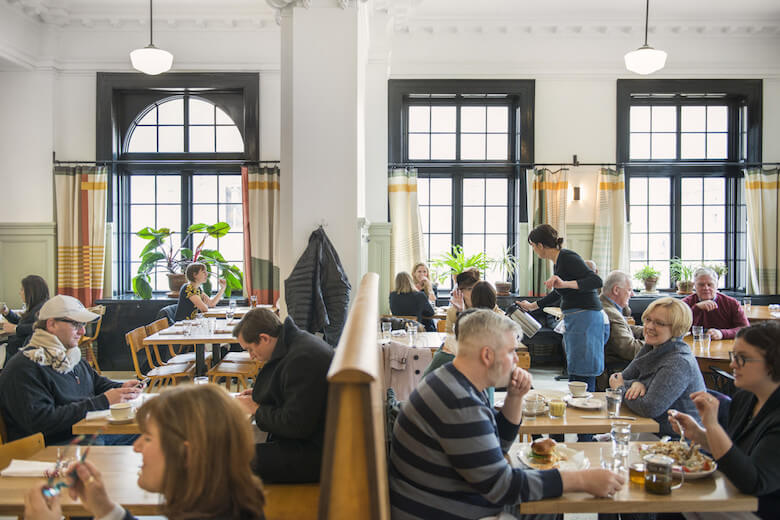 Google "Pittsburgh" and you'll inevitably come across words like renaissance, revival and comeback dotted throughout various articles about the Rust Belt city. Now that Pittsburgh is experiencing the most exciting and transformative resurgence since its glory days as an integral steel city during Andrew Carnegie's era of industry, its residents, affectionately known as yinzers, are being treated to an influx of outstanding new restaurants, bars and hotels.
It must be noted, however, that some of the city's must-visit establishments existed long before this new chapter. As someone who grew up in the Burgh and frequented some of these places during college too many years ago, it's heartwarming to see my city blossom from a former steel town to multifaceted travel destination. From dive bars that double as earplug-recommended punk venues, to James Beard Award semifinalist-backed restaurants, to one of the most recognizable names in the hotel industry, here's where you should eat, drink and stay in Pittsburgh, Pennsylvania.
Where to Stay
Ace Hotel Pittsburgh
Perhaps the biggest brand name to hit Pittsburgh since Heinz Ketchup, the Ace Hotel Pittsburgh has officially put the Steel City on the map as a must-visit destination. Boasting a 4,550-square-foot "gym" used as an events space, the former YMCA building offers an undeniably sporty, vintage charm. The rooms, which come in small, medium, large and suite sizes, are stylish, but practical, kind of like your favorite track suit.
Kimpton Hotel Monaco Pittsburgh
Ace isn't the only major hotel chain claiming space in the Burgh, however. San Francisco–based Kimpton has brought its signature colorful whimsy to the once-soot-covered city with its Hotel Monaco Pittsburgh. Each room is outfitted with plush furnishings in a vibrant palette of greens and yellows, bird cage chandeliers, and — upon request — a live goldfish to make your stay less lonely.
Where to Eat
Morcilla
Considered a culinary legend in Pittsburgh, four-time James Beard Award nominee Justin Severino opened his second restaurant, Morcilla, in December 2015 after his first establishment, Cure, catapulted him to the forefront of the city's — and country's — food scene. Morcilla offers modern takes on traditional Basque cuisine, like salt cod croquettes, pork belly à la plancha, and charcuterie galore.
Chengdu Gourmet
With Chengdu Gourmet, James Beard Award semifinalist Wei Zhu brings a refreshingly authentic waft of Sichuan pepper and chile oil to a city raised on General Tso's Chicken. The Squirrel Hill restaurant offers an extensive menu, filled with favorites like Chongqing chicken, fish fillets boiled in spicy broth, and double-cooked pork belly, along with dishes foreign to even the most native of customers, like yams with blueberry sauce. There is also, of course, a full American-Chinese menu, including — what else? — General Tso's Chicken.
Hyholde
One restaurant has existed long before the city's current renaissance, but it looks like it's existed for centuries before that. French-American restaurant Hyeholde will transport you straight to medieval times. Built in the 1930s, the castle-like building is comprised of multiple dining rooms filled with tapestries, dark wooden furniture and wood-burning fireplaces. The menu, created by executive chef Brent Peyton, who cut his teeth in Michelin-star restaurants like Charlie Trotter's and Guy Savoy, features gamey meals like rabbit cassoulet and pistachio-crusted elk. After dining like a 14th century knight, guests can walk the restaurant's winding paths through four acres of gardens.
Honorable Mentions
Popular taqueria Tako has finally brought inventive Mexican cuisine to Pittsburgh, and the margaritas and cocktails are two more reasons it's a people's favorite. Spoon's executive chef, Jamilka Borges, is yet another James Beard Award semifinalist. Try the farrotto, her take on risotto using farro instead of rice.
Where to Drink
Kelly's Bar and Lounge
Pittsburghers are a no-nonsense bunch, and therefore tend to prefer no-nonsense drinks. That's why Kelly's Bar and Lounge has been a city favorite for decades; it's practically synonymous with stiff martinis. Fitted with vinyl booths and ornamented with a neon martini sign above its entrance, Kelly's exudes a retro cool vibe that attracts the city's hippest clientele.
Gooski's
For even fewer frills but maximum noise, head to Gooski's in Pittsburgh's historic Polish Hill neighborhood. Sitting inconspicuously in the middle of a steep residential street is likely the loudest dive bar in the Tri-State area. Between sets by local and national punk and indie rock bands, patrons can pound PBRs, sip whiskey and enjoy the surprisingly gourmet pierogies. But heed their infamous sign: "Hipsters use backdoor (no exceptions)."
The Allegheny Wine Mixer
On the other end of the spectrum of Gooski's is The Allegheny Wine Mixer in Lawrenceville, a quirky, but legitimate haven for oenophiles. The rotating wine list highlights grapes grown in lesser-known regions, but it's not a gimmick. One glimpse at the bar's online blog and you'll be blown away by the team's knowledge of all things wine.
Honorable Mentions
Cocktail lovers must head to Bar Marco, where the bartender (mixologist might be more appropriate) will surprise you with a tasty sip based on whatever flavor preferences you provide. Butcher and the Rye in the increasingly lively Downtown area has a whiskey wall worthy of any Midtown suit-market.