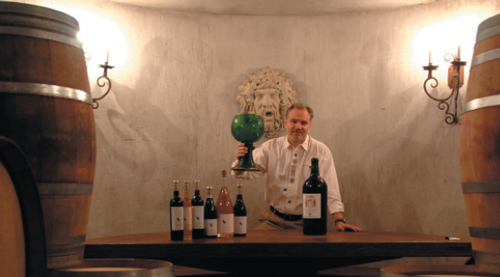 Buds are swelling across Long Island's vineyards, and in another sign of spring, Cornell Cooperative Extension just sent out its first GDD (or "growing degree days") report of the season–a tally of the cumulative grape-ripening heat that farm fields have absorbed and will continue to absorb over the weeks to come.
But since the cellar is still the cozy place to be, Long Island wine country is kicking off April with a series of barrel tastings featuring the first wines from the 2010 vintage–a year with record-breaking GDD figures that meant ultra ripe, flavorful grapes across the region. If you've never tasted direct from the barrel, it's quite the beautiful experience, with the chance for one-on-one conversation with winemakers, and a chance to see these winemakers using an ingenious, pressure-driven glass device called a "thief" to extract samples from the barrels. (Sort of like what we all did, as kids, when we put our thumbs on top of a straw to extract soda from a glass).
Yes, Brooklyn Uncorked (when Long Island wine country comes west to NYC) is just a month away. (Tickets are selling fast.) But why wait until May. Plan a daytrip or book a room and consider sipping from the barrel at these participating wineries. And you can always visit www.liwines.com for more special offers.
Castello di Borghese:
Every Saturday in April 9, 16, 23, 30 at 1 pm: Join Castello di Borghese for the weekly Winemaker's Walk and enjoy the added value of a Barrel Tasting. A guided tour of the vineyard, winery and production facilities will include some wines from the Borghese Classic Tasting, a Barrel Tasting of our 2008 Merlot and a comparison of other bottled vintages. $20 per person. Reservations online at BorgheseVineyard.com or by phone 631-734-5111.
Clovis Point:
Every weekend:
Try three 2010 barrel samples for $5.00 (a barrel fermented Chardonnay, a Cabernet Sauvignon and a Merlot).
Diliberto Winery:
Every Saturday and Sunday in April (except for Easter Sunday April 24) at 11 am and Noon: Wine Cellar tour and barrel tasting. $15.00/person. Tours are by reservation only. Please call 631-722-3416
Jamesport Vineyards:
Every weekend in April: Receive a special tasting of our 2010 Cabernet Franc and our 2010 Petit Verdot paired with local epicurean delights in our new private barrel tasting room. $20 per person
Laurel Lake Vineyards:
Every Sunday in April: Receive a Cellar Tour with a barrel tasting and cheese pairing. Tasting is 5 wines, 2 of them from the barrel. On Sunday only at 12:30. $15.00/person. Reservations required. 631-298-1420
Lieb Cellars:
Every Sunday in April: Special flight of wines including a red & white barrel tasting. $10
Macari Vineyards & Winery:
Saturdays, April 9 and 16, 1:00 pm and 3:00 pm.
Tastings will include 4 barrel samples from our 2010 vintage, and a brief cellar tour conducted by winemaker Kelly Urbanik. $20 per person for General Public/$15 for Macari Wine-Club members.
Must reserve! Each session limited to 30 people. 631-298-0100
Martha Clara Vineyard:
Every Saturday and Sunday in April: Enjoy a flight of four 2010 barrel selection wines (Merlot, Cabernet Franc, Malbec, and Petit Verdot). $12.00/person
The Old Field Vineyards
Sunday, April 10, 1 pm
Compare the 2010 vintage to the 2009 vintage, and French versus American barrels.
$25 per person. Tastings limited to 14 people.
Osprey's Dominion:
Every Saturday in April:
Reserve Merlot Flight for $15 to include:
~ 2010 Merlot (from barrel) UCD Clone 1 from Mattituck Vineyard
~ 2010 Merlot (from barrel) UCD Clone 8 from Peconic Winery Vineyard
~ 2007 Reserve Merlot ("90" from Wine Spectator)
~ 2005 Reserve Merlot (Best in Category – Atlantic Seaboard)
Plus live music every Saturday in April!
Peconic Bay Winery:
Saturday April 16 & Saturday, April 23rd at 11 am:. Receive a brief tour & vertical tasting of our 2007, 2008 and 2009 Merlot. The 2009 Merlot will be a barrel tasting. $10 pp/$5 Wine Club. Each tour limited to 30 guests. Please contact Katherine Jaeger at (631) 734-7361 ext. 105 for reservations.
Pellegrini Vineyards:
With any bottle purchase during weekends in April, receive a complimentary taste of our 2010 Merlot. By appointment only, receive a private tour and barrel tasting in the cellar for $20.00/person. 631-734-4111
Raphael:
Sunday, May 1: Raphael will offer very unique barrel tasting events conducted by winemaker Leslie Howard. Barrel tastings will include a walk through the vineyard and an education on the process of harvesting the grapes. You'll tour our production facility then join Les in the cellar to taste the future wines of Raphael direct from the barrel. There will be a 1:00 p.m. session, with an additional session at 3:00 p.m. if capacity of reservations require; $35/per person. Reservations required. Call 631-765-1100 ext. 101 or 105.
Sannino's Bella Vita Vineyards
Weekends in April:
Receive an educational barrel tasting held in our classic Cantina style barrel cellar featuring one of the 2010 stellar vintage reds. Special also includes 3 tastes of our newest white wine releases.
$20.00 per person.
Sherwood House:
Saturday, April 30 – Barrel Sample Tasting Day at our Jamesport location (1291 Main Road) – Try 3 barrel samples from our 2010 vintage ($15 per person) and order futures at a discounted cost. No reservations necessary.
Shinn Estate:
Every weekend in April:
Taste our 2010 Merlot and 2010 Malbec from barrel compared with current vintages of these wines to see the progression. $20 per person
Sparkling Pointe:
Sundays: April 10 and 17
"Unraveling Methode Champenoise"
Offer includes
Tasting : Begins with a tank sample of the base wine for the future 2010 Brut. Next experience a unique opportunity to taste the unreleased 2007 Brut sparkling wine before the dosage, as well as, the finished 2007 Brut sparkling wine after the dosage.
Tour of our brand new tank room and cellar.
Wine and Cheese Reception after tour and tasting. Each date includes a 1 pm seating and a 3 pm seating. Expect the tasting to last for 1 to 1 1/2 hours
$35 per person
$25 per person for wine club members
Reservations Required. Please call 631-765-0200
Waters Crest Winery:
Sun, April 10th from 3-5pm
Sat, April 30th 3-5pm
Taste six wines from the barrel, vintages 2009 and 2010.
$15/person non-wine club, $10/person wine/barrel club members.
Wolffer Estate Vineyards:
Saturday, April 23, 1 – 5 pm: Enjoy a special vertical flight of the Wolffer Estate Merlot: 2007, 2008 and barrel sample of 2010 vintage. $15/person
ACCOMMODATIONS:
Acorn Hollow B&B: Welcome Spring with our April Barrel Tasting, Value-Added Package! All month stay two nights at Acorn Hollow B&B midweek or weekends any time in April. Enjoy a full, candlelight breakfast each morning & refreshments each afternoon. Receive a complimentary $25 gift certificate to dine at the restaurant of your choice. Must mention this special at time of reservation. Cannot be combined with other offers. Also, pre-book your June, two-night Long Island Wine & Food Festival Getaway now and we will secure your Grand Tasting tickets for 50% off. Call to reserve your room today 631-765-1234.
The Greenporter Hotel: Walk-ins who provide a dated receipt from a Barrel Tasting at any of the participating wineries will receive 10% off a one-night stay for the same day of their tasting. The offer may not be combined with any other discounts. Call ahead for availability. Also:
Passover 4/18: Stay for one night in a queen room at the rate of $229 and receive two complimentary tickets for First Seder that evening at Congregation Tifereth Israel right across the street. See our website for menu. Easter Week-end–4/22-24: Stay Friday and Saturday nights and receive a complimentary three-course dinner for two on Friday evening. Enjoy Easter-themed specials like roasted lamb and Easter bread. Rates start at $159 per night and include complimentary continental breakfast. The following information applies to all packages: *Rates and packages are subject to availability. Call 631-477-0066 for reservations. *Dinner packages do not include tax, beverages, or gratuity and are offered on Friday night only, unless otherwise noted.
Harborfront Inn: Receive a 10% discount on the same day stay with a barrel tasting receipt from any of the participating wineries. This offer can not be combined with any other specials or packages and it would only be for walk-ins on the day of the event. Call 631-477-0707 for reservations.
Harvest Inn: Your package includes two evenings at the Inn, wonderful breakfasts each morning, and lunch to enjoy Saturday at one of our local wineries. You will also receive two tickets for the Tour & Tasting at our featured winery of the month and the founding estate vineyard, Castello di Borghese. This guided tour takes you out in the vineyards and then to the winery and production facilities, where you will sample wines from the barrel including the 2008 Merlot, with a comparison of other bottled vintages. And if you aren't wine'd out, join us for a private wine tasting at the Inn on Saturday evening! $259 per person. Call 631-765-9412 for reservations.
Hilton Garden Inn Riverhead: Spring ahead with Hilton Garden Inn's special offers! The specials include the following: With booking for any day of the week you'll receive 20% off our best available rate and enjoy a Full Cooked-to-Order Breakfast for two. Why drive through Wine Country when the HGI offers Personalized Wine Tours! Our Wine Tours include the following: Luxury Transportation to three wineries, a box Lunch for your tour, and a Full Cooked-to-Order Breakfast for the following morning and receive 20% off for a limited time only! Reservations should be made through the Sales Department. These promotions are subject to availability and restrictions may apply with busy and holiday weekends. Call 631-727-2733 When making reservations just ask for the April Barrel Rate.
Vintage Bed & Breakfast: Stay any weekend in April for two nights, Friday to Sunday, and enjoy a room for two with queen bed, private ensuite bath, whirlpool tub, 2 full candlelit breakfasts (often with Italian flair!), and receive discount cards for complimentary tastings and/or discounts at our area wineries, many within easy walking distance of our B&B! Many of the vineyards offer live music, some open in the evenings….come enjoy the fun during "Barrel Tasting Month" here in the middle of wine country. $490/couple (+tax). Call us now to reserve your special weekend 631-734-2053.
ALSO:
VINE TIME-a special two-night wine & food getaway package to welcome spring!
Apr. 15-17 and Apr. 20-22, 2011
Let us introduce you to our beautiful Long Island Wine Country. We've included everything you need for a most relaxing getaway. You will enjoy a two night stay in a luxury room with fireplace & whirlpool tub, a full, candlelight breakfast each morning, refreshments each afternoon, a VIP winery excursion tour of four wineries, transportation for the tour in a luxury van with pick up & drop off at our B&B, a gourmet picnic lunch at a vineyard, all wine tastings on the tour and two dinners at your choice of excellent, local farm to table restaurants. $479. plus tax, per person, double occupancy. Cannot be combined with other offers. Visit www.longislandvinetime.com.