It's Friday night, the work week was long and you're looking forward to dinner in the city with friends. You sift through your mental rolodex of usual haunts, but none of them are striking your fancy tonight. You want something that is new yet familiar, quality but not pretentious. Enter The Grid. Located just below Great Jones Distilling Co., The Grid is a chic-yet-approachable restaurant that serves elevated takes on American classics, with odes to Manhattan in their cuisine and art deco architecture.
In the pantheon of Manhattan restaurants, what sets The Grid apart is the fact that it shares space with Great Jones Distilling Co.—the city's first legal whiskey distillery since the beginning of Prohibition.
"I mean, how many other restaurants can feature three whiskey expressions that were made one floor above in a working distillery?" says The Grid's executive chef Adam Raksin.
Whiskey is not only featured on the drink menu at The Grid, though. You'll find whiskey as an ingredient throughout The Grid's menu, but it's not the focus. The restaurant's food really is very contemporary, honing in on seasonality and locality, as well as simplicity. They take care not to over-sauce or over-season their food because they want to showcase the quality of the ingredients, so you'll notice that the dishes are not overly complicated—something that makes them both approachable and utterly delicious.
This is on full display in the Mushroom Ravioli. It features locally made ricotta from Salvatore BKLYN and a vegan black truffle confit. And the charred octopus with 'nduja, ancho butter and olive relish, celebrating our entrance into the summer season.
"You are always going to prepare a better product that is sourced locally and in season," Raksin says. "A big part of Great Jones' whiskeys is that all of the grain is sourced in New York State. We try to use the same philosophy in our culinary programs."
This philosophy is abundantly clear when perusing The Grid's menu. Part of the excitement of the restaurant is knowing that you can expect new menu items every few weeks, so you're often able to try something new that is at the peak of freshness.
And while whiskey is not the focal point of the menu, it does take some of the more classic menu items to new heights. Take, for instance, The Burger (yes, that is its actual name on the menu). The Grid's version is not your average burger. It has a slightly sweet, sticky, smoky Great Jones Bourbon and bacon jam, along with crisp potato chips and the option of cheddar or blue cheese.
"The influence the whiskey has on the food is very close to our influence on our expressions themselves—very high quality, local and handcrafted by artisans," says Raksin.
Even the dessert menu showcases the beauty of the bourbon and the quality of the ingredients they use, with options like the decadent Warm Dark Chocolate Cookie, made with Great Jones Bourbon, topped with sea salt and served with vanilla bean ice cream. Or the Baked Alaska, which features Great Jones Rye, sweet pineapple sauce and refreshing coconut and lemon sorbets.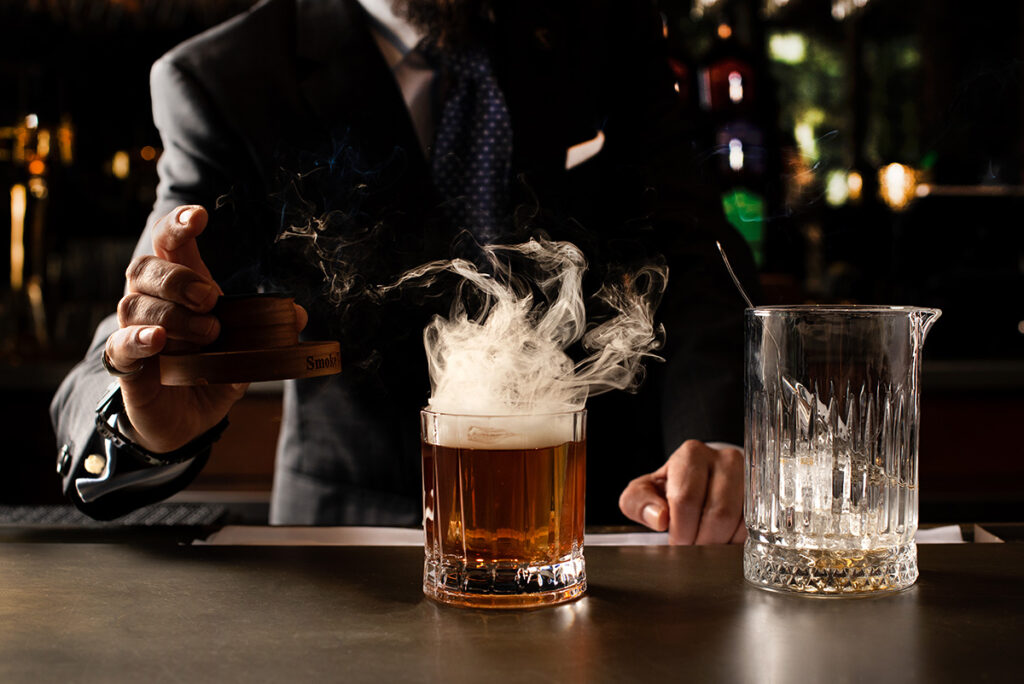 These guys clearly know whiskey, which means you can expect amazing cocktails to go with your dinner. They have lots of cocktail options to choose from on their menu, which is broken into sections like Tall & Refreshing, Bright & Citrusy and Stirred & Direct. If you are a whiskey cocktail lover, you might try the Applewood Smoked Old Fashioned. For this cocktail, the bartenders use a blowtorch to smoke applewood chips into a smoketop device, which infuses that fragrant smoke into the cocktail. When it arrives at your table, that smoketop is lifted, releasing the sweet, smoky aroma of the applewood, setting the tone for that first sip. Or, if you're looking for an entry-level whiskey cocktail that is both flavorful and approachable, try the Champagne Velvet with Great Jones Four Grain Bourbon, kalamansi, lime, shiso and sparkling wine, And if whiskey is just not your thing, The Grid also offers some of the best local wine and beer around.
There are many great restaurants in New York City, but many are just that—restaurants. The Grid is an experience that offers you great, quality food, custom cocktails and the ability to easily learn more about whiskey and sample it while you're there. As Raksin says, visiting the restaurant can be a "stepping stone to becoming a whiskey aficionado." If you're lucky, you might even peep the head distiller Celina as she drives her forklift around the Great Jones bourbon barrels near the back of the restaurant. But even if learning more about whiskey is not your ambition, you'll still have a great time enjoying some seriously good food.
"I hope that our guests have an educational, fun, lively experience," Raksin says. "We want our guests to walk out with full bellies, and a gift bag of our whiskeys doesn't hurt either." Because the good time doesn't have to stop when you leave the restaurant.
All photos by Liz Clayman.