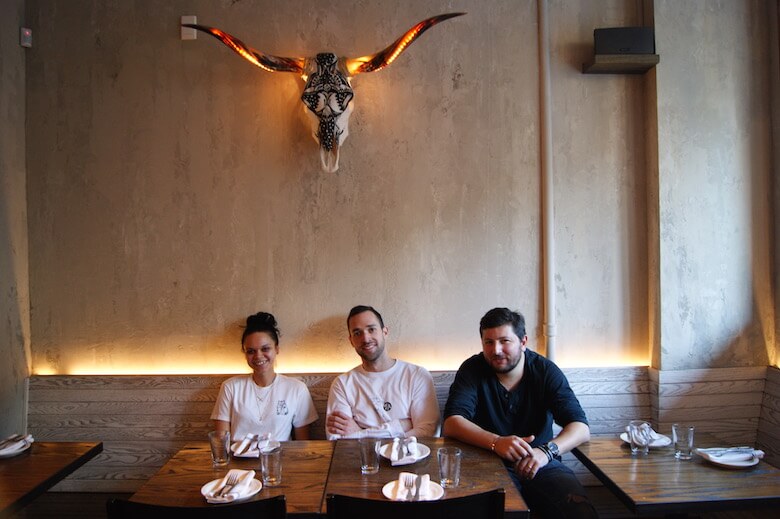 A high-energy compilation of hip-hop and R&B fills the space at Oso, a Mexican street-food restaurant and bar in Hamilton Heights. Alex Trebek, host of Jeopardy!, complains that the music is too loud. That's not as random as it sounds: This is his son Matthew's restaurant.
"I don't necessarily fit in that comfortably with what's going on at a popular young restaurant… but that's okay—hey, I had my time when I was young and enjoyed being part of a lively environment. Now I prefer quieter situations," said Alex. But the rest of the customers, including Matthew's mother, Jean Currivan Trebek, don't seem to mind the volume.
Having opened in May of 2016 under the management of Matthew Trebek and Nodar Mosiashvili, Oso was backed by Jean, making her part-owner in her son's project. According to Matthew, his father has no stake in the restaurant.
"It was a surprise when he came to us and said he wanted to open a restaurant," Alex said. After all, 26-year-old Matthew Trebek's life in restaurants has been brief. He introduced himself to the restaurant world while studying at Fordham University, bartending alongside Mosiashvili (now 32) at Madison & Vine and then later bartending at Willow Road.
"I told him, I will support you. I'll provide some seed money for you up to this amount and then after a while, after I saw how hard he was working in preparation and doing his due-diligence, I gave him more support," Alex said. "[I] kept my fingers crossed that he would be able to attract a loyal following and that little by little their clientele would grow, and that seems to be happening."
Alex does not deny Matthew's hospitable nature that is key in making a successful restaurateur. "He's more like his mother," he said. "He's a very kind and caring human being and not as silly, if you will, as I tend to be."
Jean said that her son has always been keen on hospitality. "Matthew really enjoyed having friends over—being sort of a host to his guy friends when they came home after school." She remains as confident today in Matthew's career as a restaurateur as she was from the start. "I can't help it," she said. "I love the restaurant and I tell all my friends."
Though it is not Jean's friends who are largely occupying the seats at Oso, but rather the Harlem and Hamilton Heights communities. "We really just wanted to make a neighborhood bar and restaurant," said Matthew, a new resident. "I have lived in several different neighborhoods and none of them have really been as welcoming as Harlem has been… Nodar and I are here a lot so I think that plays a part. [We are] not just opening a business and letting it do its thing."
Gentrification in the neighborhood can create hostility toward seemingly out-of-place white-owned businesses. "In my opinion, they're storming it," shared a neighbor who has grown up two doors down from Oso and asked to remain anonymous.
According to Matthew, Oso has not received such criticism. Matthew and Mosiashvili, along with Oso's head chef, Cassandra Rhoades, have attempted to join the community and avoid disrupting its identity.
They have made some type of impact, said Steve, a neighbor. "In the summer, you'll see all the kids are cool with the owners… They ask kids if they're thirsty or hungry." He explains that most of his neighbor friends and family think the food is good and the workers welcoming.
A local from around the corner on 139th Street, Irvin Vasquez, said, "Some lady welcomed me and sat me down with water and all that." Later, he realized that this was head chef Rhoades. "It's a different type of feeling than the other restaurants. I like it… I bought some tacos. It was fire."
Matthew  likes to greet his neighbors on the street or in the bodega and make them feel welcome in the cozy hole-in-the-wall dining room that seats 35. He and Mosiashvili are typically mingling and working at Oso 5 to 6 days a week. The purposefully open kitchen and bar lend themselves well to customers building relationships with bartenders, line cooks and chefs. "[The guests] come in and say hi to me and go say hi to Cassi (chef Cassandra) and everybody," says Matthew. "It's cool."
The menu and recipes were inspired by a friend Matthew made at Fordham, Estefania Cruz. Its their mole recipe, as they welcomed the restaurateurs into their home kitchen to work on staple dishes several times during the menu development process.
"We wanted to create a space that embodied everything that Mexican culture had with regards to street food," said Matthew. And for him, that meant heavily incorporating mezcal and tequila. The bar holds roughly 35 varieties of the two spirits. A favorite cocktail of theirs, the "Taco Truck," incorporates hibiscus flown in from the Cruz family farm in Puebla in a little black bag.
So while the story of Oso has ties to Jeopardy!, Mexico and the nearby Bronx, it hopes above all to be of its home in Harlem.
SaveSave