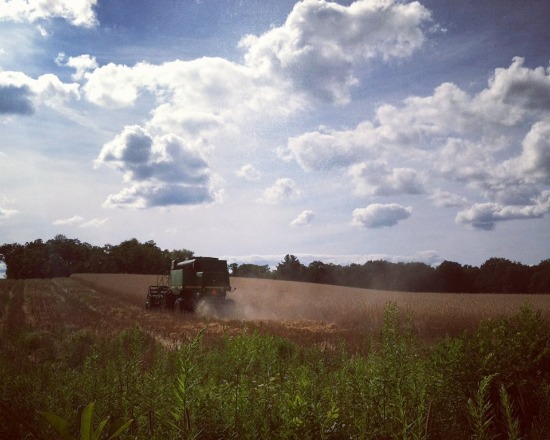 As part of our brand new "What's in Season" series, we'll be chatting with local farmers and producers to learn about the best seasonal crops New York has to offer. This week, we spoke with Michelle Russo, mill-hand at Farmer Ground Flour, to learn about the seasonal grains they're growing and milling upstate (Our friends at Edible Finger Lakes also profiled them in their winter 2013 story "From Field to Flour").
Farmer Ground Flour produces almost a dozen varieties of 100 percent organic flour and experiments with several heirloom wheats each year. Check out their flours for all your holiday baking needs, and be sure to try their recipe for ginger-spelt cookies below.
Edible Manhattan: What seasonal item would you recommend to customers right now? Why?
Michelle Russo: Right now we'd recommend trying our spelt flour. Spelt does very well as a fall/winter crop and is an exciting flour to work with.
EM: How long is the local season for this food?
MR: In New York state, it remains to be a rare and special act that we are growing food grade grains in general, and in particular, spelt. Though we are becoming more proficient at growing spelt in the fall, winter and spring, our product is to be prized (particularly in the colder months) for being as hardy and nutritious as it is.
EM: Is there anything special or interesting about how it's grown?
MR: Spelt is what many of us are learning to be an "ancient grain." Aside from its lower gluten content, which is inherent to the grain, spelt's ancient roots suggest several health benefits that are still being researched (most to do with the lack of tampering with its seed structure). Somehow knowing that we are stone-milling a grain that connects directly back to our ancestors creates a real reverence for this particular flour.
EM: Is there a recipe/preparation you would recommend?
MR: Spelt flour, because of its lower gluten/protein content, creates great flatbreads, crackers, cookies, pancakes etc. Here is an excellent and festive ginger-spelt cookie recipe for the wintry season!
Ginger-Spelt Cookies
Makes about four dozen.
Ingredients:
1/2 cup turbinado sugar
2 cups spelt flour
1 teaspoons baking soda
1 teaspoon anise powder
4 1/2 teaspoons ground ginger
1/2 teaspoon sea salt
1 stick unsalted butter (room temperature)
1/4 cup unsulphured molasses
2/3 cup fine grain natural cane sugar, sifted
1 1/2 tablespoons fresh ginger, peeled and grated
1 large egg
1 cup crystallized ginger, minced
2 lemons, zest only
Preparation:
1. Preheat the oven to 350F degrees.
2. Place turbinado sugar in a small bowl, and set aside.
3. In a large bowl whisk together the flour, baking soda, anise powder, ground ginger, and salt.
4. Heat the butter in a skillet until it is just barely melted. Stir in the molasses, natural cane sugar, and fresh ginger. The mixture should be warm, but not hot at this point. If it is too hot to touch let it cool a bit.
5. Whisk in the egg. Pour this over the flour mixture, and add the crystallized ginger (try to do so evenly, as it will tend to clump together) and lemon zest. Stir until just combined.
6. Scoop out the dough in tablespoons and roll into a ball shape. Grab a small handful of the big sugar you set aside earlier and roll each ball between your palms to heavily coat the outside of each dough ball. Place dough a few inches apart on parchment lined baking sheets.
7. Bake for 7-10 minutes or until cookies puff up, darken a bit, get fragrant and crack.
For another seasonal recipe from Farmer Ground Flour, try this Cornmeal Buckwheat Poundcake from the Edible Brooklyn Cookbook. Farmer Ground Flour is sold at Greenmarkets through Cayuga Pure Organics and in retail stores throughout the city.