Beets are one of the most recognizable vegetables in all of Ukrainian cooking, and most people think of borscht as the beet-iest of our beet-centric dishes. But there's another, slightly less famous—but every bit as delicious—beet recipe, and that is the vinegret salad.
Vinegret (taken from the French vinaigrette, pronounced "veen-i-gret") is a Soviet staple consisting of fall harvest vegetables—boiled beets, potatoes, and carrots—as well as lots of pickles, canned peas, and our beloved virgin sunflower oil. This fuschia-colored salad is a must-have for holiday feasts (especially New Year's Eve) and is one of the few Soviet salads that isn't dressed in copious amounts of mayo, hence the name.
You'll typically find vinegret in the zakuski course of the celebration table. Zakuski (pronounced "zah-koos-key", meaning "little bites") is the first course of a festive meal that consists of mostly cold or room temperature dishes that can sit out for an hour or two, and in essence, serve as chasers for vodka shots.
This first course, which is followed by hot dishes (i.e., meat and potatoes), is when many heartfelt toasts are exchanged between hosts and guests. As every toast is accompanied by a shot of vodka, a lot of chasers are needed to cushion the landing all that booze.
Vinegret is something my mom used to make regularly, back when I was a kid and we still lived in Odessa. Vinegret requires lots of tedious chopping, so if we had guests coming over, we'd get most of the chopping out of the way the night before. (I was still a child at the time, so my craggy vegetable chunks paled in comparison to her perfect cubes, but being the patient parent that she is, she let me practice my knife skills anyway.)
After we moved to America and I got older, I sort of forgot about this dish. And to be honest, having eaten so many beets as a child— both in borscht and vinegret—I was frankly sick of them and had largely written them off from my ingredient arsenal. But with the recent invasion of Ukraine, I've been thinking a lot about my homeland's culture and traditions, and I resumed making vinegret myself.
I adapted this version to my own palate by removing the carrots and canned peas, because I always thought they made the salad too sweet. Instead, I bulked up the pickle content of the salad, whose acidity perfectly balances the earthiness of the beets. Unrefined sunflower oil, a Ukrainian must-have, has a toasty, nutty flavor, and can be found online or in Eastern European markets. If you can't find it, extra virgin olive oil will do.
Alexandra Shytsman is a recipe developer, food writer, photographer, and creator of The New Baguette, a plant-based recipe resource for the veg-curious. Her mission is to inspire people to cook healthy, plant-centered meals at home. She was born in Odessa, Ukraine and immigrated to Brooklyn, NY when she was nine, where she's pretty much lived ever since. Follow her on Instagram at @thenewbaguette.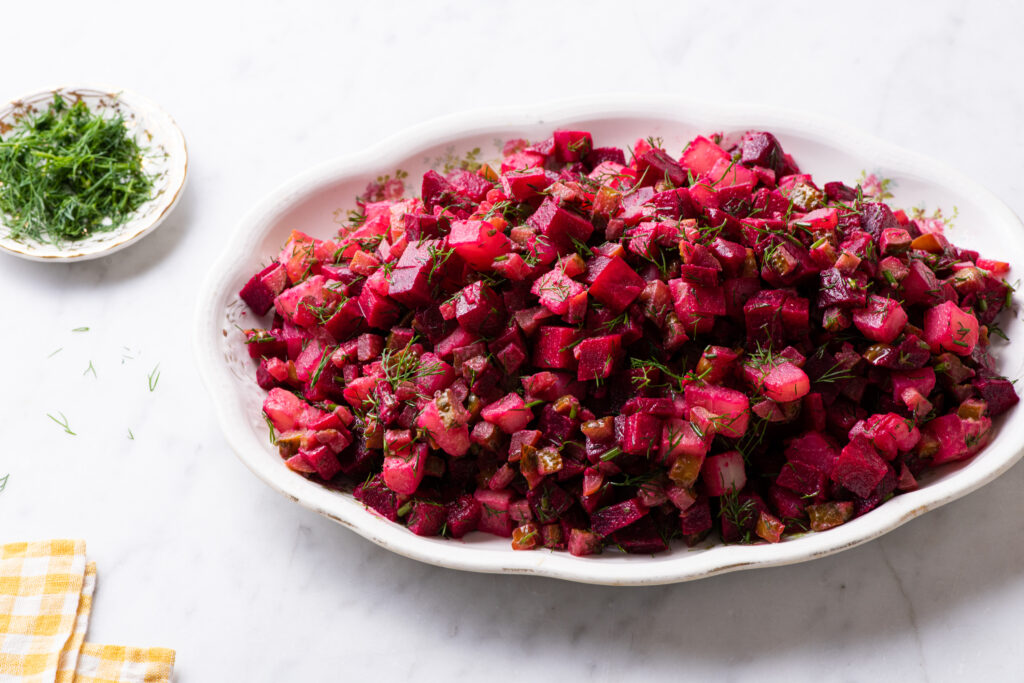 Vinegret
Serves 4 to 6
INGREDIENTS
1 lb. red beets (1 large or 2 medium), scrubbed
1 large russet potato, scrubbed
2 teaspoons fine sea salt, plus more to taste
1 cup finely diced kosher dill pickles (about 6 small)
2 tablespoons minced dill
2 tablespoons unrefined Ukrainian sunflower oil (or extra virgin olive oil)
1 tablespoon brown or whole grain mustard
1 tablespoon fresh lemon juice
Freshly ground black pepper, to taste
Method
Place the beet and potato into a medium pot. Add the salt and enough water to cover the vegetables by about 2 inches. Cover with a lid and bring to a boil. Then reduce the heat to low and simmer until both vegetables can be pierced easily with a knife. Typically, the potato will be done first, so take it out of the pot after about 15 minutes of simmering. Continue simmering the beet until tender, 15 to 30 minutes more. Set the vegetables aside and cool to room temperature. (You can cook the vegetables up to several days in advance and keep them in the fridge.)
At this point, you should be able to slip the beet skin off with your hands. (It's helpful to peel it in a bowl of water). Alternatively, use a vegetable peeler. Peel the potato as well—it's best to do this with your hands, sometimes with the help of a paring knife. Cut the potato and beet into 1/4-inch dice, and place in a large bowl. Add the remaining ingredients, and season to taste with salt and pepper.