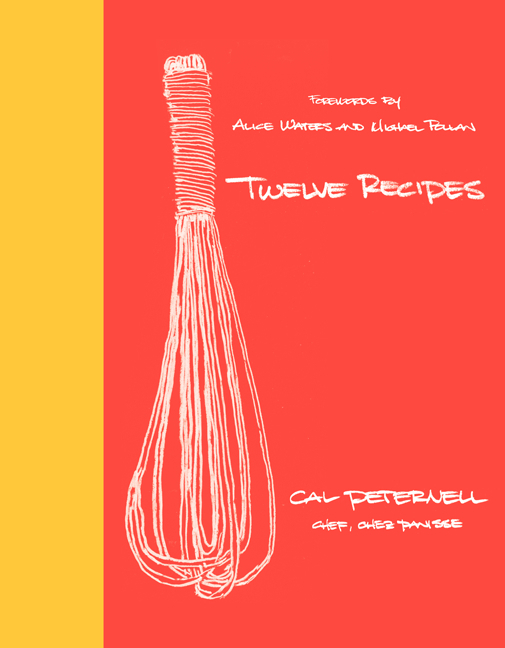 Ten years ago this month, I took two weeks vacation and flew to Berkeley to stage at the stoves at Chez Panisse. I'd already farmed upstate, so I was excited for my afternoons at the Edible Schoolyard, but this was to be my first time cooking in a restaurant kitchen and I was nervous. So much so that, when head chef Cal Peternell asked me to peel a pile of kohlrabi with him, I broke into a sweat and forgot which way was up. With quick strokes he skinned several while I was somehow desperately unable to wedge my paring knife into even one root. What was I doing wrong? Cal watched me for a humiliating moment and then, wordlessly, reached over and flipped my knife in my hands. I had been holding it upside down, sharp edge up, stupidly attempting to cut with the dull edge. Let's just say it was a lot easier once I was holding my knife with the blade down.
While your blunders surely aren't as glaring as that one, Cal can now transform your kitchen time too, via his beautiful cookbook Twelve Recipes (William Morrow, Oct 2014), which might have been called Cooking 101 and should be recommended reading for everyone in America. The book was born when he realized his oldest son was going to college without knowing how to cook even the easiest dishes so, starting with a foundation of fundamentals, Cal takes Henderson — and everyone else reading along — from toast, eggs and salad dressings up to more complex essentials like risotto and polenta, roast chicken and braised pork. Every kitchen should come equipped with a copy of this book; little wonder why Michael Pollan and Alice Waters wrote the forewords. It's a little like going to culinary school and a lot like cooking with Cal in his gorgeous sun-drenched Berkeley kitchen as he illuminates why we keep the flame low under eggs and why browning is essential before braising, with easy but unforgettable variations for each along the way. After cooking from these pages, you might feel like you'd been holding your knife upside down until now.
Here's one of Cal's essential recipes, that California dressing that's iconic on their ever-sunny greens but also great right now on everything from roasted beets, hard-cooked eggs, boiled potatoes or roast kitchen — all of which you can also master from these pages.
Avocado and herb dressing
From Cal Peternell's Twelve Recipes
We also call it green goddess, especially in Berkeley where the avocados and the locals are very green, and the goddess blesses from stickers on every other bumper.
4 tablespoons chopped herbs, (any combination of basil, mint, parsley, cilantro, tarragon, chives, chervil)
1 small garlic clove, pounded
½ avocado, pitted
1 teaspoon lemon or lime juice
½ teaspoon red wine vinegar
¼ teaspoon salt
Freshly ground black pepper
4 tablespoons olive oil
Pound the herbs in a mortar with the garlic, or just chop them extra fine and put in a small bowl with the garlic. Mash in the avocado and add the citrus juice, vinegar, salt and pepper. Using the pestle or a whisk, add the olive oil in a thin stream to make a thick emulsion. Taste, correct and use to dress romaine or butter lettuces.
Wedges of roasted beets, dressed with oil and vinegar, are colorful and delicious around a lettuce salad with avocado and herb dressing. Or you can skip the lettuces and just spoon the dressing over sliced cucumbers, beets and the other half of the avocado.
A bowl of green goddess is welcome as a sauce at a fried fish dinner or with fried vegetables. Also spooned over grilled chicken, boiled potatoes or a plate of hard-boiled eggs. Use also as a splendid sandwich dressing or for when leftovers like last night's roasted chicken, say or pork tacos, are in need of a little sauce.