The Love Affair Continues
I first wrote about my obsession with chilis and peppers in the Fall 2018 issue of Edible Hudson Valley, and I'm pleased to report that the insanity continues. This year, I have the pepper garden mapped out by theme.
There's the section with the many peppers from Calabria, including the devilishly hot Diavolicchio; the Tondo Round, which beg to be stuffed; the Ristra; and the Naso Di Cane, which is indeed shaped like a dog nose, as promised. I have a traditional mole pepper garden, which includes the smokey Pasilla Apaseo, the rare Chilhuacle Negro from Oaxaca, and the Pasilla Bajio-Chilaca. Have I ever made mole? No. But I have the horsepower.
In the Late Bloomers area, I'm excited to be growing a notorious variety, which I have named the "Barry," a prized specimen from the garden of award-winning author Barry Estabrook. Barry—the pepper, not the man—hails from Jamaica, and hangs loose back with the Jamaican Chocolate, Aji Charapita, and the bright Biquinho, all entirely unconcerned about fruiting on cue.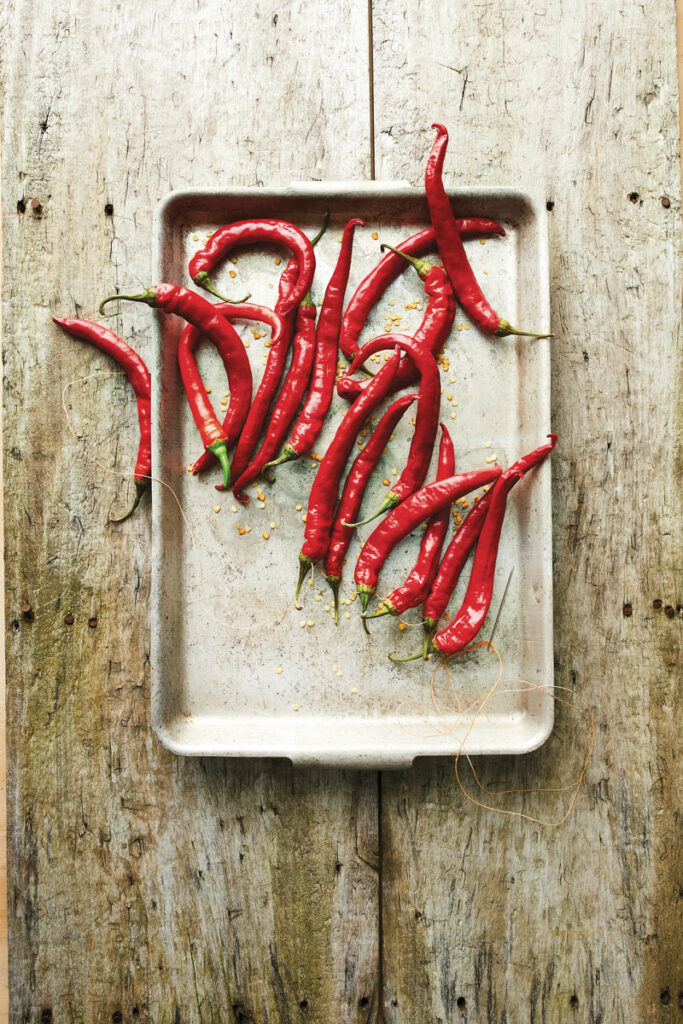 WHAT I DO WITH CHILIS
Dry them. I dehydrate each variety separately, sometimes tossing a handful in the smoker, in anticipation of making various spice mixes and dry rubs over the winter.
Ferment them. With the exhausting food prep that goes on in the fall, I ferment whole peppers with sea salt and hold in vacuum-sealed bags until I'm ready to mix up…
Hot sauce. After following a few recipes in books like Fiery Ferments by Kirsten and Christopher Shockey, I now just wing it. I keep tamarind paste, apple syrup, and fermented fruit on hand to create bespoke flavor combos.
Sott'Olio. Blazing-hot Calabrian peppers like the Diavolicchio beg to be salted, vinegared, dried to a sheen, then immersed in a jar of olive oil and used throughout the winter.
Stuffed. The salad bar staple, stuffed round peppers, transforms into food of the gods when you make them yourself. Goat cheese, cream cheese, prosciutto, and feta are each a welcome foil to the spicy Malawi Picante, Tondo, and Capperino.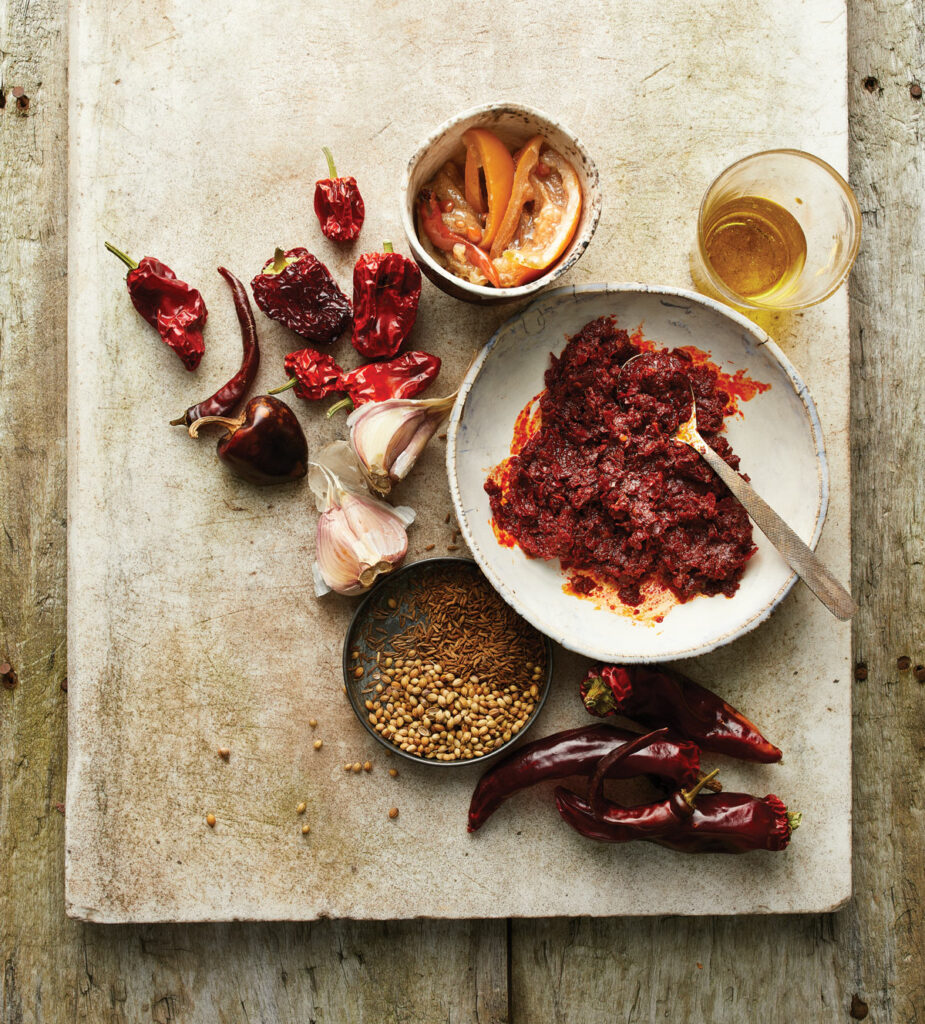 Preserved Lemon Harissa
Tangy harissa is one of those pantry items I'm never without. Add a tablespoon of dried rose petals below and you have an Ottolenghi favorite.
INGREDIENTS
30–40 dried red chilis, stems and seeds removed (A combination of smokey chilis like Cascabel, plus something fruity, like D'Esplette.)
12 cloves garlic
1 cup olive oil plus more to cover the harissa
1 tablespoon cumin seeds
1 tablespoon coriander seeds
4 tablespoons preserved lemon, chopped
1½ teaspoons salt
DIRECTIONS
Place chilis in a bowl and pour boiling water to cover them. Soak for 30 minutes, strain, roughly chop, and add them to a food processor. In a saucepan, simmer the garlic cloves in olive oil over very low heat until soft. In a dry skillet, toast cumin and coriander seeds until fragrant, 2–3 minutes. Transfer the seeds to a mortar and crush with a pestle before adding them to the food processor. Add the softened garlic and oil, chopped lemon, toasted seeds, and salt to the food processor. Pulse until you get a coarse paste. Transfer the harissa to a jar and cover with a layer of olive oil. Harissa keeps, refrigerated and covered with a layer of oil, for several weeks to months. Makes approximately ½ pint.
---
Spice is the Variety of Life. I grow an array of peppers, of various heat intensities, shapes, and degrees of difficulty. Padrons are simple and a no-brainer on the table. Piment D'Esplette is easier to grow than the Aleppo, and just as useful. Long and squiggly Thunder Mountain Longhorns are simply adorable. Something round and stuff-able, like Capperino, is a must.
---