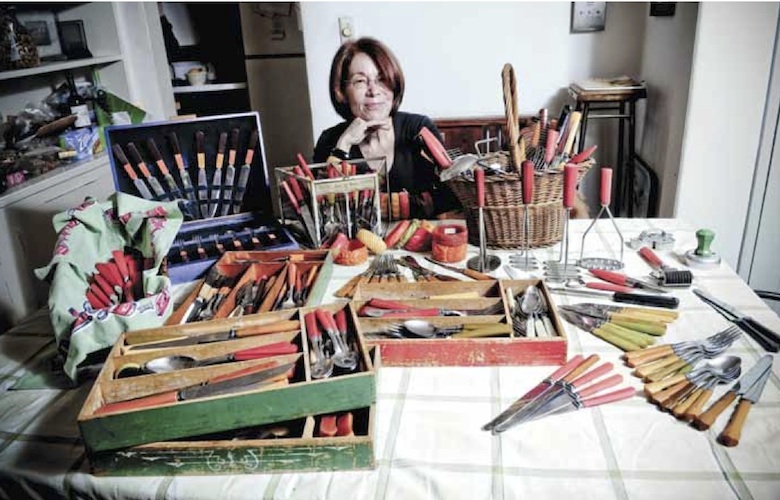 In 1907, the Belgian chemist Leo Baekeland created polyoxybenzylmethylenglycolanhydride.  Branded as Bakelite, it was the world's first synthetic plastic. His goal was function, but the material's good looks, especially in the form of cheap mid-century silverware sold at spots like Woolworth's, won Sheila Strong's heart. Today the native New Yorker, who runs an outdoor weekend antiques stand called "Fool's Gold," is the city's best source for Baekeland's invention.
Strong's plastic passion got its start out in the Hamptons 25 years ago when a friend introduced her to both the concept of yard sales ("My mother always bought new," she says) and the beauty of Bakelite. Produced between the 1930s and 1950s in Germany, England, France and the States, the brilliantly colored stuff was common back then: Thousands of Americans had it in the form of thick bracelets, heavy rotary-dial phones, or simple plastic handled spoons and spatulas imprinted by makers called Henry's, Burns, Corona, Ecko and A&J.
Strong's wares, which share her West Village garden flat with a cool clutter of other retro items when she's not working her stand, include a collection of complex Bakelite jewelry. But anyone who holds a special passion for matters of the plate can't walk by her rainbow of $4 knives, $5 forks and $6 spoons-not to mention potato mashers, cheese slicers, icing spreaders, herb choppers and pasta cutters-without a second peek.
The colors, many faded, bleached or darkened by sun, are simultaneously intense and demure: canary yellow (originally white), deep amber (originally bright red), a froggy green swirled with flecks of cream. Some are cast into two-tone molds, have ridges to match the Fiesta dinnerware patterns of the period, or come in elegant Deco shapes like the ribbed handles from Androck Stainless Steel, one of Strong's favorite producers. "It's amazing," she says of one particular carving fork, "how it sits in your hand."
If you're like Strong (or us) you'll be tempted to snap up a whole set, but she advises otherwise: "Get a few colors you like and carry them around with you," she says, "and slowly grow your collection as you find things that look good together." Which is exactly what she's done herself: "They're beautiful," she says, cradling a cream and tan spoon. "I love them, I love eating with them.  You're looking at something that's 80 years old," she adds, "and there's nothing wrong with it."
Fool's Gold: Saturdays at the Brooklyn Flea, 176 Lafayette Avenue, Brooklyn; and Sundays at the Pompeii Market at 240 Bleecker Street starting in April; 917.209.5785 -RW
Photo credit: Max Flatow