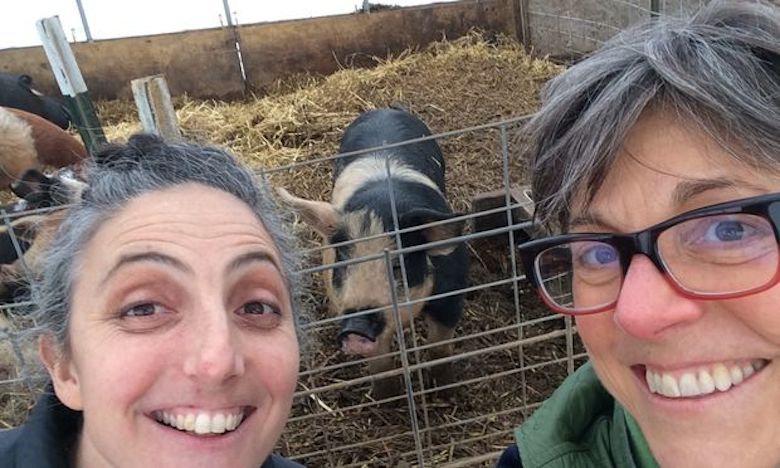 Amy Eddings, the longtime host of WNYC's All Things Considered, has left New York for small-town Ohio. We've had the pleasure of being featured on her segment Last Chance Foods several times throughout the years, and we're huge admirers of the work she's done to advance the food movement in the public eye. She's ended her tenure with a Learning to Farm series, guest-produced by our print editor Gabrielle Langholtz, who remembers her time in New York:
Sometimes you love someone from a distance — until you meet them in person. I had the opposite experience with Amy Eddings.
She'd long been The Voice accompanying New Yorkers everywhere on our long day's journey into night. But I was lucky to meet her face-to-face, as an occasional guest on Last Chance Foods. I've been interviewed everywhere from the Martha Show to Fox News and have known plenty of personalities to rush through a segment thoughtlessly, with no real questions, just a pretty smile for the cameras. Not Amy. She gave our conversation her full, fierce focus, always getting to the meat of the subject — even when it was radishes.
And then I had the honor of cooking up Farm School with her, a four-part series about beginning farmers that aired a couple of weeks ago, just before she sailed into the sunset for rural Ohio. She was a tough boss with uncompromising standards, but grateful, too, dogged in her vision for the project and willing to drive hours to interview pigs (and their farmers). It was an honor and a blast to work with her, and to text her goat emoji late at night.
But forget what Amy was to me. Her years of Last Chance Foods (produced by the ever-awesome Joy Wang) were a serious boon to the good-food movement, bringing important, edible-esque stories to a wide, welcoming audience. Her work shined a light on small farmers, fishers and foragers with immeasurable benefit for us all, giving these foods, well, a second chance in a world that is fast forgetting them. All things considered, Last Chance Foods made New York a better place to farm, cook and eat. Amy, you planted quite a crop of ideas here. Long may they grow.
You can follow Amy's blog from Ohio here. And in case you missed them, here are some of our favorite Last Chance Foods memories: