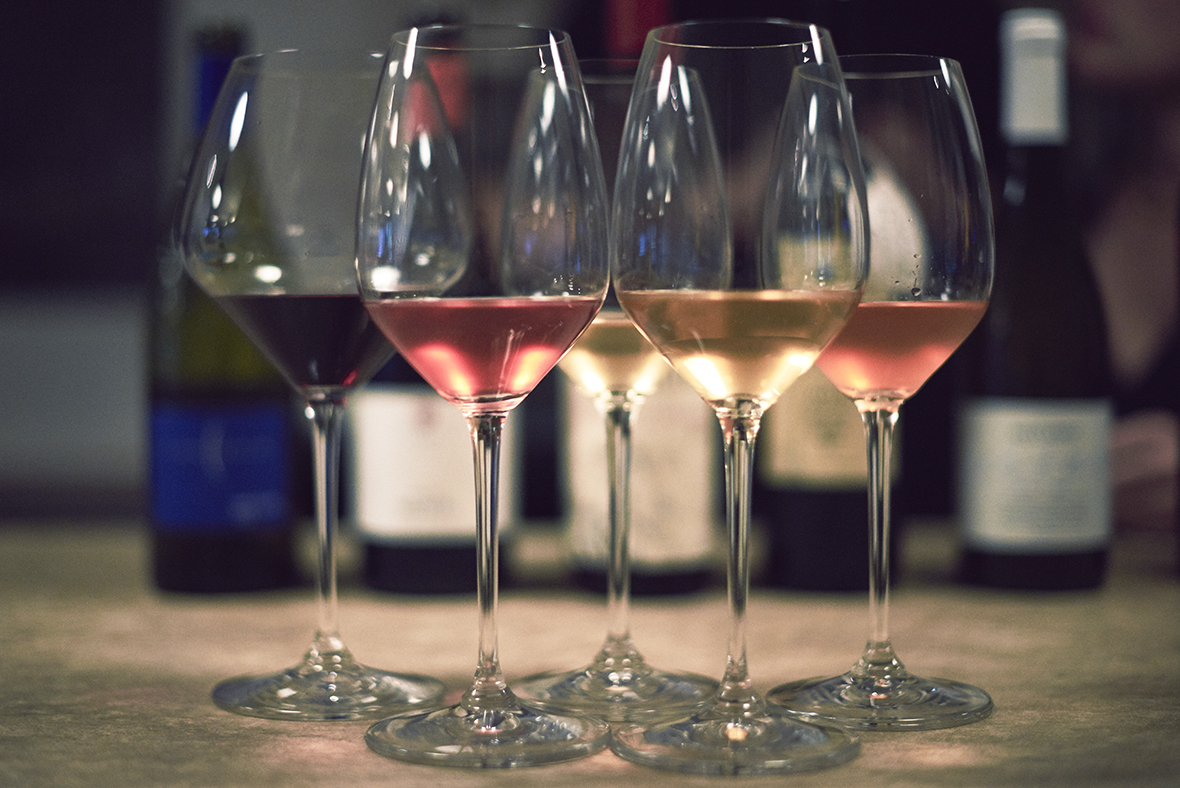 If the myth that every season has a go-to wine hasn't already been dispelled, consider now the time to do away with any lingering notions around having to reach for a certain bottle at a specific time. When January rolls around and the craving for a dry, citrusy grüner hits, there's no reason to deny the pleasure. For some specific recommendations, though, from sparkling to skin contact and everything in between, we went to some of the city's foremost wine experts to hear what they're popping open during the colder months.
Aphros Loureiro Reserva Sparkling Vinho Verde, Portugal
"For the holidays, you've got to have a good bubbles," McCoy says. "This biodynamic wine is a serious vinho verde that all wine lovers can respect, made in the classic method. It's aromatic with nice intensity on the palate of tropical fruit and brioche. Perfect for at-home brunch.
Chardonnay Aslina, South Africa
McCoy recommends anything made by this female winemaker from South Africa, but the chardonnay in particular goes well with salmon steak and buttered greens.
Sheldrake Reserve Reserve Meritage 2016, Finger Lakes
"This Right Bank Bordeaux blend is outstanding with different styles of cuisines," says McCoy. "My favorite so far has been pairing it with my jerk chicken takeout. The merging of seasonings in the wine and meat make this a great combo."
Vintage Port, Quinta Santa Eufémia, Douro, Portugal
"After a recent trip to Douro River Valley, I have a newfound appreciation for all styles of ports, and the 20- and 30-years from this Portuguese family-owned and female winemaker is an outstanding value," she says. "Since I am a savory over sweet person, this for my 'Netflix and Chill' pairing with local Jean-Louis blue cheese from Bobolink's Farm."
Bichi Santa 2017, Baja, Mexico
"At RAW wine, I tasted Bichi Santa 2017 from Baja in Mexico," says Winkler. "I was stunned. The grape is Rosa del Peru also known as Moscatel Negro. I bought a case right away for self consumption and to see how it evolves. It is light to medium bodied, vibrant and exciting, with notes of raw beet, cranberry, wild mushroom, black cherry."
Alessandro Viola Sinfonia di Grillo 2016, Sicily
Winkler was introduced to this orange wine over the summer. It has seven months of skin contact and is aged in a chestnut barrel. "It's rich and a little nutty," she says, "with ripe yellow plum, quince, marzipan and spice in the finish."
Daryl Nuhn, Wine Director, Gem
https://www.instagram.com/p/BovBBXLBFIl/
Les Vignes Herbel Chenin Blanc, Anjou
"I'm a year-round white wine drinker, but winter calls for wine with a little more body and texture," says Nuhn. This is the one she reaches for right now. "It has pretty flowers and orchard fruits, with this racy acidity and mineral structure. With this, I'd ask my boyfriend to roast us a chicken with a head of garlic, braise some leeks, serve with some seeded bread and rewatch Game of Thrones. Yes, this wine definitely feels appropriate for a Game of Thrones binge-watch night."
Rennersistas Blaufränkisch, Austria
"This one has got just the right amount of grip, with tons of plummy juicy fruit and a little bit of spice," she says. "I'd pair this one with some lamb chops, maybe some chimichurri and some roasted parsnips."
Jhonel Faelnar, Wine Director and Sommelier, Atoboy and Atomix
https://www.instagram.com/p/BsTPzsNjnYN/
Syrah—Rene Rostaing, Ampodium, Cote-Rotie, Northern Rhone, France 2015
"This wine is a perfect winter warmer," says Faelnar. "It's savory in all the right ways with black pepper spice and a gaminess that works well with heartier fare. I would pair this with grilled rack of lamb with grilled vegetables on the side."
Chenin Blanc—Clos de la Meslerie, Vouvray, Loire Valley, France 2014
Faelnar particularly enjoys this one from an under-the-radar producer. "This bottle is honeyed and rich yet also earthy and bursting with great acidity, making it an easy food wine," he says. "I would pair this with a great earthy mushroom risotto."
Arinto—Azores Wine Company, Pico, Acores, Portugal 2016
"This wine is saline and fresh with lots of bright citrus on the nose and palate," he says. "This is an off-the-beaten-path wine for the adventurous that is guaranteed to yield some great enjoyment at the table. Pair this with bright and salty dishes like bacalao or savory seafood dishes like seared prawns in butter and garlic."
Yana Volfson, Beverage Director, ATLA and Cosme
Orange Wines by Richard Stavek
This producer out of Moravia has been making natural wines since the mid-'90s, and also makes honey and goat cheese. The complexities of these skin-contact wines make for compelling indoor sipping.
Graf Morillon by Maria & Sepp Muster
In mountainous southern Austria near the Slovenian border, this white is made from hand-harvested, destemmed and fermented grapes in wooden casks with indigenous yeasts, resulting in a funkier style for chardonnay drinkers—the Morillon grape is genetically identical.