City Winery fuses great wine, good food, and intimate concerts by top-notch artists. The concept began in SoHo New York in 2008, the brainchild of nightlife impresario Michael Dorf. Since then, it's expanded to three locations in Manhattan, plus cities nationwide that include Chicago, Boston, Philadelphia, Washington DC, and Nashville. But when it came to choose their first location outside a major city, Dorf knew it had to be in the Hudson Valley.
"I've been a Hudson Valley advocate for thirty years," he declares, "I love it." At first, he admits he was focused on finding a space that would simply allow for a larger winemaking facility, but soon a much bigger vision emerged. "I figured if we're going to create a winery, we may as well make it a place where we could entertain, with enough space for weddings and parties. That's when I started looking for something bigger—and something unique."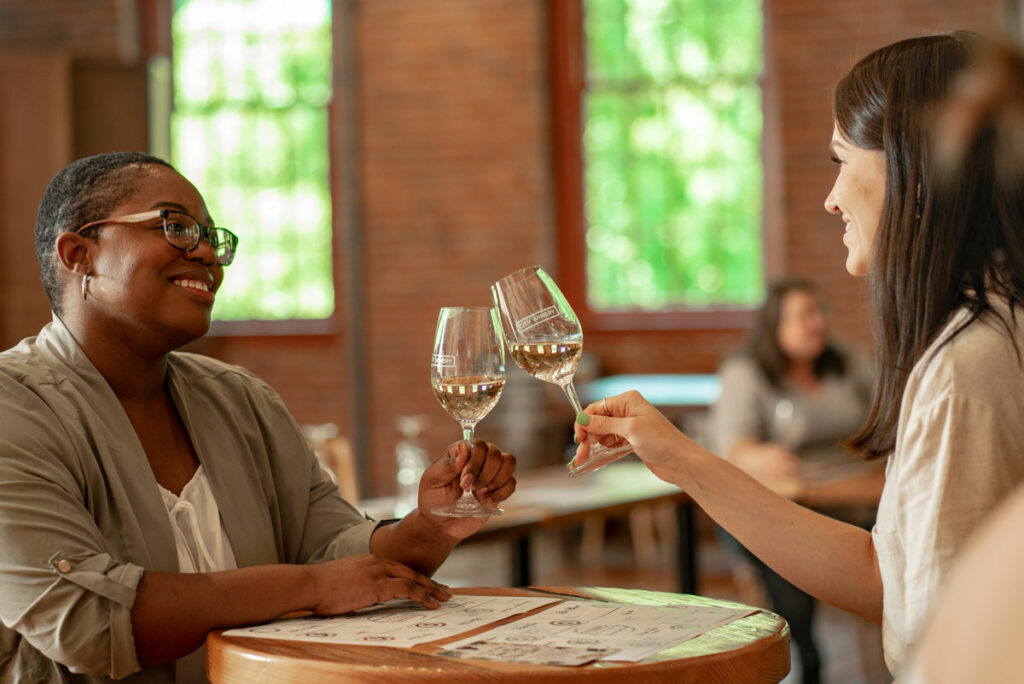 Dorf is the kind of character familiar with making bold moves. He started his first venture, legendary NYC music venue the Knitting Factory, with some Bar Mitzvah money and a hunch. The same instincts led him to Montgomery Mills. "I have a home near Mohonk/Minawaska State Park, and I would often drive around hunting for locations," he recalls. "One day I went looking, turned onto Factory Street and found an old mill that used to make 'Knitting Wear'—it was … a Knitting Factory. It felt very kismet—this was the right spot."
Not just the right spot, a beautiful one situated on twenty-two acres overlooking the Wallkill River. But the 130-year-old mill and historic structures needed a lot of love. "The building had gotten no real attention for 100 years," Dorf explains. "The whole back area was overtaken by a junkyard, I mean, it was a real eyesore but it had beautiful guts." And yet this is just the kind of project Dorf adores—combining his shared passions for wine and music with a sympathetic reworking of historic spaces.
The City Winery team sprang into action and painstakingly restored the buildings to their original glory: working with a careful eye to detail, they have combined elegant urban aesthetics with rustic charm and environmental sensitivity. This thoughtful fusion of old and new makes for a charismatic and intriguing venue for weddings and events. Alongside the restaurants and bar, there are a variety of entertaining spaces that can easily host parties both expansive and intimate—from a 300-person sit-down wedding to a 30-person dinner party, to a bijou corporate retreat. An outdoor amphitheater, with a vintage stone stage, is a distinctive venue for listening to music on a sound system specifically designed for the best experience al fresco—which is not easy to achieve.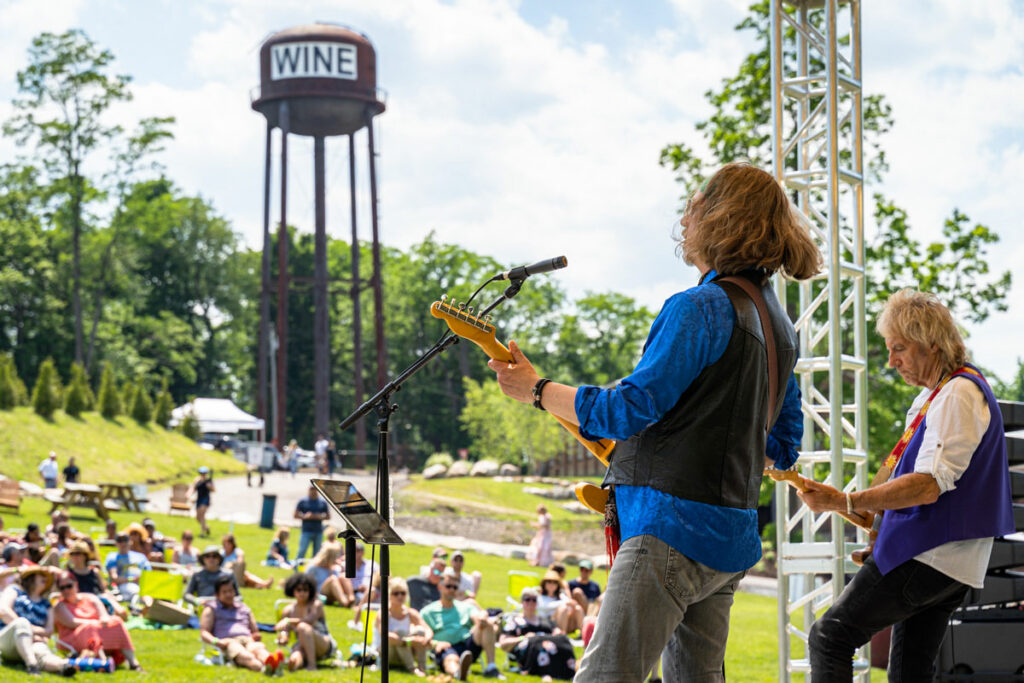 The extensive renovations continued throughout the recent pandemic—and good job, too: the wine making facility was finished in the nick of time: "We got it done two weeks before our first grapes, 100 tonnes of them, started arriving from California!" The facility makes many of the City Winery blends they sell onsite. That work is the responsibility of chief Winemaker David Lecomte—before starting with City Winery 14 years ago, he was working at some of the best-known wineries in the world. He began his wine career in France at the M. Chapoutier Estate and then moved to Cave de Tain and Colombo. Just before starting at City Winery, he worked in California at Herzog Wine Cellars.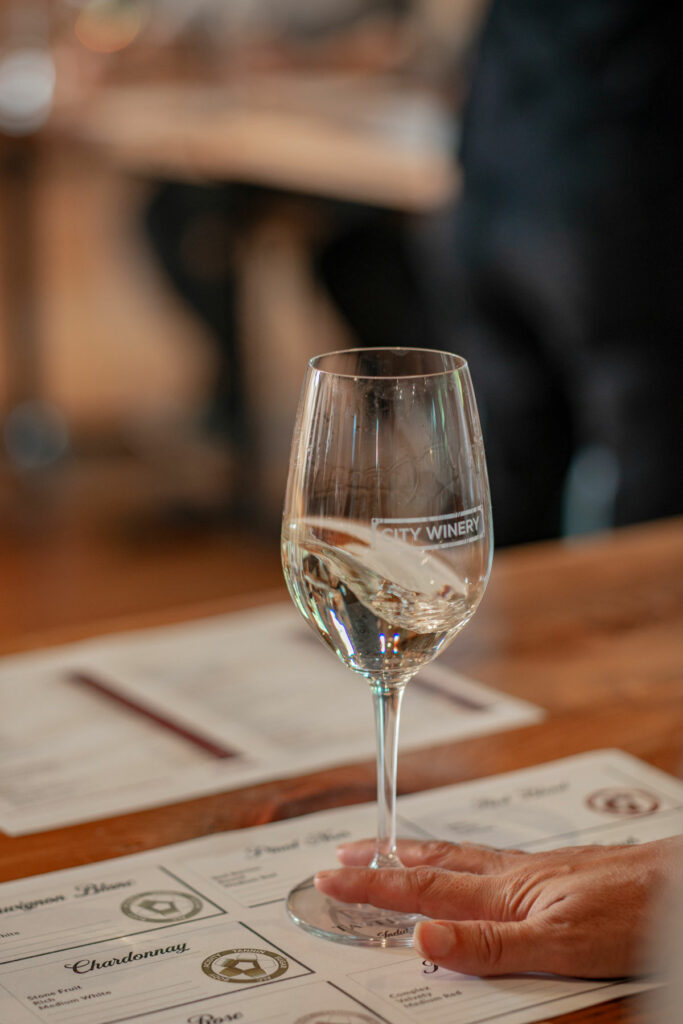 Lecomte's serious wine chops allow them to source grapes from some of the best vineyards in the world—Cabernet Sauvignon from Bettinelli in Napa, Pinot Noir from Hyland Vineyards in Willamette Valley, Oregon and Malbec from the esteemed Catena Vineyards in Agrelo, Mendoza Argentina. Those with a serious passion for wine can observe the winemaking process at City Winery Hudson Valley, but they can also do more. Visitors can go big and experience the crush, the fermenting, the blend and ultimately, the opportunity to create their own private barrel. Or they can help bottle a few cases of wine and adorn it with their own custom designed label.
Once you've enjoyed all that City Winery has to offer driving may not be top of your list. For now, there's a three-suite barn for those who wish to stay overnight—but there's more to come. Currently they are busy overseeing the development and renovation of one of the buildings onsite into a 11–room boutique hotel slated to open in 2023.
And Dorf isn't done with the Hudson Valley, next up is The Milk Factory in the nearby village of Walden. This project will be ambitious – a live-work community with a restaurant, more winery space, a distillery, shops, and community-oriented spaces plus a 43-room boutique luxury hotel with a pool and spa. City Winery has nine other projects due to launch this year fusing wine and music and the art of entertaining. Whatever comes next will be guided by Dorf's vision. "We create spaces with a great vibe, good service and where the food and wine are exquisite, all these components are critical to making a magical experience."
Edible Manhattan + City Winery Present the Sip City New York Playlist
Images courtesy of City Winery