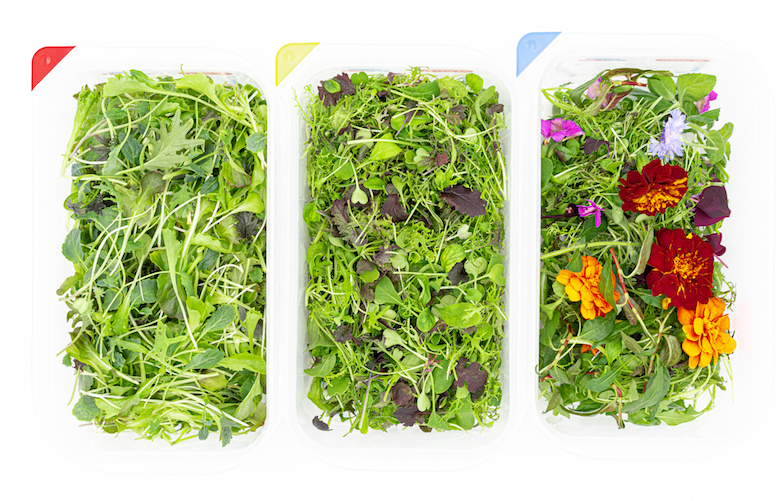 When Rob Laing founded Farm.One in 2016, his vision for the farm was simple, if totally lofty and fresh: He wanted to harness the new technology of vertical farming and grow a range of rare and curious produce for chefs. To start, he began a small, experimental farm at the Institute of Culinary Education (ICE) in downtown Manhattan, where he and his team were able to serve a limited number of the city's most esteemed restaurants. It was not long, however, before the age-old, capitalistic conflict between supply and demand inspired Farm.One to expand, eventually starting up a larger farm in TriBeCa that, by the start of 2020, was serving over 40 restaurants citywide—almost all of them stars in the Michelin constellation that elevates eateries into institutions and chefs into chefs.
But then—spoiler alert—came March.
"The year began with us planning to expand even further," says Laing, Farm.One's CEO and founder. "We had so much excitement from chefs. They were so impressed by how long the ingredients lasted, and with the fact that our farm was a place they could actually come and visit, just 20 minutes away from their restaurant rather than somewhere upstate. The other part of our business was that our doors were open to everyone, both in the industry and outside it, to visit the farm as guests and try all of these amazing things in an urban environment. But then, of course, it became clear in March that restaurants were going to close and we would have to shut down our tours. Like everyone, we had no idea how long it would last—but even the most pessimistic among us thought we'd be able to open again in June."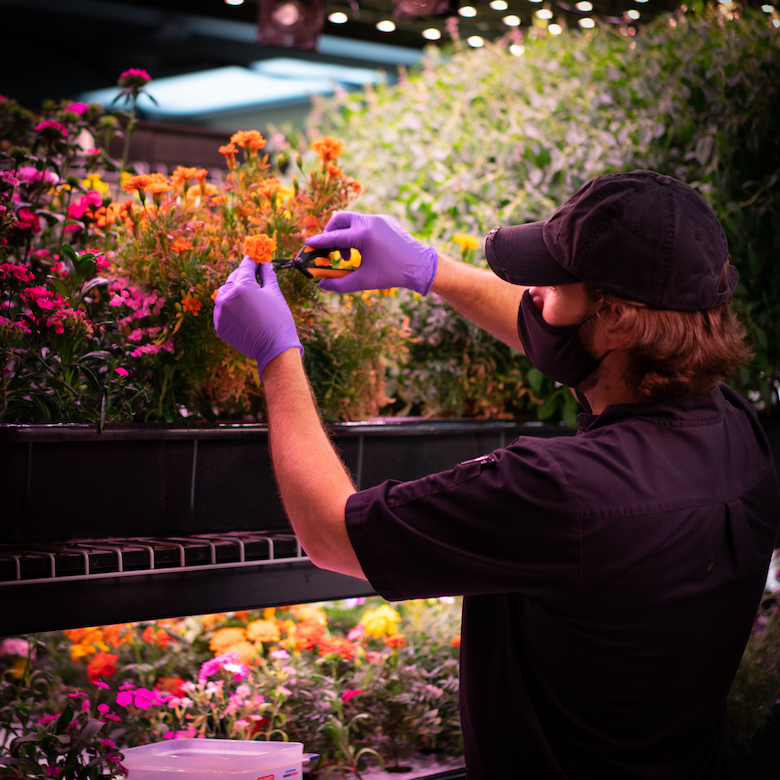 When that didn't happen, Laing and his team were faced with the questions that have plagued every business owner amid the Covid-19 pandemic: What now and what next?
At the time, Farm.One was in the process of growing, as usual, a pristine, precise and almost Willy Wonka-esque assortment of some of their over 700 varieties of baby greens, microgreens, herbs and flowers. You couldn't just shutter a farm the way you could shutter a restaurant, with its offerings alive and still actively growing. 
"We had produce that was still growing for chefs," says Laing. "While everything shut down outside the farm, the farm was still producing—and as beautifully as ever. So we tried to sell our produce directly to consumers. People loved the quality, but we were simply offering too many things. No one was entertaining, obviously, so everyone only needed small amounts of things. It just wasn't working. So, at the end of August, we decided to make a complete pivot. We realized what we still had: the quality of the produce, which is just consistently something people love; the freshness, which is really amazing in that we can harvest and deliver on the same day; and the sustainability, meaning we use no pesticides, very little water, and never have to ship produce a long way. Essentially, we still had everything we always had. So, instead of doing the same thing as before, just for consumers, we asked ourselves: What about offering a CSA?"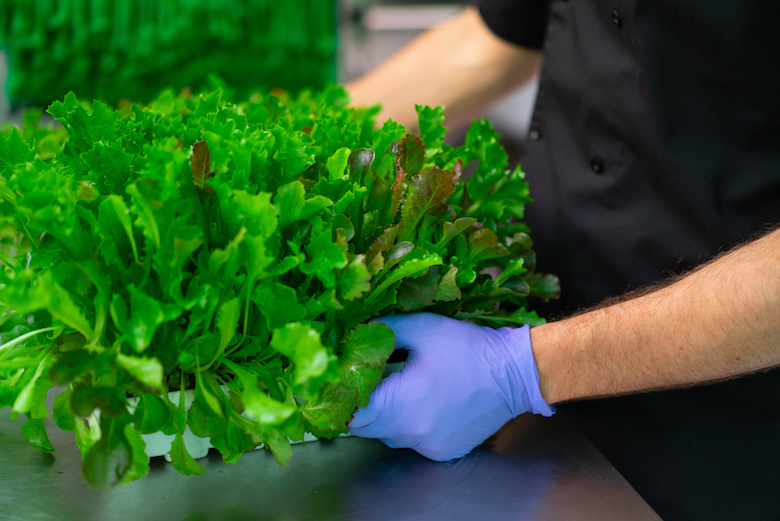 It was a good question that yielded great results: Farm.One's Weekly Salad Greens Membership, a Covid-inspired pivot that, in the space of only a couple of months, has already become beloved.
Here's how it works: Memberships start at $25.00 per week (which works out to as little as $3.60 per serving), and include weekly deliveries of 3 curated boxes of Farm.One produce, with one box each of baby greens, microgreens, and herbs and flowers. All together, each delivery contains enough for at least 6 generous salads—plus enough herbs to garnish everything from homemade meals to cocktails and teas. Delivery is always free and performed sustainably, by bicycle, and all packaging is similarly environmentally-conscious and exclusively reusable. 
"Before we knew all of the logistics, we knew that we would only deliver in reusable packaging," says Laing. "Greens are often sold in plastic clamshell containers and we are just so tired of the constant waste, so we found great containers to use and reuse instead. It was really important to us that our members could feel reassured that they're not producing any plastic waste."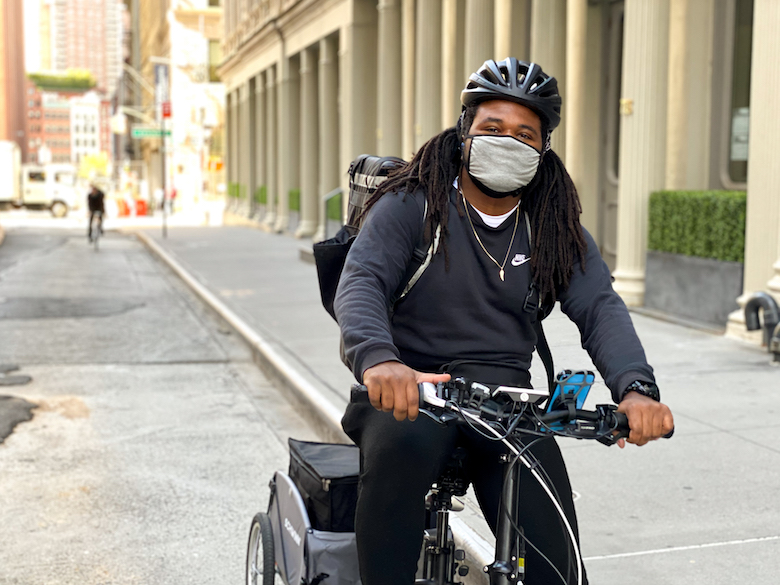 Also important to the Farm.One team was something that, due to the ongoing pandemic, no one is really talking about: Pleasure. 
"Look, Covid is tough on everyone, but it's been especially tough on New Yorkers. So it was important to us, living where we live, to bring our community a moment of delight,"  says Laing. "There's a variety of basil that we grow, for example, that has a vanilla, almost berry kind of sweetness. When our members open up the box, the aroma just kind of meets them and it's a beautiful moment—simple, but strong and uplifting, and something people really love."
Farm.One members receive more than just produce to love, too. Every week, Laing and his team include a little surprise in every box—just to brighten members' days. Recent surprises have ranged from plant-based macarons, for breast cancer awareness, to hibiscus tea from Brooklyn Tea.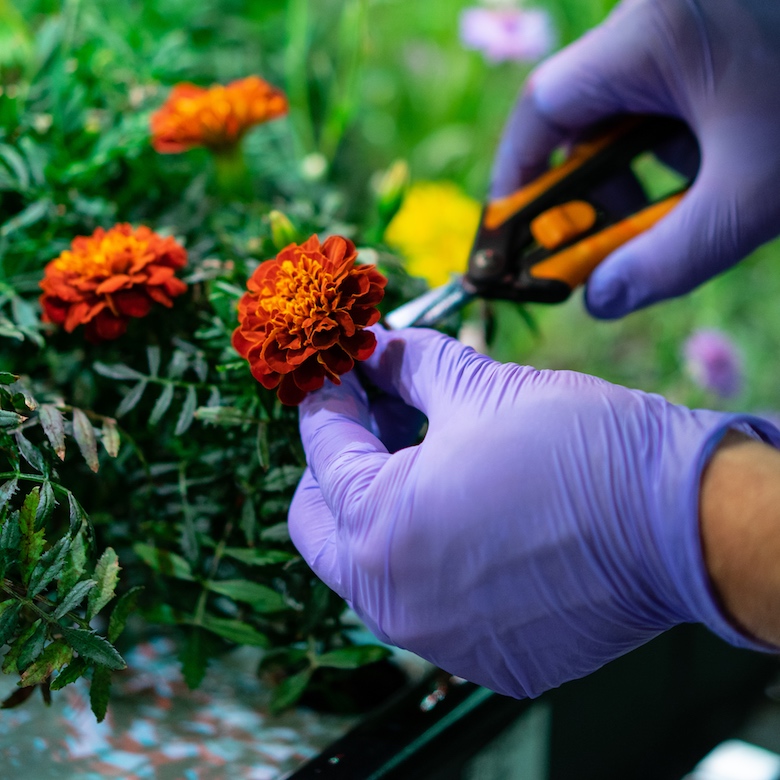 "The surprise is always local and plant-based," says Laing. "It's just a small gift we like to include, as a way to add some fun to our members' weeks and make delivery day something they can really look forward to."
But, as Laing knows better than anyone, the produce alone is worth the excitement. 
"My favorite part is knowing that you're getting fresh greens harvested so shortly before receiving them" says one Upper East Side-based member, Lorenzo.
The free, sustainable delivery, reusable packaging, and little gifts are all just a plus.
"We're just so excited to still be able to have this farm in the city, and we look forward, over time, to eventually being able to invite our members to enjoy special access to our farm when we reopen to the public," says Laing. "And we're excited, too, for when it's safe for restaurants to reopen fully. We miss all our chef-clients, but we're hopeful that we'll be able to see them again soon."
And that's how, thanks to Farm.One, even the middle of a global pandemic can contain moments and experiences to look forward to.
For more information on Farm.One, or to become a member of their Weekly Salad Greens program, please visit their website. Delivery is free, sustainable, and available to all parts of Manhattan and Brooklyn.