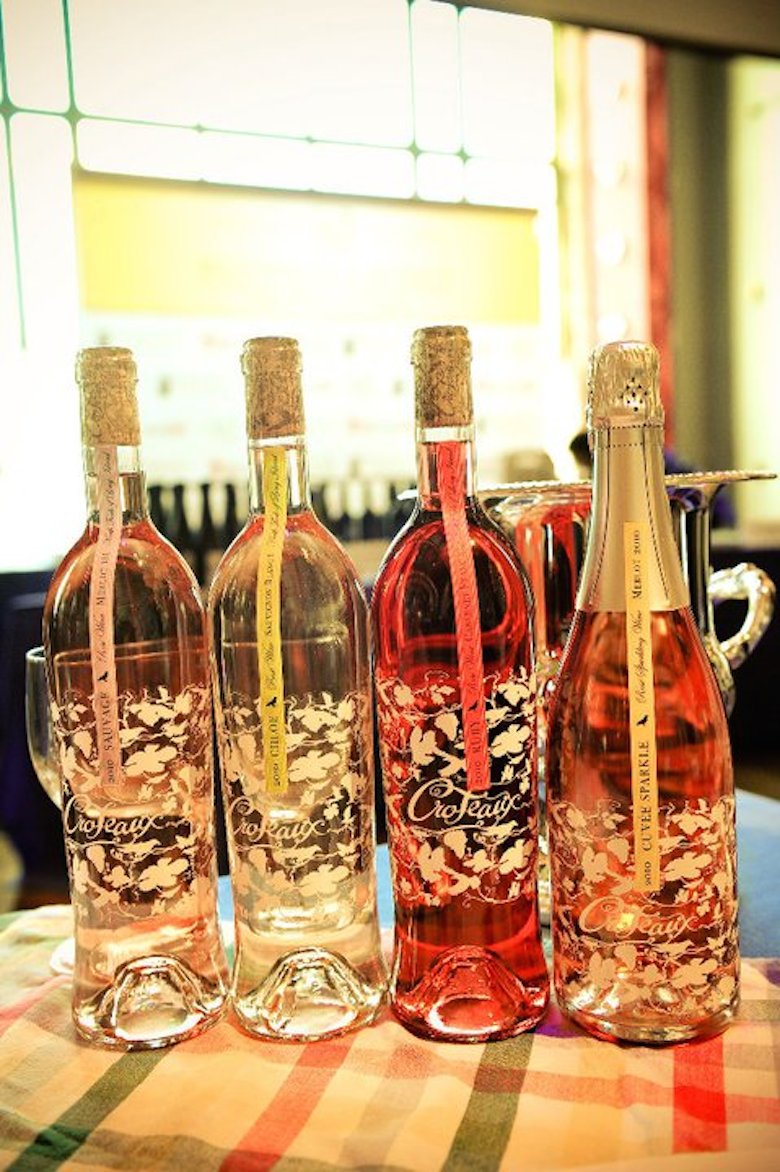 With the fourth annual Brooklyn Uncorked just a couple days away–tickets are still available here–we are proud to leak a list of rosé wines that will be poured at Uncorked, some recent praise for Long Island wine, and details on our partner wine shops offering discounts, tastings and classes for the month of May. (If you missed it, we leaked the food deets here.)
It's not just because the rhubarb's blushing that Uncorked attendees will see the room through  rose-colored glasses.
More and more Long Island wineries are producing rosé, as Karen Ulrich (who took the lovely photo at left) notes in this piece on Long Island rosés, and it's a type of wine that New York wineries can do particularly well. Not to mention the fact that Americans are starting to consume rose by the tankload; American sales of rosé surged over 50 percent last year.
And, on a related note, we congratulate our brothers and sisters in Long Island wine country, who received some very good praise last week in Robert Parker's Wine Advocate, where David Schildknecht, following up on his earlier assessment of the region in 2007, noted "how well the project of Long Island viticulture has fared since its tentative inception little more than three decades ago." Tasting a little over 100 wines and giving over half scores of 88 and above, and a fifth scores of 90 or above, Schildkdnecht concluded that the region holds "many wines offering outstanding value."
We are also pleased to announce a new element to Uncorked. In response to demand from attendees who said, "I loved what I tasted tonight. So where can I buy it in my nabe, " Edible has enlisted partner wine shops in Manhattan and Brooklyn who have generously offered New York wine discounts, tastings and classes for the month of May.
Find a list of wineshop partners here. Among the upcoming happenings, there's a tasting of Lieb wines at Pour tomorrow, a Greene Grape tasting of Paumanok wines on Thursday (and Brooklyn Oenology wines next week), a Channing Daughters tasting at Brooklyn Wine Exchange on Thursday (and tastings at that store throughout the month), Heights Chateau is offering three New York-focused sampler packs at nearly 20 percent off, and McAdam Buy-Rite is offering 10 percent off all New York wines for the entire month.
And if you're itching to get out of the city, hop the bus or train, or carpool, the two short hours to Long Island wine country, where throughout the month of May, 20 participating wineries will contribute one dollar to CancerCare from the purchase of every bottle of rosé wine.  Some local restaurants and accommodations are supporting the promotion with incentives as well; detailed information is available at www.liwines.com.
Partial List of 2010 Brooklyn Uncorked Rosés
Baiting Hollow Farm Vineyards, 2008 Cabernet Sauvignon Rosé
Bedell Cellars/Corey Creek Vineyards, 2009 Corey Creek Rosé (87% Merlot and 13% Cab Franc)
Bouké, 2008 Bouké Rosé (74% Cabernet Sauvignon and 26% Merlot) (dry), 2009 Bouquet Rosé (Cabernet Sauvignon, Merlot, Gewurztraminer) (off dry)
Castello di Borghese, 2008 Fleurette Rosé (Merlot)
Channing Daughters, 2009 Rosato di Merlot
Gramercy Vineyards, 2008 Rosé (Merlot)
Croteaux Vineyards (which only produces Rosé), 2009 Merlot 181, 2009 Merlot 314, 2009 Merlot 3, 2009 Cuvée Sparkling
Macari Vineyards & Winery, 2009 Rosé (35% Cabernet Franc, 25% Merlot, 40% Cabernet Sauvignon)
Palmer Vineyards, 2009 Rosé (Merlot)
Roanoke Vineyards, 2009 Rosé (Merlot, Chardonnay, Cabernet Franc and Cabernet Sauvignon)
Suhru Wines, 2008 Shiraz Rosé
Waters Crest Winery, 2009 Rosé (Merlot)
Wolffer Estate, 2009 Rosé (46% Merlot, 9% Cabernet Franc, 12% Cabernet Sauvignon, and 33% Chardonnay)