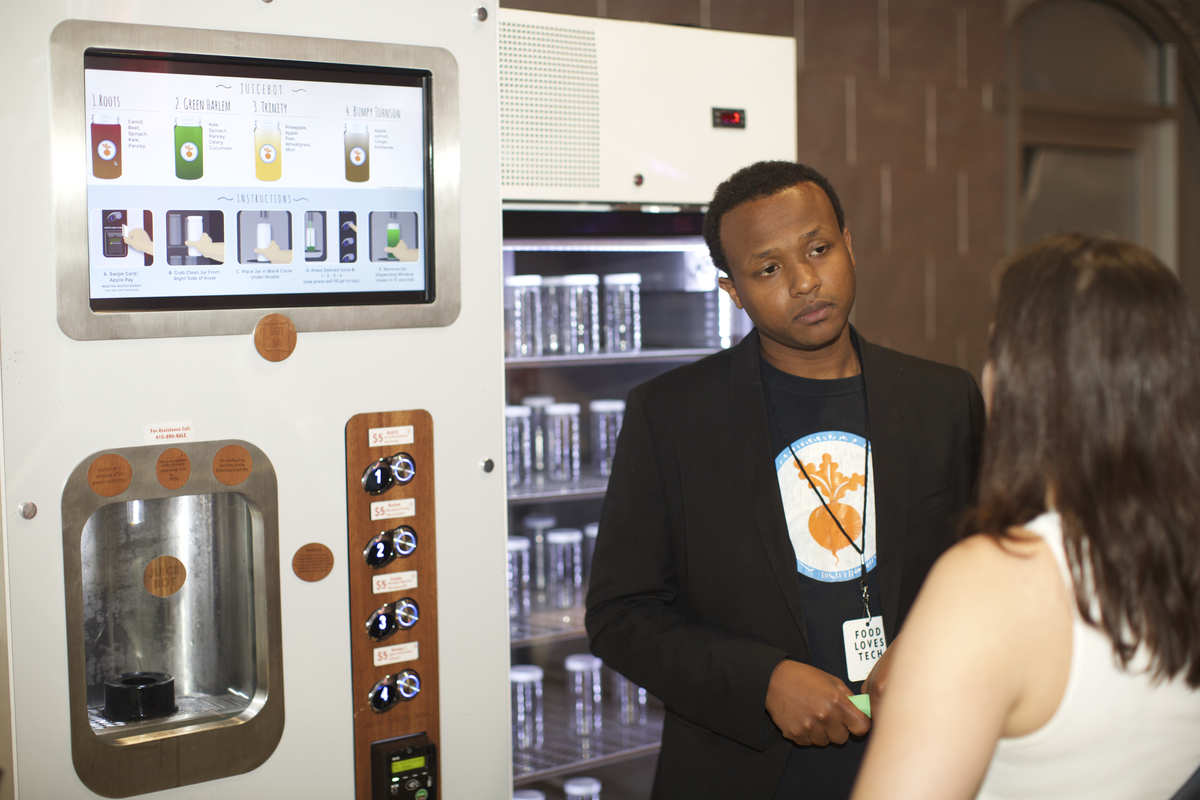 Every person who walked the dark, soil-lined corridor at the Food Loves Tech opening had little idea what they would encounter on the other side.
That goes for me, too. I was intimately involved with the conceptual stages of the event nearly two years ago, but this ambitious undertaking had so many twists and turns that even I did not know what to expect.
We realized our vision, though, and Food Loves Tech immersed us in our possible food futures. For two days, nearly 100 food innovators set up shop in the Waterfront Tunnel in Chelsea to show off what they are making and how it will transform our food chain very soon.
Many of these products were still pre-market and -commercialization, like the 3D-printed pizza, the VR-enabled restaurant menus and many of the autocookers and other smart kitchen appliances. Others are here now, whether the smart home garden technology of Seedsheets or the gadget that lets you turn an analog slow cooker into a connected sous vide. We had two smart vending machines (JuiceBot and Farmers Fridge), CEOs and scientists serving mealworm Bolognese (Hop One Kitchen), the Brooklyn-based home-cooked food delivery service Umi Kitchen, and big bowls of smoothies and salads crowd-sourced from the #feedfeed tag, the largest and fastest growing food tag on Instagram. Not to mention the Gotham picnicking app UPicnic, Sir Kensington's new Fabanaise, cultured meat and two of the largest vertical farm companies in the world. 
To quote Napoleon Dynamite, it was pretty sweet. Here were some of my favorite moments:
1. Most beautiful ugly produce display ever
We're at @FoodLovesTech today, showcasing our #uglyfood gallery. Tix still available! https://t.co/sNKtgJyyDF pic.twitter.com/NLXL6KtyjG

— Foodstand (@TheFoodstand) June 12, 2016
To offer attendees a glimpse of how our popular thinking is changing about food waste, the New York–based Foodstand created a pop-up gallery of ugly fruit and vegetables. Under glass, these misshapen, off-colored, oddly sized but otherwise perfectly edible vegetables showed just how beautiful they are. We waste at our own risk. As Foodstand ambassador Summer Rayne Oakes told me of the "Food. Too Good To Waste." gallery: "It includes some charismatically ugly veggies sourced from the farmers at Union Square Greenmarket, Imperfect Produce and Dig Inn.  
2. My Copa América moment with José Andrés
https://www.instagram.com/p/BGukiaNJ6bs/
As Kat Kinsman aptly noted in her opening night interview of Gary Vayernerchuck and chef José Andrés, "You two obviously both have unbelievable passion for life." You know this about @garyvee if you have ever watched any DailyVees, AskGaryVees or other content he pumps out. I have had the pleasure of meeting chef José a few times and at least half those times he talks excitedly about soccer.
So when I was leading a garden chat with José and other experts on global clean cookstove technology, and there were questions about how the stoves look and feel, I took my chance to hoist one above my head for all the folks standing in rows around the stage. Soccer symbolism aside, the efforts of the Global Alliance for Clean Cookstoves are truly heroic. They brought several of their smart, small, affordable solar and biomass stoves to Food Loves Tech; you can get some of them at HomeDepot. If this tech becomes widespread in Africa, Asia and beyond, then it could eliminate the millions of deaths each year, mostly of moms and children, from indoor air pollution.
3. The full rainbow of farmtech
https://www.instagram.com/p/BG__gOwmnVw/
As I dig into the sorts of tech showing up on farms, like farm robots and soil-embedded sensors, the landscape looks lots more diverse than it does now. From Seedsheets to cricket farms, we will be doing more insect raising (as we've heard) but also more home gardening as tech like Seedsheets (available on AmazonPrime) makes it that much easier.
https://www.instagram.com/p/BCf7hfnlL2a/
SproutsiO delivers a personal produce experience for your home or restaurant. Grove creates a food-producing ecosystem that turns your home fish tank into a mini-polyculture farm. So, we are happy to report that #agtech for the home will be many locally adaptable techs.
And indoor growing at scale will also be diverse, with companies like AeroFarms, EdenWorks and Gotham Greens choosing different lighting, growing mixes and sales outlets. Which is a great pivot from the more one-size-fits-all approach we take today.
4. Pretending I owned a farm robot
https://www.instagram.com/p/BHC9L6kj5L2/
I don't own a farm robot, but I wouldn't mind one. As far as I can tell, prices start at $10,000-$25,000 for something the size of Rowbot (which is actually going to be leased to farmers, not sold) or Naïo Technologies Oz bot. Still I see already how small farm machines can help our farm fields scale down and improve stewardship in all sorts of ways. We didn't have any robots at Food Loves Tech, although we did have a drone-content capture firm Marvel Vision which does farm surveying for Long Island wineries among other local farms. And we also built a tunnel that showed what it might feel like to own a Farmbot.io: a small, rail-based bot that can handle planting and care of common vegetable plants.
5. Swimming through a deep-sea cobia farm and then eating the fish!
https://www.instagram.com/p/BGh5fw5IqFr/
Good technology can give humans superpowers. And one of the superpowers that foodtech and agtech could give to people throughout the food chain is the ability to truly trace what we eat back to where it was raised. Why care about this info? It allows consumers to avoid food fraud and avoid ingredients they don't want, it allows chefs to share background selectively with diners who want to know how that chicken was raised. In a nutshell, information is power, whether you are talking about Ingredient1, which allows you to discover foods based on your "personal food ID" or the hand-held Nima sensor that can detect food allergens. Or, as you might have experienced in the Buckyball-enclosed VR zone at Food Loves Tech, you can swim through a deep-water fish farm and see how the fish was raised as a prelude to getting served the fish on your plate.
6. Ideas we can use in our every day, right now
https://www.instagram.com/p/BGjshDuw1FF/
Food Loves Tech was a chance for us to see and touch those technologies that are moving into our food chain. As we watch and chronicle the evolution of our food system, we naturally ask, is all this tech helping us eat better and farm better?
We are always happiest to find examples where the benefits for eaters and producers alike are clear: savings of water and fertilizer, more diverse diets, cleaner and smarter cooking implements or approaches that make eating fresh, whole foods the easy choice not the elusive one. And even if we don't buy or choose to use these technologies, they can work by simply showing us a different way to do things, a different way to change the food system.
Like the way that Grove showed me how to fix our murky fish tank at home. When my family strolled through Food Loves Tech, my 8-year-old daughter was drawn to their crew where she asked a string of questions about the kale seedlings that were growing out of the top of the fish tank. "The plants feed on the nutrients that are in the fish's water, which actually helps to keep the water clean," the Grove tech told her. She turned to me, "Dad, we have to do that at home. That will fix our algae problem."
Yes, it will fix the algae problem, make our fish happy and we won't have to scrub the tank as much. Someone captured the eureka moment and posted it to Instagram: "This is what it's all about folks. Sharing technology and ecology with the next generation."
https://www.instagram.com/p/BGkgTlLKj2x/
Until next year, I look forward to these new friends popping up at Good Beer and future Edible parties.