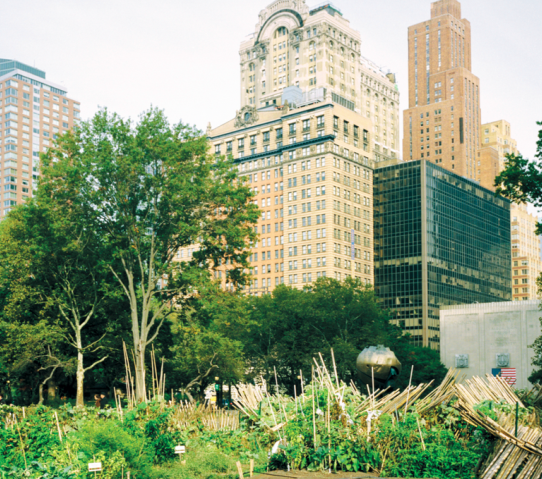 The arterial network of oddball streets at Manhattan's southern tip throbs with frenetic urban energy.
Staten Islanders race for a ferry; tour guides hawk helicopter trips to tourists; caffeinated white-collar workers zip into shiny skyscrapers that stand in juxtaposition to the neighborhood's remaining Colonial-era architecture.
And in all that crazed cacophony, at the corner of State and Pearl streets, a lush little one-acre plot sits quietly rimmed by a crosshatch bamboo fence and overseen in part by its plumed permanent resident: a wild turkey named Zelda.
The idea sprouted in late 2010 when eight students in the Environmental Club at the nearby Millennial High School wanted to start a vegetable plot. They proposed the project to Warrie Price, founder and president of the Battery Park Conservancy, the nonprofit that oversees these 25 acres, which were once tilled by Dutch farmers. Price, a passionate conservationist of green spaces, gave the idea the green light and the garden took root.
The fence's 5,000 bamboo posts once sat on the roof of the Metropolitan Museum of Art as the 2010 exhibit Big Bambu by artists Mike and Doug Starn; now they form a crosshatch perimeter like an outdoor embroidery sampler. Its curving turkey-silhouette shape was dreamed up by designer Scott Dougan in homage to Zelda, so named as the famed Fitzgerald apparently took a shine to this space.
Though intended to last only a year, the project quickly grew like the tendrils of summer beans that wind their viney way up and over the farm's fenced-in edge. Within a year, those eight students grew to 860 across 11 participating schools, and the acre—amended with 22 truckloads of Long Island compost—was officially inaugurated as Battery Urban Farm.
Today, 3,000 young learners from 50 city schools get their hands dirty in the interest of agricultural education. "Learning gardens" teach stories of the soil, as well as Lenape and Dutch history.
Overseeing it all are project manager Camilla Hammer, head farmer Josie Johnson and Anna Ellis, who creates lesson plans for their teenage student farmers, small-fry farm hands dubbed "City Seedlings" and the Farm Education Apprentice Curriculum, in which a few lucky apprentice farmers learn over the season, from April to November. A bumper crop of adult volunteers help with the planting, weeding, harvesting and maintenance.
Now in its fourth year, Battery Urban Farm teems with over 50 crops, much of which becomes lunch at local schools. And this June, a new Pick Your Own Harvest program kicks off for people who like their food to be very locally grown indeed. The organic vegetables, fruit, herbs and flowers yield an impressive 2,000 pounds of produce, but Johnson says eager urban students are her favorite thing to tend.
"They are what really brings the farm to life," she says.
Photo Credit: Rob Stephenson