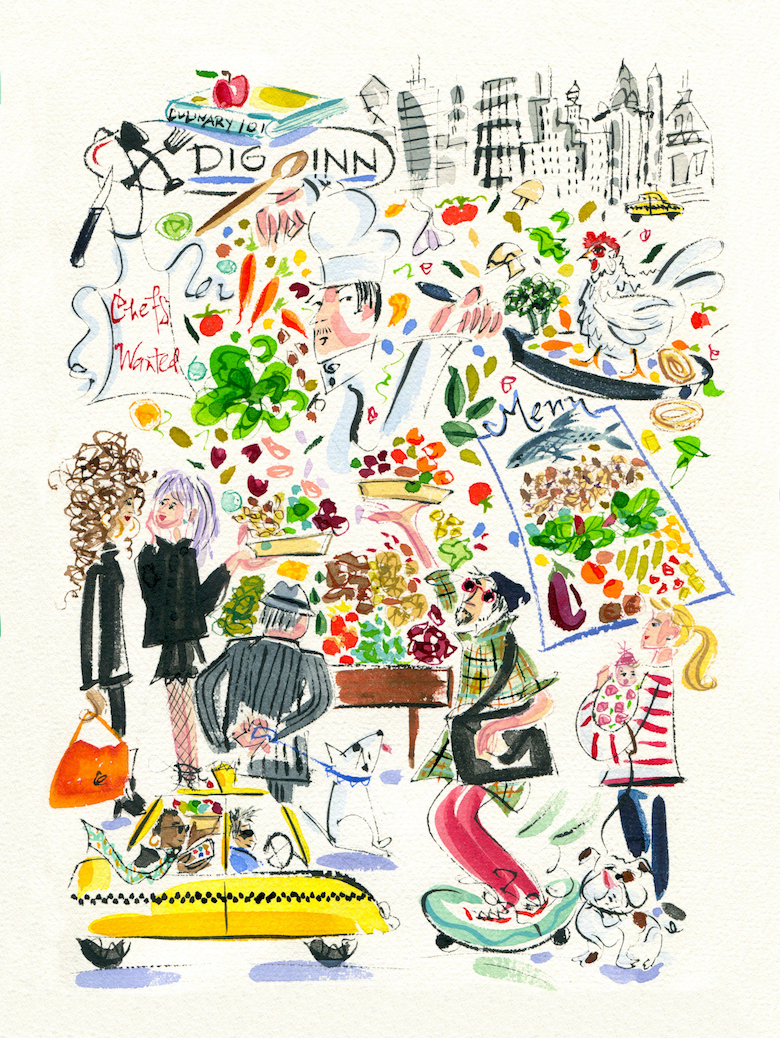 I avoid New York's food lines like the plague, but one of the few waits I'll frequently tolerate is at Dig Inn, a local chain that serves "real food prepared from scratch." Here, in the middle of any given work day and with a queue out the door, I can get charred chicken with Sicilian cauliflower and "Seasonal Upstate Mac" in no more than 10 minutes—and for around $8. The quality's so good that it seems like a meal I should have to sit down to order.
Dig Inn and its glossy New York peers—like Sweetgreen, Fresh & Co., Chipotle, Shake Shack and Chop't—are some of the "fast casual" businesses driving the restaurant industry. They're hybrids of fast-food chains and full-service restaurants—think a cafeteria-style format serving relatively healthy meals. Dig Inn specifically values rapid, scalable service along with simply prepared food made from seasonal ingredients that are often locally and sustainably sourced. Culinary director Matt Weingarten, previously of Savoy and Sodexo, describes them as being in the business of making "good food more available to all."
But Dig Inn—and many of its fast-casual peers—is facing a problem that's been vexing the New York restaurant business for years: They don't have enough skilled cooks.
CEO Adam Eskin first told me about Dig Inn's chef shortage last fall. He thinks the problem's partly because there's a labor pool mismatch: Dig Inn serves mostly hot food that's made from scratch, so needs cooks who have the skills to prepare whole, perishable ingredients. "Restaurants that have historically enjoyed our format, and have scaled and grown significantly, have [depended on] fast-food workers," he said. "It'd be really nice to plug [those workers] into the new age of what we're doing, but it doesn't seem to work that way… they weren't trained to care about how the Brussels sprouts taste."
The same day I met Eskin, New York Times writer Julia Moskin reported on a similar issue. Her piece "Not Enough Cooks in the Restaurant Kitchen" describes how chefs and restaurateurs nationwide "are openly worrying (not to say complaining) about a crisis-level shortage of cooks." Restaurants of all shapes and sizes find that it's been taking too long to fill cook positions in an industry that already experiences one of the highest employee turnover rates of any economic sector. The candidates who do apply are frequently under-qualified.
One common explanation is obvious: Working in kitchens can be a harsh life. In her book Forked: A New Standard for American Dining, food labor activist Saru Jayaraman points out the unfortunate irony that "the people who prepare, cook and serve our food are also twice as likely as other Americans to be on food stamps." Cooks are also on their feet for long hours, and it can take years to advance within the business. These challenges can be even more acute in New York, where the competition's fierce, the rent's exorbitant and the majority of cooks don't benefit from tips.
Increasing pay is a clear first step—just ask Tom Colicchio, Danny Meyer and other restaurateurs who've recently eliminated tipping as part of an effort to provide all staff with a living wage. Even New York State has recognized that the $9 per hour minimum wage for non-tipped workers is inadequate; as of this past April, they raised it to $15.
If the trend persists and businesses abate growing pains including this ongoing chef shortage, then working at a chain restaurant might gain a whole new meaning in the next few years.
Governor Cuomo proposed this minimum wage change last summer, but before the policy was official, Dig Inn had already committed to a $12-per-hour entry-level wage at all restaurants—including their soon-to-open Boston outlet—by late summer of this year. Twelve dollars is the amount they need to meet before the end of 2016 (they must reach $15 by the end of 2018), but that's still below $14.30, or the hourly New York City living wage. It's also below the current average $13.30 hourly pay for New York City restaurant cooks, but greater than $9.85, which is what the average New York City fast-food worker makes per hour, according to the New York State Department of Labor.
Dig Inn's VP of strategy Mona Safabakhsh assures that gradually increasing wages is only one facet of their larger recruitment strategy and "Chef Leadership Program." Modeled after the classic back-of-the-house hierarchy, the chain has developed a brigade training system that's meant to train new cooks while providing a clear path for moving up the ladder. For example, in the near future every new hire will go through a day-long kitchen basics class. As they develop into their new role, they'll complete a knife skills session and three-month brigade leadership training focused on either prep, cold/ambient or hot food.
Additionally, Dig Inn's already paying cooks their regular hourly wage to participate in a range of career development programs—a practice that's virtually unheard of in the chain restaurant industry. To date, they've paid for cooks to stage at an anonymous fine-dining restaurant, host an after-hours pop-up dinner at a Dig Inn location, and visit their commissary kitchen to learn new cooking techniques. They've also organized and paid for cooks to go on local farm visits, and have plans to purchase their own farm that they intend to partly use as a "living lab."
https://www.instagram.com/p/BDI9iw8FCDk/
Dig Inn's benefits program is also a work in progress. For now, Safabakhsh says that Dig Inn is primarily focused on understanding what their employees actually want. The idea is that, in addition to health insurance, they'll eventually offer a bundle of choices to entry-level employees who can then choose what best meets their needs. For example, through face-to-face meetings with all staff, the management has learned that many of their employees need daycare assistance and English language classes, and Dig Inn is currently researching different offerings.
To close the gap between corporate and all other staff members, they've also instituted dedicated feedback hours in stores where employees can voice what is and isn't working for them. Dig Inn also hosts a "town hall" meeting every quarter where all 400-plus employees are invited to share questions and comments for group discussion. This has led to more peer-to-peer learning at the restaurant level, where chefs are encouraged to teach each other as needed. They've also instituted "cards of affirmation" that employees can give to a coworker who they find to be doing their job well. Safabakhsh says that these can be just as valuable as recognition coming from a manager.
As for a general lifestyle as compared to both fast food and restaurant industries, Dig Inn cooks keep more regular hours. And since they're primarily a lunch spot, several of the restaurants are closed on the weekends, giving employees time for family, going out, hobbies or other jobs.
The initiatives are still young, evolving and Dig Inn has their work cut out for them if they are in fact capable of combating a rampant and systemic chef shortage. They're also not the only fast-casual chain attempting to reimagine their staffing and recruitment (Chipotle offers paid time off, tuition reimbursement and 401K plans to hourly employees, for example). Nonetheless, Dig Inn's committed to making noteworthy changes within an industry that's rife with labor issues. I was astonished by the optimism expressed by corporate-level staff that as long as a someone demonstrates a desire to learn about how, say, perfect Brussels sprouts might taste, they'll have the tools and education to succeed on the line no matter their previous experience.
The initiatives are still young, but Dig Inn's committed to making noteworthy changes within an industry that's rife with labor issues.
Time will obviously tell how effective the Chef Leadership Program is, but Dig Inn believes they're already reaping some benefits. They're also recruiting higher-quality candidates and hiring more people who demonstrate a passion for both food and learning.
They've also received feedback from employees—some who chose cooking at Dig Inn over a more traditional restaurant kitchen—that in addition to significant culinary training, they've had more opportunities for management and leadership development than at previous jobs. There are cooks who see the chain as a place where they can eventually become an executive chef or as a launching pad to eventually go off and start their own restaurant.
That is, of course, assuming that they want to launch into an industry that's evolving faster than ever before, and where everyone from David Chang, Daniel Humm and Will Guidara to former Costco execs are pursuing fast-casual concepts. If the trend persists and businesses abate growing pains including this ongoing chef shortage, then working at a chain restaurant might gain a whole new meaning in the next few years.
The last time I met with Eskin, we sipped kombucha (Dig Inn serves it on tap) and mused on whether this sort of change is actually possible. He asserted that with better informed and more deliberate business models, it absolutely is. "We continue to evolve so we can hope to stay ahead," he assured. "We're moving the needle in that regard."