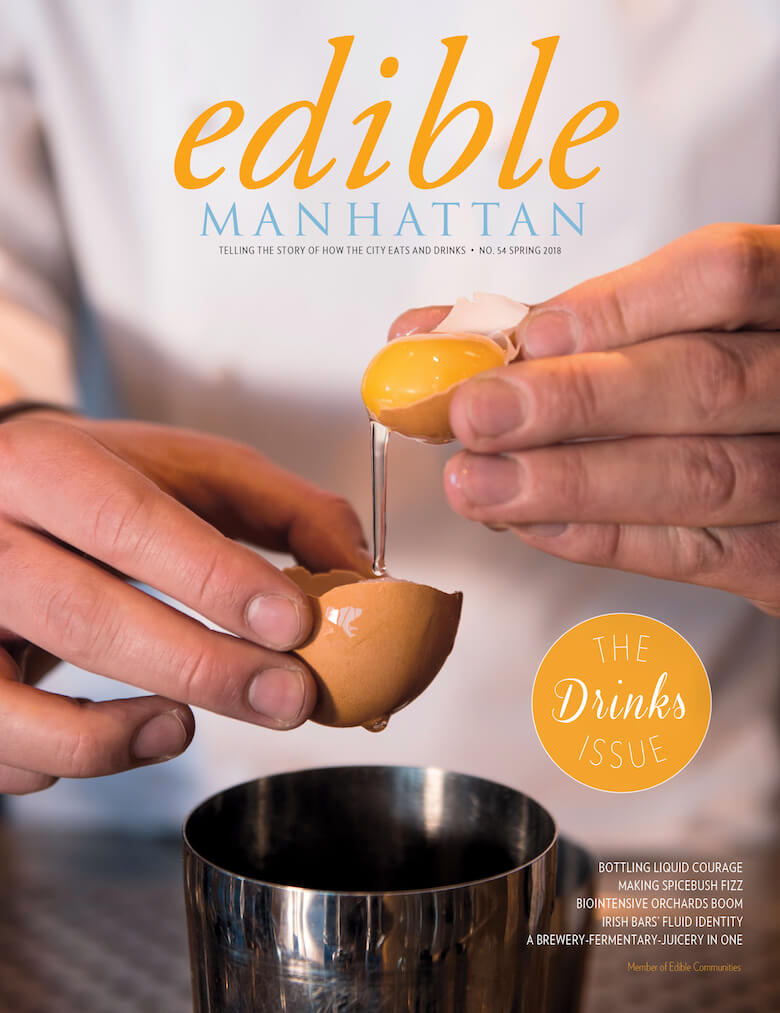 You can read the full "drinks" issue here. It also includes stories from Edible Brooklyn, Edible Long Island and Edible East End. Use this map to find a hard copy near you, or better yet, subscribe here.
Since its debut just after the 2016 presidential election, herbalist Grace Galanti's "Courage" elixir has been one of her best sellers at both Union Square and Grand Army Plaza Greenmarkets. I chuckled in both self-deprecation and sympathy when I learned this in Rachel Nuwer's profile of Galanti's work; I, too, need all the courage I can get these days. Say what you want about my obviously very scientific farmers market observations, but part of me also interprets this trend as a common and earnest desire to act bravely. I find it hard to deny the attempts of people seemingly trying to do their best.
In fact I see examples of this all throughout our latest issue. More than attempts, though, and in the midst of grim current events, these New Yorkers only make our city a better place to eat, drink and gather.
Take Suzanne Cope's story about Prospect Lefferts Gardens' Island to Island Taproom at 642 Rogers Ave.: Brooklyn's first combined juicery, fermentary and brewery that equally honors both its nonalcoholic and alcoholic offerings. Their business is also one of only 12 New York State Farm Breweries in the city (and the only one owned by a black woman), meaning they use large, legally defined percentages of New York State–grown ingredients for their beer and ciders.
To be expected in a "drinks" issue, several stories celebrate the city's endemic bar culture. Alicia Kennedy has us consider the historically fluid identity of New York's Irish bars that, no matter their many forms, remain some of the city's most treasured watering holes. She also introduces us to the East Village's Ruffian, a tiny wine bar where diners can cozy up with refined small plates and unusual Eastern European wines. Brooklyn-born Mimi Sheraton, the New York Times' first female food critic, also chimes in to share her ongoing search for a true Whisky Sour within the city's newfangled cocktail scene.
A couple of my favorite stories in this issue profile local innovators. Our digital strategy editor Bridget Shirvell tells the story of a wine importer who's dedicated his career to single-handedly peddling (literally—he almost exclusively rides his bike) Georgian wines throughout the city. First-time Edible writer Bahar Gholipour then portrays a seasoned agricultural consultant, who bucking conventional wisdom, is helping upstate orchards transition to biointensive farming methods (more on that in the story) with promising success.
Lastly our foraging expert Marie Viljoen singles out spicebush, one of the Northeast's earliest wild spring blooms that's also among the most versatile in the kitchen. Lucky for us, Viljoen shares where we can likely find the yellow flower and how to turn it into her apple and spicebush bud fizz (spiking optional).
Preparing these stories with our team has been my own sort of digestible courage this winter. Now ready for spring, I hope they bring you as much hope and pleasure as they have me.

Yours,
Ariel Lauren Wilson
SaveSave
SaveSave
SaveSave
SaveSaveSaveSave
SaveSave
SaveSave
SaveSave
SaveSave