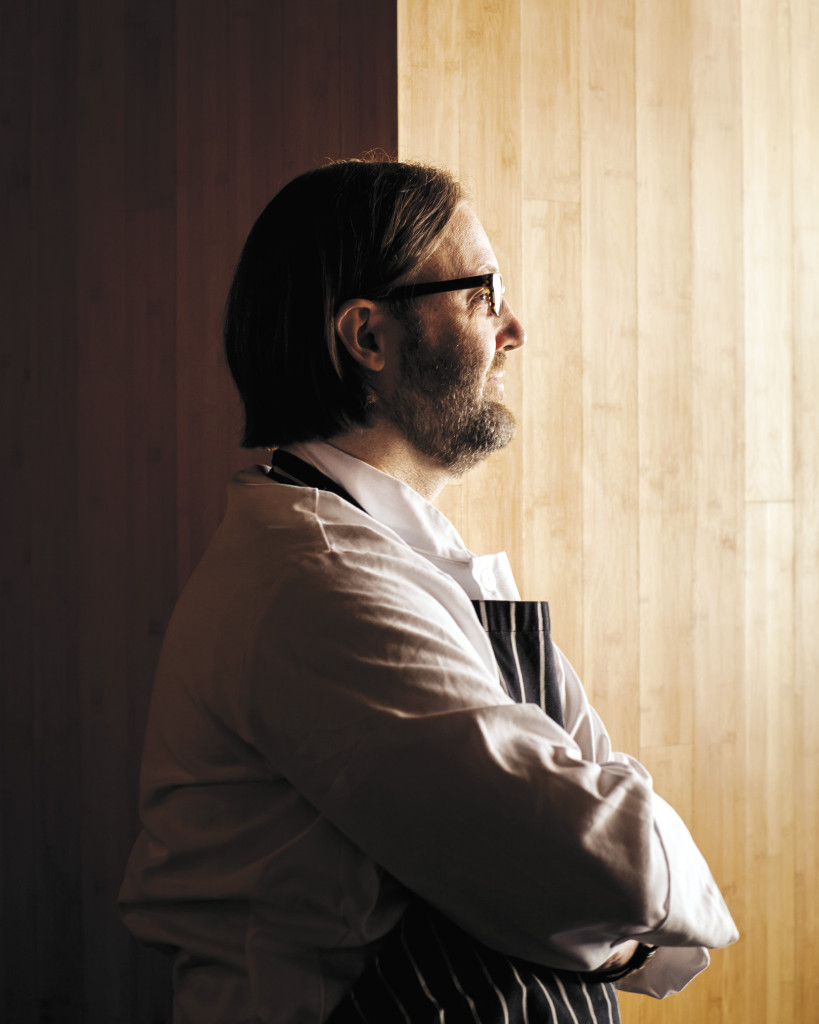 The most important thing in the kitchen of WD-50, chef Wylie Dufresne's 11-year-old modernist restaurant on Clinton Street, isn't some complicated gadget or part-time food scientist skilled in emulsion theory.
It's a notebook. Given to each and every cook and then stored — once rumpled, ragged and filled with scribbled ideas and recipe ratios — for consultation when memory fails or finally adds a eureka to some long-dormant scheme.
One such notebook — "series six, I think," says Dufresne, digging around in the canvas bag of old legal pads kept under his desk  —holds the genesis of the dish he is making today. That's shrimp and grits, or more accurately, "shrimp and grits," because it doesn't contain any grits, and depending on your point of view, it might not contain any shrimp.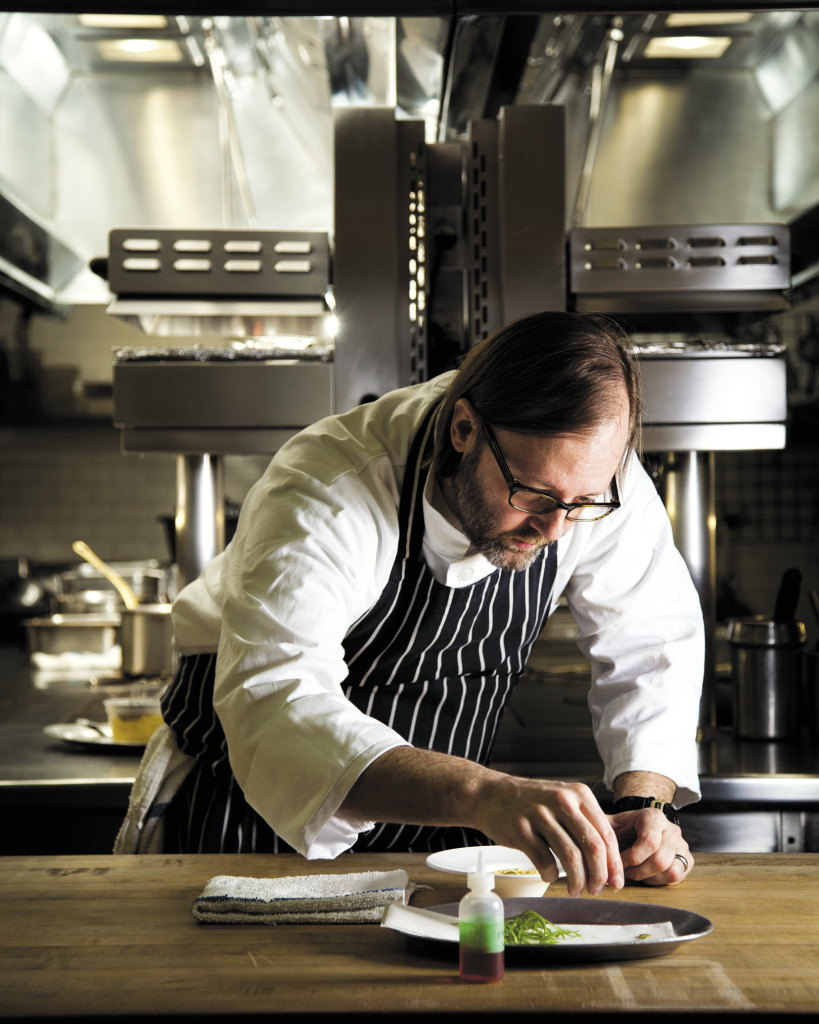 In WD-50's version of the South Carolina classic, Northeast crustaceans are put through a meat grinder, sautéed in butter, then ground twice more. Once that is simmered with vegetable stock and yellow corn powder the color of hot dog mustard — made at WD-50 by the tub from sweet freeze-dried kernels — the result is shrimpy, corny, carby and ultimately tasty in just the comforting way you want shrimp and grits to be.
The dish first appeared on WD-50's New Year's Eve tasting menu two months ago, and has stuck around since. It's "a good example of the way we think," says the chef, a 43-year-old father of two who now keeps his bone-straight hair slightly shorter than he used to. Dufresne — who started cooking in his father's Rhode Island restaurants at the age of 11 — followed up a philosophy degree with a stint at the French Culinary Institute. If you've ever heard him speak about his approach — which happens often, given his international status as one of our city's best chefs — you know he dislikes being called a molecular gastronomist. Not just because that's a branch of food science and he is a cook, but because it doesn't sound delicious.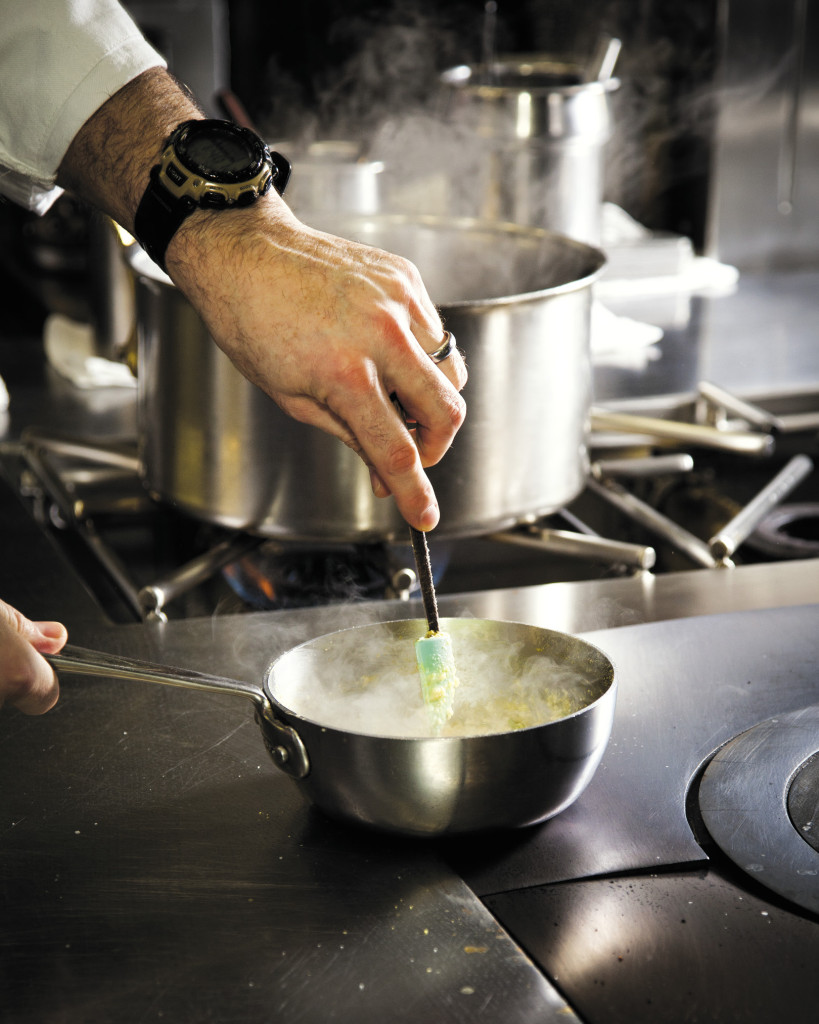 Dufresne's most famous creations have usually been recognizably craveable: "The revolution might not be the technique but the idea," he says. Consider the deconstructed pickled tongue sandwich with tomato molasses and red onion streusel; a mini eggs Benedict topped with fried hollandaise, a Canadian bacon chip and toasted Thomas's English Muffin crumbs; or popcorn soup made of a blend of microwave popcorn, butter, salt and more of that freeze-dried corn.
Yet he finds revolution in technique, too. Dufresne's bookshelf includes binders on hydrocolloids and his well-known "knot foie" is made from finding the proper ratio of xanthan gum to Japanese konjac flour for maximum liver flexibility. Still, he correctly insists his restaurant today has nothing you wouldn't find in any other of the same caliber around the world, including Greenmarket and farm-sourced ingredients, which he believes any good cook should be using. "I'm most proud," he says of his kitchen, "of how clean it is."

Indeed with the exception of a tiny hand-painted wooden sign cutely declaring that this kitchen is seasoned with love — "my wife won that at a barbecue," says Dufresne — it is a noticeably pristine, knick-knack-free environment. The space is filled instead with cooks in black-checkered chef's pants working quietly against a bright aquamarine floor that reveals Dufresne's subtle ways with whimsy and his fondness for comic book colors.
Shrimp and grits does, too. As he prepares it — a bright bowl of red, yellow and orange — it looks deceptively familiar. As Dufresne simmers thrice-ground shrimp with vegetable stock and thickened with strained corn powder, he's stirring, tasting, tossing in a hefty knob of butter just at the end. It's plated in a small bowl with floss-thin shreds of scallion, a few slender curves of house-pickled jalapeño and a drizzle of lurid orange shrimp oil, made from the cast-off shells.
As with much of Dufresne's food, the small steps behind just one bite can take days — years, technically, if you're going by notebook time. Shrimp and grits started off as just an idea, says Dufresne, essentially a desire to create some unique variation. The resolution came last year when a chef diced some scallops too small, and to save them, the kitchen had to experiment.
The answer turned out to be cutting them even smaller, cooking them and then grinding them yet again. The dry, nubby results became what the kitchen now calls scallop couscous, the seafood standing in for the grain. "We tried it with shrimp, with scallops and with squid, and I think we even tried it with regular fish," says Dufresne.
That "we" is an important point for Dufresne: He believes in the concept of a team; he'd probably place WD-50's above any of their individual ideas. He compares kitchen life to athletics: redemption, celebrity, missing a layup, mentoring, kitchen prep as the practice before a match. "All life lessons you can find in sports, you can apply to cooking," he says. (And the notebooks, it follows, are the playbooks for the game.)
Ironically, when knee surgery took away his dreams of a post-college year as a ski bum, it gave him the time to plan his path as a chef. He made a short list of the ones he wanted to work for, and ended up spending five years with one of his top choices: Jean-Georges Vongerichten, a cook known for his ability to play with old French techniques, incorporating flavors and ideas from different continents.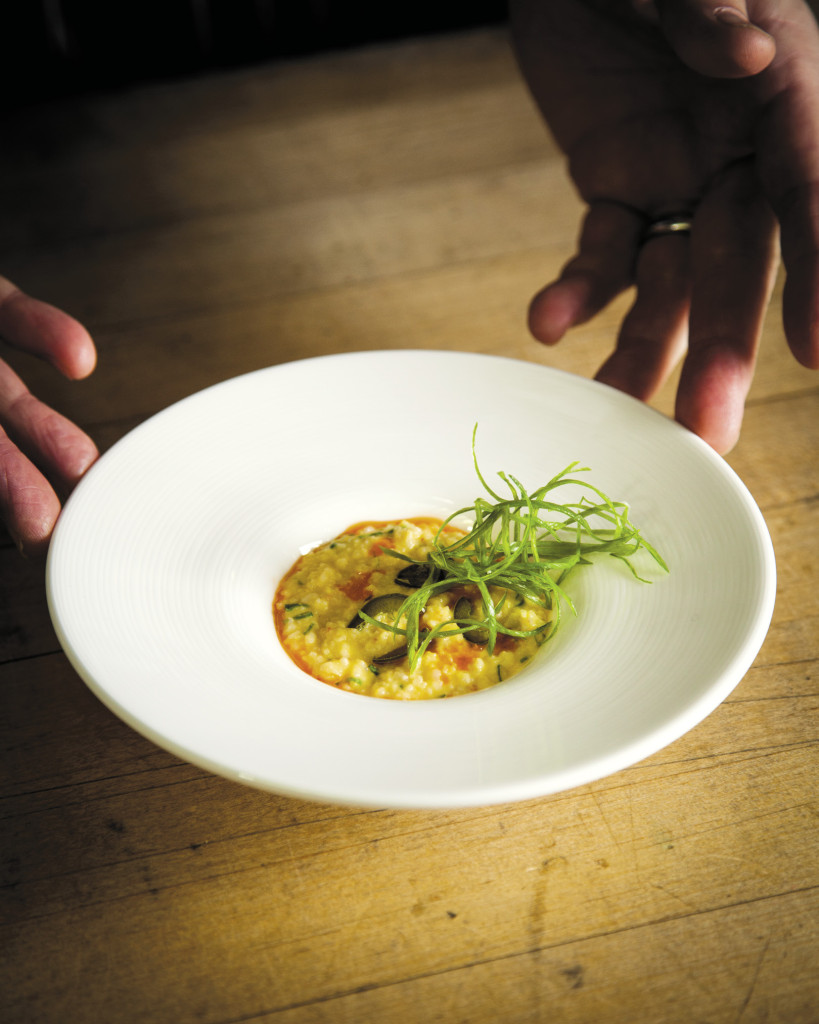 Dufresne had been struck by that then-unique approach when his father gave him one of Vongerichten's cookbooks about the same time. Vongerichten took an old European approach and "made it his own" says Dufresne. "That seemed very interesting and enlightened to me."
Enlightened is maybe not a word his fellow cooks would bandy about when describing their own early career goals, but Dufresne has always been one who enjoys big thinks and problem solving as a part of making food. He has long had a reputation not just as a molecular gastronomy guy, but as a cook who is always nose-to-the-grindstone at his restaurants, which are notably lower in number — he just opened the more laid-back Alder last March — than those of many of his contemporaries. That's perhaps not because he purposefully eschews new projects, but because he's too busy — too content, even — perfecting whatever unfinished idea lies in notebook series five or series seven.
Come to think of it, maybe his wife's silly barbecue sign isn't so out of place after all.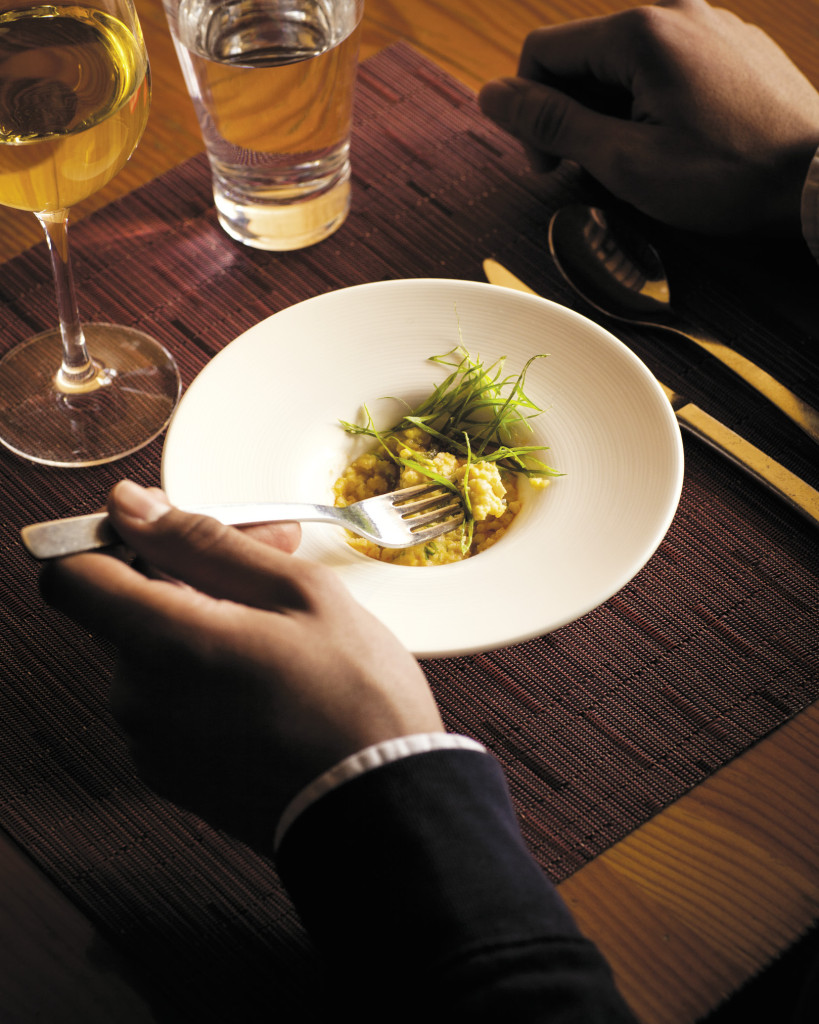 Photographs by Eric Medskier