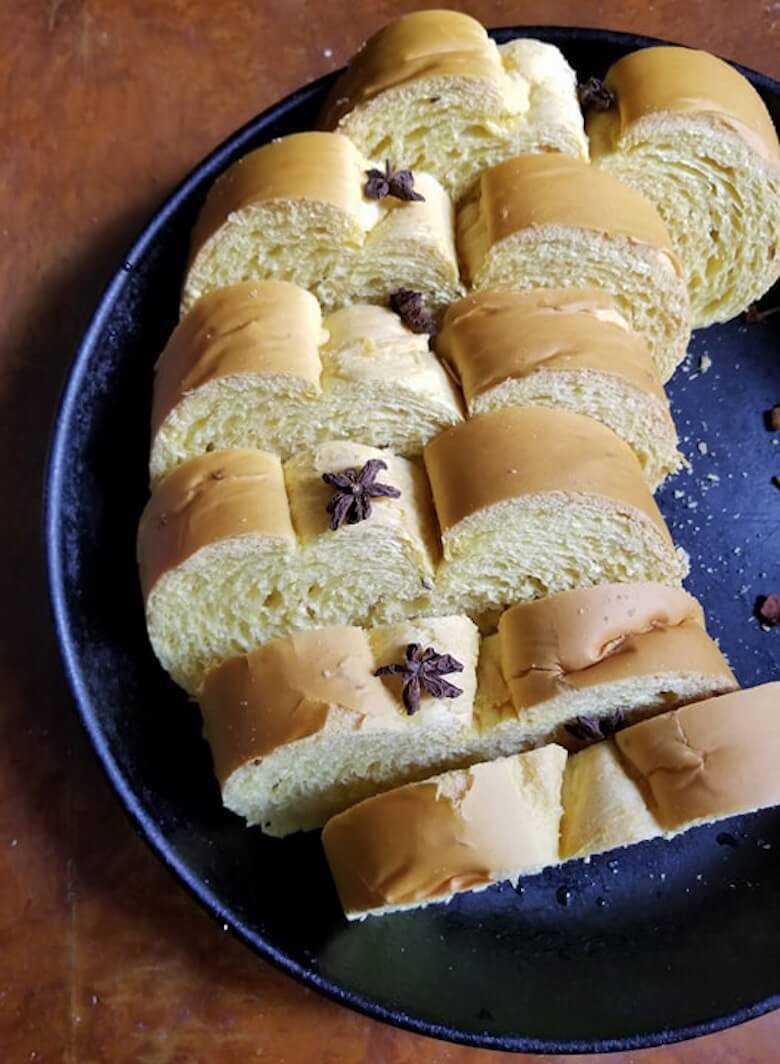 Some say that a Dominican Christmas Eve, or Noche Buena, isn't complete without telera at the dinner table—a 16-inch-long egg-based bread that when taken out of the oven smells of anise. Its texture is similar to that of challah bread; when sliced, the spherical inner layers of this buttery bread are revealed, with specks of the seeds peeking through.
"It's not good telera if you don't smell anise or if it's not a rich golden color," said Arturo Camilo, author of over five books on Dominican cuisine, including The Dominican Cooking Lexicon.
Telera reigns on the list of top ten holiday traditions Dominicans maintain, such as playing Los Aguinaldos, a folk genre of Christmas music, sung door-to-door with drums and guiros until reaching the last house in town.
For some, telera symbolizes the breaking of bread between relatives who have been missed. "Everyone, no matter your economic status, buys their telera to share during Christmas Eve," says Luis Mercedes a culinary professor at the National Institute of Technical-Vocational Training in the island's capital city of Santo Domingo.
Typically the bread is accompanied by a lechon asao (roasted suckling pork) and an array of dishes: pasteles en hoja, arroz navideño, kidney beans, potato salad, cassava croquettes. Camilo says people enjoy the bread best when it's ripped into pieces and dunked into the juices of a roasted pig—the earthy taste of the anise cutting right through the pork's fat. Christmas Day lunch is also said to be when the bread is truly devoured, as islanders whip up a sandwich using last night's leftovers between slices of grilled telera.
There is no formal historical reference as to how this bread became such a Christmas Eve dinner essential, but it has been said to derive from the colonization of the country by Spaniards in the 18th century.
In many Dominican bakeries in Washington Heights, telera is stacked up high and on display during this season. Whether 20 pesos or a U.S. dollar and some change, the bread is priced equally here and on the island.
Many bakeries, however, don't add the touch of anise Carlos says telera is traditionally made with, except for an uptown bakery across the street from an IHOP on 178 Street: Floridita Bakery & Pizzeria. To the right side of the entrance is the baked goods portion of the establishment, where Dominican cakes frosted with colorful meringue are displayed on the windows. Wait in line and ask for their telera with anise, which will soon be taken out of a covered baking sheet rack behind the counter. Arrive before 1 p.m., or risk being told they ran out.
SaveSave