Editor's note: Want to immerse yourself in Chicago's food and drink? Check out our sister publication Edible Chicago.
At a recent meal with a food writer colleague, Chicago came up. It's a city I'm quite fond of; I was excited to be visiting soon. The colleague—a many-year resident of Brooklyn—scrunched up his nose and said something along the lines of, "Hm, yeah, that city has always seemed a little… provincial to me."
Ay yi yi, if that doesn't capture the worst traits of New York citizens, I don't know what does. Surely you've seen those "New Yorker's View of the World" covers, where everything beyond the city is represented as a tiny blip, barely visible. The posters are played-out, but you must admit we can display a rather myopic view of life outside the five boroughs. We all need to recognize that the world doesn't begin and end here.
Especially in regard to the food scene, calling Chicago provincial (or anything else pejorative) is absurd. Start with Grant Achatz and Charlie Trotter (RIP) and Rick Bayless, then multiply it exponentially by all the amazing chefs you've probably never heard of (See: New York bubble). Every time I've visited this fair city, I've sampled amazing cuisine that would stack up to any world-class metropolis. Once I even used a six-hour layover to cab into the city for a meal at Lula Café (the wonderful Logan Square bistro immortalized in a This American Life episode).
All this said, I understand New Yorkers might be trepidatious about visiting such a tiny backwater burg. Is there any decent food beyond rib eyes and bratwurst? Why is their pizza crust like three New York slices stacked on top of each other? And lordy, why are they putting tomato wedges and peppers on their hot dogs?!
I visited Chicago with a seasoned food editor from Time Out New York—we hunted down a roster of New York–friendly establishments, where the connections to our home city are clear. These are sophisticated, welcoming restaurants, all with clearly established New York bona fides. My hope is, once you realize these places are quite excellent, it might entice you to explore the rest of this diverse, vibrant culinary capital. (After Chicago, maybe Omaha?)
https://www.instagram.com/p/BHDcBJiAU5g/
259 East Erie Street
312.337.0101
Certainly Danny Meyer needs no introduction. The Shake Shack magnate also lords over a solid bench of quality New York eateries, all bearing the stamp of Union Square Hospitality Group. But did you know that Meyer opened a sleek, well-appointed Chicago restaurant last fall, on the 18th floor of a Streeterville skyscraper? In collaboration with the cocktail wizards from New York's Dead Rabbit, Meyer and company created a posh-yet-approachable bar/restaurant with a quiet Irish undertone.
GreenRiver made almost every Chicago "Best New Restaurant" list last year, with a particular focus on the cocktails and the inventive brunch offerings. We checked it out for a Sunday brunch and found it pleasantly full (but without the nutty waits of your typical New York joint). My companion got a wonderful duck confit riff on corned beef hash, replete with ramps and English peas, while I opted for an Eggs Benny with crab and asparagus. And to start, we ordered the hot, savory bacon chive bretzel (like a little pretzel loaf). Bonus points for the spectacular views from GreenRiver's terrace and the reliably attentive USHG service.

https://www.instagram.com/p/BFhgq7UkLUP/
616 North Rush Street
312.660.6000

You're certainly familiar with the tumultuous David Burke empire of restaurants. This globally acclaimed, CIA-trained chef co-opened his first New York spot back in 1992, the well-regarded Park Avenue Café. Then in 2003 he started empire-building in earnest, churning out a wide portfolio of restaurants bearing his name. Fishtail by David Burke closed in the UES this year, but David Burke Kitchen soldiers on in SoHo. And in Chicago, David Burke's Primehouse is one of the city's finest steak joints.
Located in the James Hotel, Primehouse has something of a quiet, neutral vibe (the kind favored by tourists who don't like wild surprises). But the steak—my stars, the steak. Burke is allegedly the first chef to own his own bull, and whether or not that boast holds up, he certainly knows how to serve up prime cuts. The best steaks are dry-aged in a "Himalayan salt-tiled" aging room on the premises (your waiter will tell you all about it). As with most top-shelf steakhouses, they are spendy—the very cheapest "salt brick" ribeye is $51—but oh so worth it. Words escape me. My companion tried a roast chicken and sausage dish, which was just fine, and our appetizers were on point, but the steak is really the reason to visit.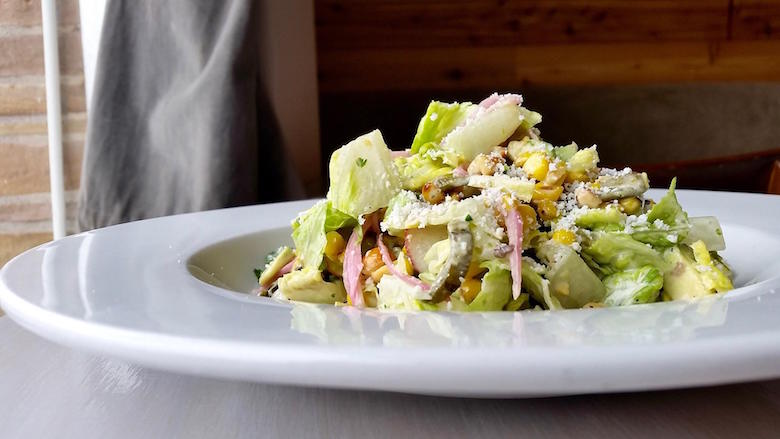 3938 North Central Avenue
773.283.8848

Joey Beato is a Chicago wunderkind, but you've likely never heard of him because, well, you live here. If he did manage to catch your attention, it's because he was sous chef at Momofuku Má Pêche for awhile. This is certainly no minor position, testament to the fact that this bearded prodigal son can cook.
His flagship gastropub, Community Tavern, is an established Chicago go-to, but I wanted this list to diversify a bit. Cochinita Taco Co. opened this spring, and while lines can stretch down the block on prime nights, it still maintains a laid-back vibe. We grabbed seats at the bar on a prime Friday night, and were delighted by well-executed traditional tacos (pescado, aka fish), delicious fusion tacos (short rib with kimchi and avocado crème fraîche) and a spot-on rendition of queso fundido (with caramelized onions and poblano peppers). Bonus points for the Mexican Bulldog cocktail-for-two, not invented for Cochinita, but absurd and decadent nonetheless—it's an enormous margarita with a Corona dumped in. We walked away happy. 
https://www.instagram.com/p/96ztALoXkY/
800 West Randolph Street
312.929.4580

New Yorkers love hype, so Au Cheval may be the one place on this list you've heard of. It's the flagship spot for powerhouse Chicago chef Brendan Sodikoff; you are virtually guaranteed to wait in line. Reservations are not taken, and even when I pleaded their PR team for a table, I was simply given a tip—go on Monday morning, near when Au Cheval opens. I did just that, and still faced a half hour wait (easily managed at Little Goat down the block, a fantastic café/bar/restaurant).
Au Cheval was certainly my favorite meal of the Chicago tour, and not just because of the hype. (If anything, too much buzz makes me extra-critical.) The centerpiece of the menu is a simple cheeseburger: two or three patties, Kraft American cheese and a locally baked bun, served with Dijonnaise and pickles. You can gussy it up with foie, bacon or a fried egg, but we went au naturel. The burger is well beyond the sum of its parts, clocking in as one of the best I've ever tried. Worth a three-hour wait, or deserving of Bon Appétit's Best Burger in America? I'll leave that decision to you. Every other item at Au Cheval was perfect, incidentally, from the hearty chili con carne with Fritos to the vibrant green salad to the meticulously curated soundtrack (Au Cheval employs a music director). But you must try the burger—there's a reason they're cranking out 400 to 500 of them per day.
Oh, why is Au Cheval on this list? Because ever-ambitious Sodikoff plans to open a meaty restaurant called Prime Rib in the West Village this year.
Honorable mentions
If you'd like your Chicago tour to extend beyond just restaurants, here are a few other places to try. West Loop Salumi (1111 West Randolph Street) makes some excellent charcuterie, available at multiple New York purveyors. Racine Plumbing (2462 North Lincoln Avenue) is a lively sports bar for Big Apple expats; the TVs are always tuned to New York games. And brewery tours for places like Goose Island—a staple beer in many New York pubs—are a tipsy way to while away your hours.