A little extra creativity is just the ticket in the gray, slow days of winter, where what feels "fresh" may seem too few and far between. Those who patronize the city's farmers markets or have a CSA share know this feeling well. As much as we all love that bountiful golden array of squash and apples at first, by midwinter a true root vegetable ennui has set in, and frankly, we could use a drink.
Coming to the rescue are New York City's bartenders and beverage experts—an unflappable stock of inspired, inspiring culinary minds who won't let a little uniformity of color in the garden slow them down. Across the city, their smart hands move from bar shelf to produce basket, turning seasonally available ingredients into cocktails that thaw both the body and soul.
Though it's common to rely on locally sourced maple, eggs and honey through the colder months, there are plenty of lively components available at the city's farmers markets—from dandelion greens to gooseberries—that can tweak traditional drinks to be suited to the current temperature and temperament.
"There's a seasonality to what we want to drink as well as what's available at the market," says Jenn Smith, bar veteran, executive director of the New York Cider Association and former manager of the Astor Center, who continues to serve as an instructor there by teaching classes like "Greenmarket Cocktails."
In her class, students get hands-on experience in building beverages that combine appropriate spirits with current harvest offerings. "The only rule is there's no vodka allowed," cautions Smith, "because that's really cheating. It's not difficult to make a balanced flavor profile when one of your ingredients has no flavor at all."
Smith likes to greet her students with a Champagne-cocktail-inspired drink to set the tone, incorporating a current farmers market ingredient and topped with sparkling wine or cider. "When there's sweet apple cider or fresh apple juice [at the market], or sometimes you'll also see fresh Concord grape juice there, you can make beautiful syrups just by reducing those ingredients and topping that up with a great New York State sparkling dry cider," says Smith. "It's more of the sum of its parts."
Through our long winters, Smith finds she turns to comforting ingredients, like a butternut squash–brown sugar syrup, the ubiquitous apple or even sweet potato. And as spring begins to peek its little chutes above ground, the doorway opens to other favorites, like arugula, asparagus—best as a garnish—ramps and even peas. Whether served as a fresh garnish or a pickled garnish, peas shine in a cocktail, says Smith. She also likes them muddled with mint, where "their respective herbaceous and vegetable qualities come through." But there's the X-factor, too, she says: "Peas additionally give drinks an unearthly green color," she says, "It's like an ectoplasm. It's so cool."
And as far as visual drama goes, we've all seen the beauty of the beet—from an earthy partner to warming whiskey to a tangy, bright shrub. But many New York bartenders strive to go beyond the beet and see cold-weather fresh ingredients not as a bartender's challenge, but as part of the year's natural cycle.
"I grew up in Scandinavia, so I'm no stranger to cold winters. I learned early on how to get the most out of the seasons," says Aska's head bartender Selma Slabiak. "Nordic cuisine utilizes many ingredients generally that are thought of as winter ingredients in the U.S. Root vegetables such as beets, sunchokes and turnips have a lot of flavor, and you can roast, pickle or use fresh to make them even more interesting."
At Aska, the entirety of the food and bar programs—beyond the spirits themselves—rely on seasonal and local ingredients, explains Slabiak. "We don't use citrus for that exact reason, which in a beverage program can be quite challenging," she says. Beyond taking advantage of local markets, Slabiak relies on foraging guides like The Flavor Bible and The Drunken Botanist, studying and tasting as she goes through the year. Tart sea buckthorns (nonnative yellowish-orange egg-shape berries) are one of her favorite syrup ingredients, and by very early spring, she's looking to nettles, spruce tips, woodruff (nonnative woodland groundcover with hay-like fragrance), ramsons (nonnative chive relative), sorrel, goutweed (nonnative member of the carrot family)—and even flowers like daisies and violets—to round out her repertoire. "You can never go too far," she says, "as long as you understand the flavors of both the greens and the spirit you use and how to mix them properly."
And while we often talk about "fresh" when we talk about local produce, there are whole worlds—like infusion, dehydration, pickling and jam-like preservation—that can stretch the seasons past a botanical ingredient's brief window of fame on the farm stand. Whether it's pickling ramps for beguiling martinis, juicing and freezing vegetables or creating sweet preserves of those very late or very early berries, there are myriad ways to transition the flavors of winter's shoulder months into seasonally appropriate concoctions that last well beyond their short lives.
At Chelsea's Rouge Tomate, head bartender Cristian Molina says winter drink-building "is in fact great, because it asks us to be very creative—exploring preservation techniques or new ingredients like root vegetables, herbs, yam, pumpkin, etcetera." Molina's also fond of traditional flavor motifs, like apple and ginger syrup. "It requires very minimal sugar and a little on a cocktail or tea goes a long way."
While it may be unexpected, celery, and its relative celeriac, are also ideal cold-weather ingredients, says Amor y Amargo's Sother Teague. "Celery is a really good one—it's really wintery, and celeriac is good for juicing. I do some celery infusions into aquavit, and I've also infused celery into everything white—blanco tequila, white rum, gin, vodka—it's so herbaceous and clean."
Lest we forget the herb garden, Smith points to woody herbs and microgreens as seasonal wayfinders for the creative bartender like using sorrel or dandelion greens for muddling into a bitter gin cocktail. "Bitter ingredients stimulate certain hormones in our body and sort of kick-start everything, and that's what I look forward to in the spring," says Smith. "In the spring your body craves bitter longer, and you're anticipating the ramps and the equinox and Easter and all of that."
"You can never go too far," says Slabiak, "as long as you understand the flavors of both the greens and the spirit you use, and how to mix them properly."
Teague, too, prefers winter herbs to warm the season. "They're seasonal but they also pair with what's already going on in your dining life at this time, too, like rosemary and oregano. Rosemary I particularly enjoy because it's so oily, but I also like to burn it," says Teague, who employs the herb by charring and rapid-infusing it, building the drink over the top of the sprig.
And of course when bridging the gap between winter's savory herbs and veggies and the brightening onset of spring, there's one early riser that nearly every bartender can agree on: versatile, vegetal, tart, bright rhubarb.
"Rhubarb's a common ingredient in tons of different amari and bitters," says Teague, "But as a fresh product it's pretty tart. I've been known to pickle rhubarb and use the brine in drinks and I've actually made rhubarb syrups by a similar process of steeping rhubarb in simple syrup—that's a little bit more savory."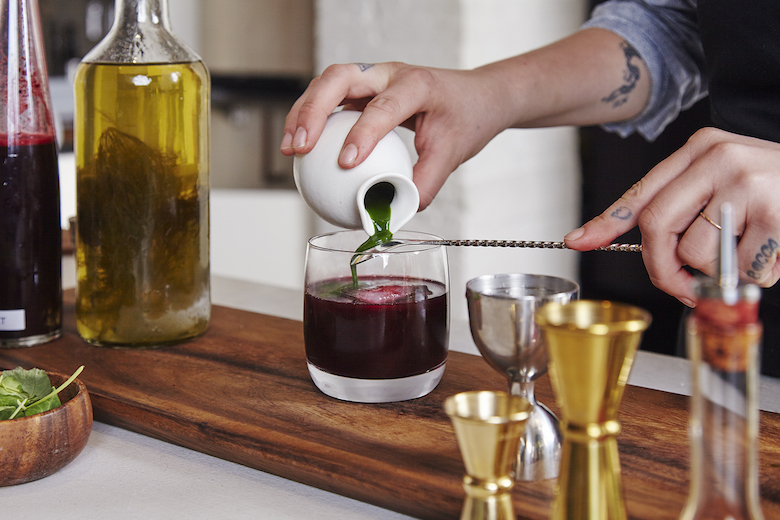 Rhubarb provides a little bit of a cheat, too, for market-oriented bartenders who want some nuances of flavor that New York geography simply can't provide, says Smith.
"If you're interested in trying to make a 500-mile cocktail in the Northeast, you're fine until you want to make something with citrus," says Smith. "But with rhubarb you can successfully make a sour cocktail leveraging rhubarb in place of citrus."
Rhubarb, celeriac, squash, beets, nettles, spruce tips, apples, pears, arugula—come to think of it, maybe the colder months are pretty abundant after all. We'll happily raise a glass to that.