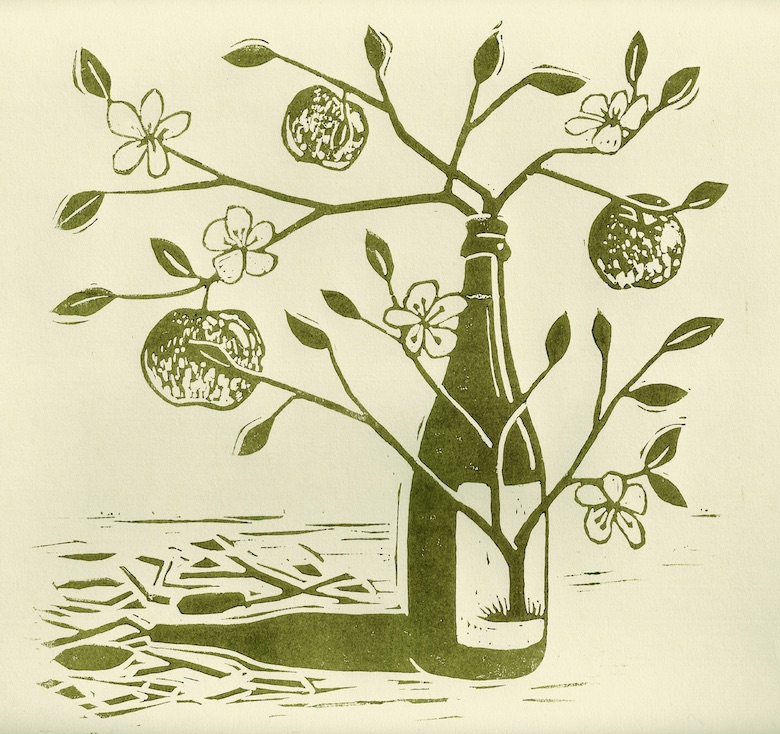 Autumn Stoscheck has been making hard cider for years but still considers herself a beginner. "The truth is I've made cider 14 times. That's not very many," the founder of Finger Lakes–based Eve's Cidery says. "I've dumped thousands of gallons and killed hundreds of trees." But ask any local cider aficionado what they drink, and chances are they'll point you in her direction.
With several private orchards in and around Van Etten, New York, Stoscheck, an Ithaca-region native, and her partners, husband Ezra Sherman and farmer James Cummins, manage thousands of trees ranging in age from just-planted to over 30 years old. It's a lot of pruning, but of her numerous tasks as an orchardist and cider maker, that's Stoscheck's favorite job.
In the early 2000s, Stoscheck pondered her future while floating between waitressing and working at Cummins's u-pick apple farm. Cummins happily shared his vast apple-growing knowledge with the 21-year-old, and in 2002, she used her meager savings to launch the hard cider business.
She rented a barn in Indian Creek, bought apples from Cummins and read everything she could on the topic. Inspiration came when she read about New Hampshire–based Steve Wood of Farnum Hill Ciders—widely considered to be the godfather of modern American hard cider making—who had traveled to England to source apple varieties specifically developed for tannins and acidity (two major flavor components of any hard cider). With youthful enthusiasm, Stoscheck hopped in her Dodge and, unannounced, drove to see Wood.
Luckily Wood is a friendly guy. Stoscheck left the farm with a few grafts from Wood's trees and the advice to take a hard-cider-making class with cider expert Peter Mitchell. She went to England to do so, and on her return, immersed herself in the process.
Today the cider making duties are split between Stoscheck and Sherman, which is good because they each have different tastes. "We compliment each other," says Stoscheck.
Exceptional fruit is the priority for Eve's Cidery and it's why Stoscheck and Sherman spend most of their time being orchardists, but come February they become cider makers. "It's cool to see how synergy [of flavor] can be created by blending," says Stoscheck. The first step of this process is assessing the flavor of each apple variety for the three main building blocks of cider: aroma, tannin and acid. With over 18 different apples to choose from, the duo have seemingly unlimited options. Stoscheck generally likes to use sharp apples, like Bramley's Seedling, to dial in the acidity, while she finds Golden Russet great for its aromas and Northern Spy valuable for its neutral minerality.
https://www.instagram.com/p/BONG5kmgEYw/
A glass of Eve's Cidery—named for Pete Seeger song "Letter to Eve"—is not your typical American cider in that it's not sweet. Instead, akin to wine, it has a nuanced flavor thanks to poetic blends of hard-cider-friendly varietals like Ellis Bitter, Yarlington Mill, Kingston Black, Bramley's Seedling, Porter's Perfection, Virginia Crab and Brown Snout. Gil Avital, partner and beverage director of Tertulia in the West Village, has had Eve's Cidery on his small, mostly Spanish menu since day one. He generally looks for ciders that are inspired by Spain—a culture that revels in its siderias. "[Stoscheck's] ciders, in my opinion, are so focused and so true to the tradition of cider making," Avital says.
I met Stoscheck at the Ithaca Farmers Market, where I bought a 750-milliliter wine bottle of Albee Hill, an eight-apple blend centered around Golden Russet. The apple taste is lean and chalky with a hint of lime. It's winter as I write this, so I'm thinking of pairing it with oysters, roasted vegetables or smoked meat. She says she doesn't have a favorite, but it's the cider Stoscheck has been drinking a lot of recently.
Despite being the cider maker's cider maker, she continually thinks she can do better. "I think one thing that makes us stand out is that we do know how much we don't know." That's not an easy thing to admit, but in this case what they don't know still happens to make for an exceptional drink.