One of the first things Elena Liao of Té Company will show you at her tiny tearoom on West 10th Street is a yellowed map of Taiwan. She'll point out a few of the lesser-known tea-producing regions and have you pull up a chair to taste some oolongs. Sometimes, she'll even share pictures of the growers and their farms and throw in a bit of Bond-like intrigue about stolen cultivars. The map hangs next to a corner reading nook in tribute to Bonnie Slotnick, whose legendary cookbook shop once occupied the space. When Té moved in, Liao and husband Frederico Ribeiro, a former sous-chef at Per Se, invited Slotnick and her old neighbors over for a potluck. Village locals stop in regularly, including a florist who showers Té with a few blooms on his weekly rounds.
Té is far from tea and scones at the Plaza. The small menu features European-inspired snacks like anchovy- and mustard-coated watermelon radish prepared by Ribeiro, a Portuguese native who makes his own sourdough bread daily. Every few weeks, Liao and Ribeiro turn their laid-back tearoom into a nightspot for "Dinner at Bonnie's"—a sophisticated, multi-course feast for eight diners per night (nine tops) that includes several tea pairings chosen by Liao.
This quiet, unassuming pair ranks among a relatively small enclave of independent New York tea companies that have developed deep, direct relationships with farmers in targeted regions around the world. You might even say they're on a mission to bring harder-to-find premium teas and centuries-old traditions to the Big Apple in a way that feels fresh, easy-going and modern.
Most tea connoisseurs know central regions in Taiwan like Nantou county or other high mountain areas to the southwest for their oolongs, which fall somewhere between green and more heavily oxidized black tea. There's also the world-famous Oriental Beauty—otherwise known as bug-bitten tea—prized for the rich honey and muscatel notes that tend to emerge as a chemical reaction to leafhopper insects that can infest the tea plant (you can try a cup of Oriental Beauty at Té for the average cost of a New York City latte). Té also carries select harvests of these much-loved standards and supplies restaurants such as Eleven Madison Park and Atera for their extensive tableside service.
Much as Liao appreciates competition-tea grade tea, she also has a passion for exquisite varieties from more under-the-radar locations like the northeastern Yilan county, closer to Taipei, where her family's from, or maverick monks in Pinglin, who are producing wilder teas using organic methods. "It'd be a crime not to share these gems," she says.  "My job is to feature the wealth of Taiwanese teas, including smaller producers whose teas rival their more popular counterparts in surprising ways."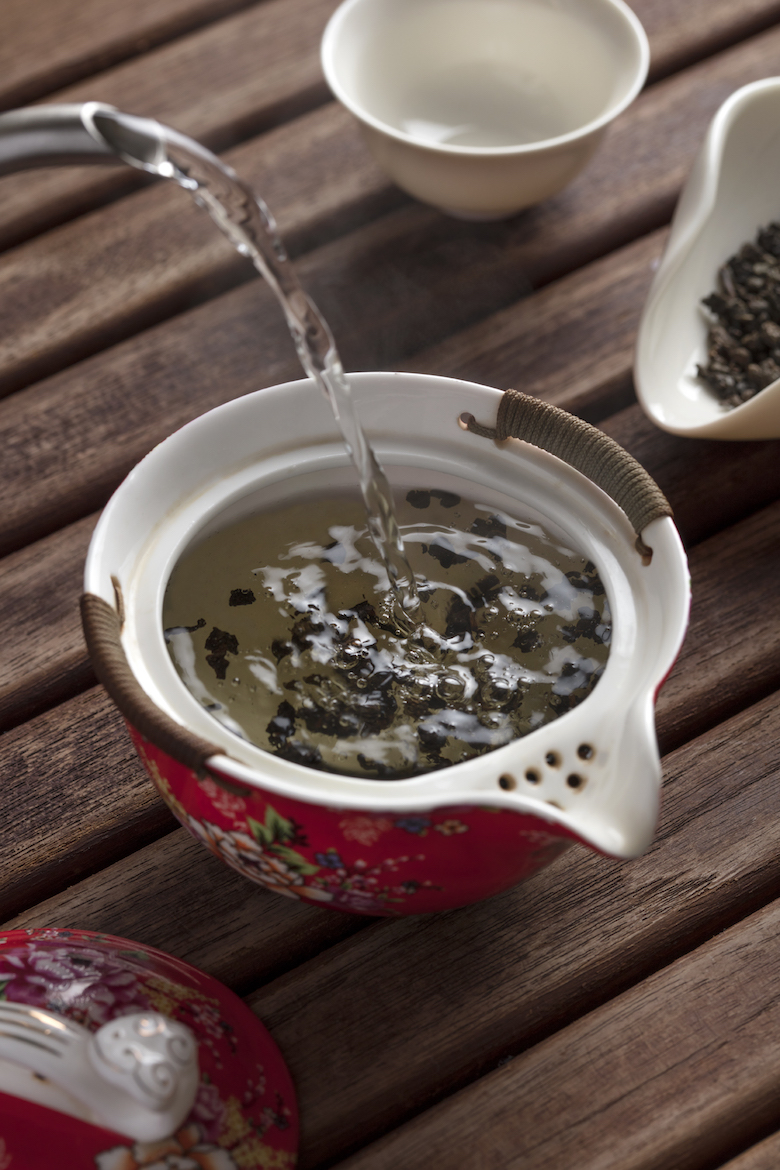 The ones from Yilan are true village teas; the lightly oxidized Graceful Hill evokes butter, almond and wildflowers with a softness attributed to the region's foggy lowlands. The light-bodied Stolen Cultivar #2028—which Liao calls the Jason Bourne of teas for its action-packed history—was classified by Taiwan's Tea Research and Extension Station as a sister to the often copied milk oolong—but never chosen for official release. Only a handful of farmers managed to squirrel away the cultivar from those days. Liao got her hands on it the same way she's acquired all her other teas: by meeting local makers. The first introductions came through her father's friend, a tea judge who took her to visit a few gardens. From there, it's been a matter of getting to know the people and their stories via regular research trips over the last four years. "You have to meet the family," she says, "the grandma, the baby, everyone."
"This isn't a business where you can just show up once," adds Zach Mangan of Japanese tea and teaware supplier Kettl, underscoring how critical it is to develop real connections and long-term trust with tea growers. He spent about six years doing just that before Kettl's official launch in the fall of 2014.
Mangan got his break in the Japanese market via a rare twist of fate. He'd been working in a well-known tea shop on the Upper East Side and happened to share some of his own private stash with Japanese clients on holiday in New York. They recognized it as the same tea they drank regularly at work, and arranged for Mangan to meet the farmers who grew it, planting the seeds for his work importing local teas to the U.S.
Over time, he began to service a few restaurants in New York, including Brushstroke, a joint venture between David Bouley and Japan's Tsuji Culinary Institute, where a range of artisanal green teas can be ordered to complement the restaurant's kaiseki-style menu. Kaiseki dining itself has roots in traditional Japanese tea ceremony, so it isn't all that surprising that Brushstroke cares as much about their tea as they do about the quality of their fish or Wagyu beef, according to Mangan. "It's about respecting every ingredient," he continues. "When you have really good tea, it's just like having an exquisite glass of wine or great olive oil. It's electric."
Kettl ran a retail pop-up shop above the tiny-yet-buzzing Williamsburg Japanese restaurant Okonomi before opening their permanent retail location there this past fall. (The company also has a base in Fukuoka, Japan.) "We need more havens like this in New York," Mangan says. "Tea doesn't have to be complicated," he continues. "You just need to be there to experience it."

"Matcha's especially accessible to fast-paced New Yorkers," adds Stefen Ramirez of Tea Dealers, joking that the matcha craze isn't exactly new. "It's been a matter of convenience since the 16th century," he continues. "All you need is tea powder, a bowl and whisk." Ramirez has been supplying tea to private clients for a decade and studying chado in New York for almost as long, including two years at the highly respected Urasenke school in Kyoto. Also known as chanoyu or "the way of tea," chado's more than just knowing the ins and outs of tea ceremony—it's about cultivating a meditative and aesthetic practice.
In that spirit, Ramirez has been hosting weekly tea tastings and workshops from his cozy corner of Williamsburg's 1 OR 8 restaurant for the last year and a half, where he welcomes guests with koicha, a thicker, higher-grade matcha reserved for the heart of traditional tea ceremony. Most New Yorkers only know the thinner usucha version of matcha, which appears later in the ceremony and can also be referred to as "ceremonial grade." Tea Dealers presides over a monthly tea and dessert pairing with French-Japanese bakery Patisserie Tomoko, with out-of-this-world courses like koicha drizzled over apple compote and vanilla ice cream, as well as a new series at Chelsea's Rouge Tomate.
Consider them tea ambassadors with on-the-ground feelers in Asia: Ramirez, Mangan and Liao each bring unique, time-tested cultural experiences via their hidden outposts, but all agree that tea is simple enough for harried New Yorkers to incorporate into their everyday lives. "Tea is a very communal thing," muses Liao. "It's always brought people together across cultures and still does."