Fifteen minutes before 11 a.m., when the doors open, two men in suits hover outside Tracks Raw Bar & Grill in Penn Station. It's not clear at first whether they're bartenders who have been locked out, commuters who meandered away from the Long Island Rail Road for a private chat, or just eager customers. At 11:00 the door is unlocked; the men grab seats at the long mahogany bar (customers after all). Within 10 minutes, four more people walk in, sit down and order a beer. They seem to quickly forget that they're in Penn Station, arguably the city's most hated transportation hub. Whatever else Tracks is, it's an oasis from the brake dust and human herds moving through tunnels during rush hour.
In the early 1900s, it wasn't "Penn Station" but Pennsylvania Station — two full city blocks of pink granite, vaulted ceilings and Doric columns. The station's waiting room was inspired by Roman baths and, at the time, it was the largest indoor space in the world. Pennsylvania Station inspired. Then, in 1963, the train tracks were hidden underground and the grand structure was demolished to make way for Madison Square Garden.
Even if it could, the Penn Station of today doesn't try to compete with stately Grand Central. The low-ceilinged, fluorescent-lit concourse that gets commuters from the subways and streets onto the train tracks is lined with newsstands and fast-food joints and a tie store called Tiecoon. During rush hour the hallways are crowded and hot. Off-peak it feels like a place a person might have wandered into by accident. Tourists don't detour to see the subterranean station — there's nothing to see. Penn is referred to as an "ugly stepchild" of Grand Central and commonly gets compared to the pathways rats use to scurry underground. But when Tracks owner Bruce Caulfield started making plans to open a bar and grill next to the LIRR, he wanted to create more than a Penn Station restaurant. "People said it could be a burger joint," Caulfield says of the restaurant, which finally opened in 2003. "But I wanted to do something more upscale." He got a lease to the place, sold his primary business and prepared to dive in. The space had last been known as McCann's — a rowdy bar with "a rough trade," as Caulfield describes it. "A real shot-and-a-beer joint" that didn't even have bathrooms. The place had been vacant for a few years and was not in good shape, but Caulfield buckled down, cleaned it up and put in a mahogany bar.
Since Caulfield and his partners were Irish-American, Tracks has some attributes of an Irish bar: staff with accents, Guinness on draft, a place for the commuter community to gather. But the food is better. "People come in and don't expect our food to be good — or as good as it is." It helps that they make it all from scratch and have items like lobster ravioli alongside hamburgers, fish and chips and an appetizer of root-beer-battered chicken tenders.
To cement the bar's new identity, Caulfield decided to throw in some shellfish. too. He began visiting raw bars throughout New York City, taking notes and planning. Grand Central had a raw bar, of course, but this was Penn. Raw oysters didn't exactly spring to mind when anyone descended under 34th Street. Could he change that? Maybe. Hopefully. He didn't really know.
But he put the raw bar in anyway, sandwiched between the bar and the "dining car." The service areas on either side are topped by black and white checkered tiles. Customers walking by can't help but be entranced by the neon blue glow of the lights illuminating the shellfish nestled into a bed of crushed ice. Tracks has a few different suppliers, including the family-run East End Oysters, which has been in business just a year longer than the restaurant. "He only brings them into Balthazar oyster bar," Caulfield says, "and us." Just like the clientele, most of Tracks' seafood comes from Long Island.
Many of Caulfield's employees are full-time and he gives them paid vacation and sick days. In return, six of his eight bartenders have been there for eight years or more. They can greet a majority of customers by name, know their regulars' drinks and what their kids have been up to or where that person just vacationed. There are often hugs or cheek kisses, a lot of laughter. While there is a seating area at the back of Tracks, the soul of the place is at the bar. That's where the regulars go.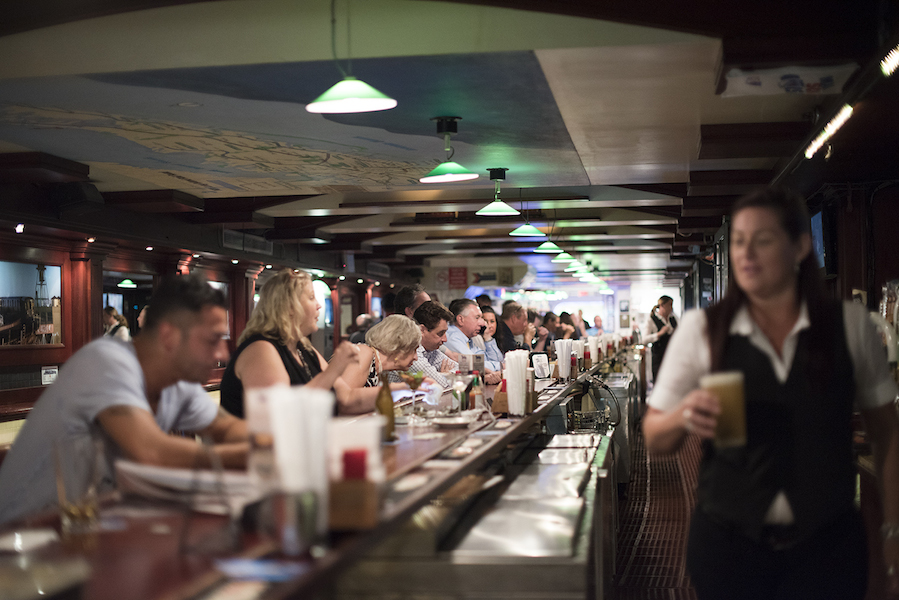 At 12:30 Tracks fills up with button-down shirts as the lunch crowd files in from One Penn Plaza upstairs. Construction crews get off of work around 2:30 p.m. and enter in T-shirts and caps. Then there are the 9-to-5ers who still get out of the office on time — a Midtown luxury. A late rush might come in after a show at Madison Square Garden. Otherwise, by 8 p.m. the crowd is mostly people who worked too-long days at the office, people who own their own businesses and keep odd hours, or day-trippers with shopping bags getting ready to go home.
These patterns happen all day long, five days a week. Unlike most restaurants, slow time for Tracks is on the weekends. That's when you might find yourself in the company of a suitcase-toting New Yorker on her way home to meet family for the holidays. Or someone waiting for a delayed train as snow and ice pelt the city above. Travel in Penn this time of the year is even worse than rush hour—nearly a third of all Americans find themselves on the roads, in the skies or on the tracks. It's a time for drinking and hoping the travel nightmares will be over soon.
Staff and customers have hunkered down together for long hours during blackouts or blizzards when the trains stopped running. Many bartenders have become friendly enough with frequent customers to see them outside of work. Nearly half the bartenders are married to regulars who slowly won their hearts. Theresa, a daytime bartender who has been there for 12 years, says that her husband came in every day with the "three o'clock crowd" and that it was a few years before anything happened between them. When asked for the full story she laughs and says only, "I can't make it publishable. We'd all get in trouble."
Caulfield and his partners originally figured they'd have a "transient trade," people stressed out from traveling and getting ready to go on vacation or visit their families. A lot of rolling suitcases. Instead, it was typically commuters who visited three or four or more times a week on their way home from work. They didn't just get a drink and go but actually lingered, made friends, ate oysters. "People really decompress here," Caulfield says.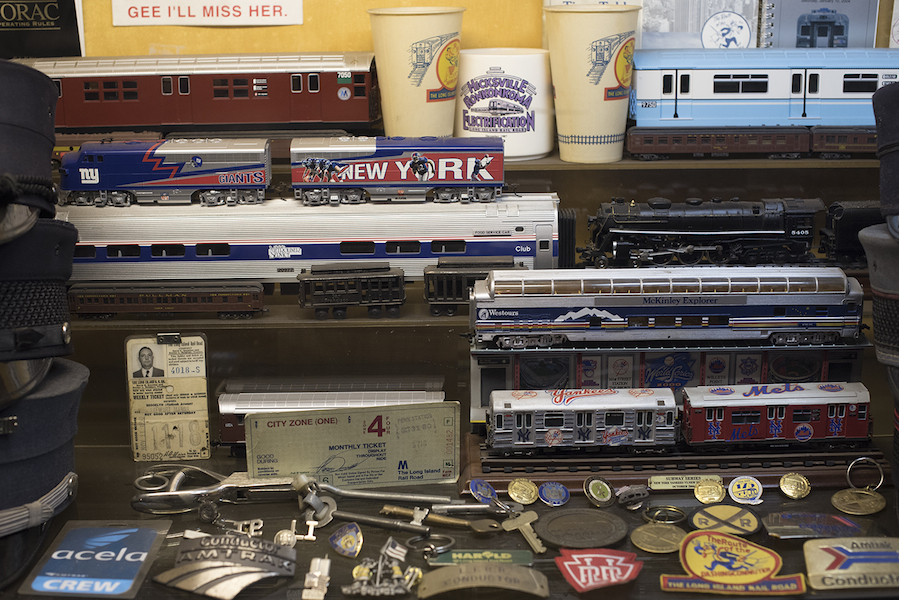 The phrase "Penn Station regulars" might call to mind a host of deviants and troublemakers, something closer to the crowd of the bar Tracks replaced. But this is a warm, friendly spot. There aren't many places like this left in New York City. One regular, Brendan, works in television and has been coming to this spot after work since it was McCann's. "I bring everyone I know to this place — my dad, my mom, my wife, my grandma." He says that he comes in four times a week (though he hopes his wife doesn't hear about that) and usually talks to the same group of guys every time. They're his Tracks friends in the same way another person might have co-workers or neighbors — only Brendan seems to actually enjoy their company.
Of course there are also one-off customers. A guy at the bar who is about to leave for a flight orders an Irish Car Bomb to settle his nerves. Another patron watches an old episode of Friends on his cell phone. A former interior designer named Trish has a few too many drinks after missing her train and really opens up. "I believe there are alien life forms that came and died off before humans," she says. "How else do you explain the pyramids?" A friend of hers for the last 35 years died over the weekend. Trish starts crying. She misplaces her glasses in the bathroom. She misses the next train.
It's a few hours until closing time, 1 a.m., and Tracks is still full if not bustling. Up on the street, it's empty except for a few police officers, stragglers and food cart owners on their way home. The lights of Madison Square Garden are bright. While it's odd that a place like Tracks exists in Penn Station, perhaps it's the only place where Tracks could be what it is. Neighborhood bars aren't stately; they're small. They make you feel like part of the family. Tracks allows its customers to make time for themselves to do anything: talk to strangers, share their biggest regrets, relax after work. It's a spa that serves oysters and beer instead of facials. It's purgatory for the lucky.
"I think Grand Central could use something like Tracks," Caulfield says. Once his customers find their way through those metal doors, they realize this is the only place they can go. Just like the water that gives each oyster its distinct taste, Tracks is the flavor of Penn Station, through and through.