I could type up a baker's dozen reasons why Petee's Pie Company on the Lower East Side is a great story. Start with the fact that it was started using earnings from one of the founders' days playing professional poker. Or the fact that the other founder is a second-generation professional pie baker on her second career. Or even, especially, that the pies it sells are exceptional, the ingredients locally sourced, the crust so flaky-tender it barely holds together, the fillings rich but balanced, every mouthful an amazement.
Around the holidays, though, Nesselrode pie alone will make the case. A long-forgotten chestnut creation that one founder calls "the Cronut of 1946," it represents both the owners' fascination with New York food history and their mission to restore pie to its proper prominence on the city's food scene in a niche age.
Petra and Robert Paredez, who are partners in marriage as well as in the sweet little shop on Delancey Street, were never interested in simply turning out fruit and custard and meringue pies that will convert even cupcake aficionados. As he says: "This city has a strong history of pie-making, so we're trying to reinforce that attachment." And as she adds: "My entire life I've eaten pie. I'm very picky about pie. Manhattan needed really good pie."
Before opening the business in November 2014, Robert spent two years drawing up a business plan while Petra continued working as a special-needs teacher in the public school system, and along the way they wandered into the New York Public Library's menu database and came out with a crust-worthy idea beyond pecan and pumpkin.
"Nesselrode was really interesting because it was so popular in the '40s through the '60s but then disappeared off the face of the earth," Robert says.
As he tells the tale, the pie was mainly made by one woman: Hortense Spier, who had a brownstone restaurant in the '30s and '40s. She was riffing on a frozen dessert named after a 19th-century Russian count that could be pudding or pie or ice cream but was always based on chestnut puree and was "pretty much the definition of decadent" in an age before refrigeration, let alone freezers, Petra says. Spier modified the concept to make a fluffy chiffon pie with gelatin, and it took off, especially around Christmastime.
"In 1945 the New York Times published a recipe for it, and restaurants started baking it," Robert says. "From then on it was a staple at every high-end steakhouse and seafood place." Spier died in the late 1960s and the recipe soon after. A "nostalgia revival" brought it back briefly in 1975, he says, and then it was gone again.
Except on the Internet. "We always see people trying to get to the bottom of the history of Nesselrode," Petra says. "They wax nostalgic or just try to figure out what it is. There isn't necessarily one version to stay true to."
And so she set to work putting together her own interpretation, given that Nesselrode was characterized by not just chestnuts but candied fruits, soaked in rum with a "really holiday flavor," and gelatin with either crème anglaise or whipped egg whites mixed in to lighten. "I'm trying to do something that was reminiscent of the original but also make it somewhat similar to what folks might remember from '50s and '60s, what the real old-timers are looking for."
Hers is more like pudding than pie, "because we thought that was more in keeping with the New York palate," but still in that singular crust.
Among the "authentic" touches she skipped, though: the Nesselro-brand canned filling made with cheaper cauliflower substituting for chestnut puree.
Nesselrode is not Petee's best-seller at the holidays because it is so unfamiliar, but it should be—the fluffy, airy, barely-hung-together-with-gelatin filling is ethereal and addictive, especially with tart, boozy cherries against the super-flaky crust. Every bite makes you realize many more steps are involved than with apple or pumpkin pies.
Like all Petee's pies, Nesselrode starts with a crust made from organic New York State flour and grass-fed butter, from Kriemhild Dairy Farms in Madison County, blended in an antique mixer donated by Petra's mother. The shop goes through 150 pounds of butter a week, 50 pounds at a time, in about 500 pies. Fruit pies are filled not by opening cans but by starting with peaches, apples and cherries grown within 150 miles of the city, using great-tasting produce that is not great-looking.
Using local and organic costs more, Petra says, "but we're efficient—I come from a background where my parents have three shops and have efficient methods down." Those parents also have a farm that supplies their renowned Mom's Apple Pie Company in Leesburg, Virginia.
Other holiday pies in the case that look straight out of a Wayne Thiebaud painting include butterscotch meringue, pumpkin and pecan, made with apple blossom honey and brown butter rather than the usual corn syrup. ("I did a little history," Petra says, "and it became popular when Karo published the recipe. But there were versions before that that used molasses or treacle.") The couple are also experimenting with custard pies, looking at old menus for new ideas for winter offerings. "I'm thinking of trying a pecan custard, because the earliest versions were more of a custard base with the pecans on top."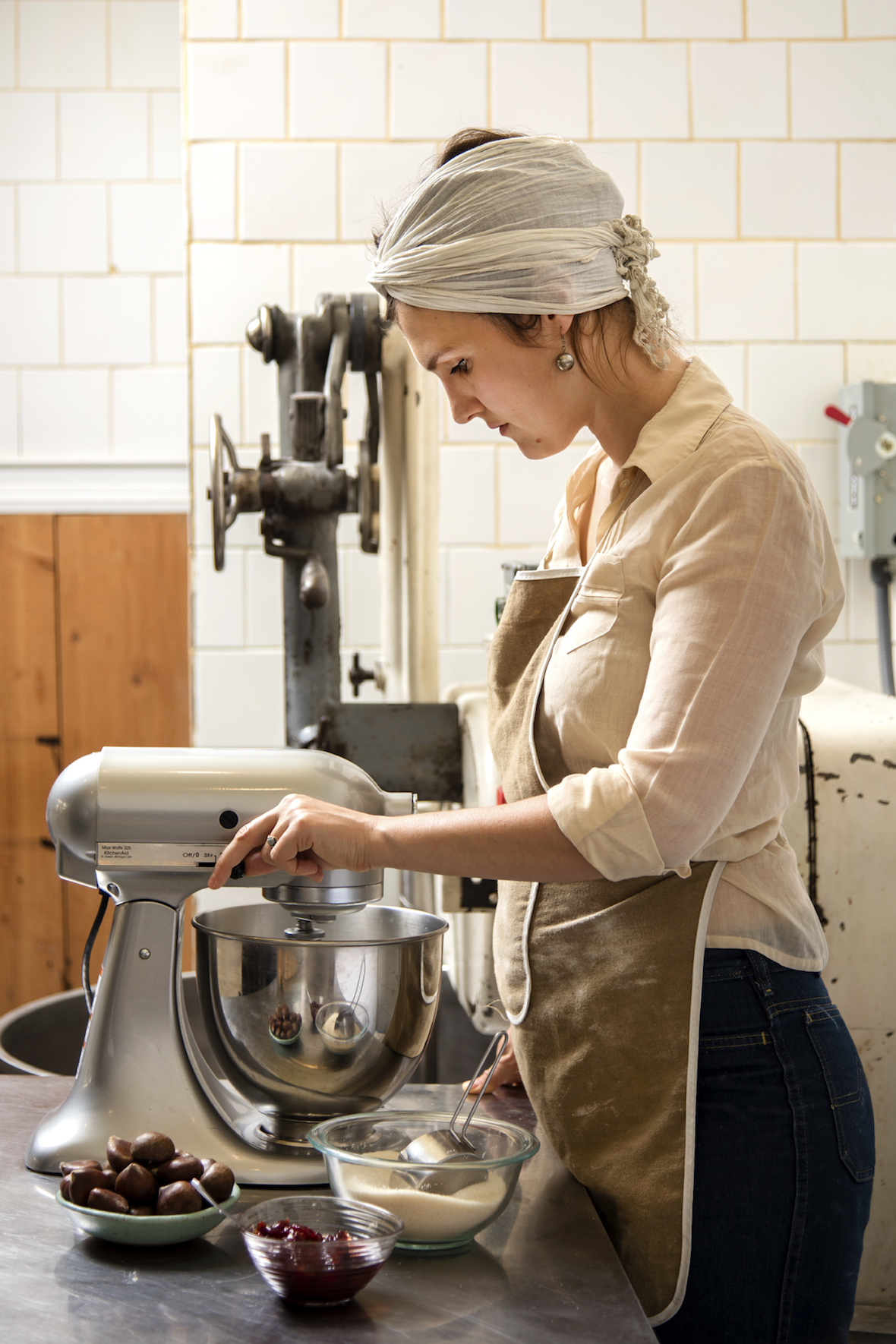 Petee's also offers a cranberry-apple pie, using a variety of apples and is also considering single-variety pies, adjusting the spices to bring out the flavors, especially in old types of apples that are tart and bitter, such as Golden Russet.
Pie development is easier these days. "When we first opened it was just me and Robert," Petra says. "A month after opening we hired an employee. We have about a dozen now and can devote one day a week experimenting." The couple, who commute from Flatbush and feed the meter all day, also have a daughter, Eloisa. "She was sort of a surprise a month after we opened, but we knew it would work out."
Robert's business plan was predicated on being open from 7:00 in the morning till 7:00 at night, but they soon realized the neighborhood was pie-hungry and thick with bar-hoppers; they now serve slices until midnight every day but Fridays and Saturdays, when they close at 1:00 a.m. They also worked street fairs before going brick-and-mortar, which was a form of market research—older customers at the Hester Street Fair loved coconut custard, which is now one of their better sellers. "You don't see it that often; I can't think of a pie shop that has it," Robert says.
Business has done so well that the couple will rent out extra space for the holiday rush this year. "Last year we did three straight all-nighters." By contrast, Petra says, her parents sell 25,000 pies around Thanksgiving and it took them 30 years to break even.
Along with Nesselrode, Petee's offers other pies that are not exactly New York standards, particularly chess, a Southern and Southwestern standard they offer in several flavors, including salted chocolate, lemon and tahini. "What's interesting is that people not familiar with it don't hesitate to try it," Robert says. And he is continuing to research it, particularly the definitive origin of the name.
All the pies are adapted for the New York palate, though. "I base the crust initially off my dad's recipe," Petra says. "But I tend to add less sugar and a little more salt and lemon. I refined them for the New York palate, for less of a sweet tooth."
Despite the chess-heavy menu, though, "one of the main tenets of our business is not trying to bring pies from another region to New York City," Robert says. "There's a strong history of pie-making in New York. So we're trying to reinforce that attachment…We want to make you feel like you're in New York."
Make your own Nesselrode pie with Petee's recipe.
SaveSave