There's nothing we enjoy chronicling more at Edible Chicago than food and drink makers getting together to do good for the world. In that spirit, chef Charlie Trotter, a James Beard Foundation Humanitarian Award-winning chef, launched hundreds of culinary careers at his Chicago restaurant and inspired chefs across the globe with his innovative approach to cuisine.
And now, along with Woodford Reserve, Edible Chicago is celebrating the 30th Anniversary of chef Charlie Trotter's eponymous restaurant with a 30-day "Pairing and Sharing" program.
How it works is simple: Woodford Reserve will share $1 for every Woodford Reserve cocktail sold at participating restaurants ($10,000 max. donation) from August 17 to September 17 to benefit The Trotter Project, a 501(c)(3) organization uniting budding talent interested in the culinary arts and hospitality industry through the Pillars of Excellence Mentor Program. We recommend you try pairing this exquisite cocktail with a recommended dish, too.
The really good news is that these mission-focused campaigns don't just raise money for great causes. They give bartenders and chefs just one more occasion for inspired liquid symbiosis. Which makes us all happy. See below for pairings from participating bars and restaurants: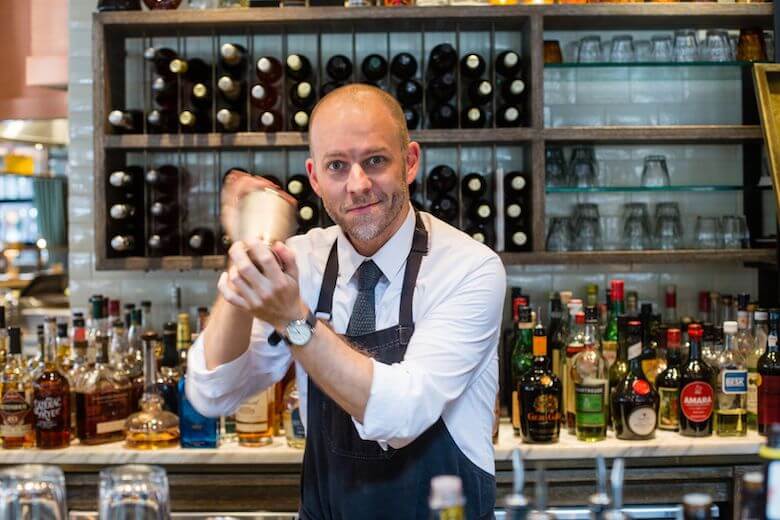 ---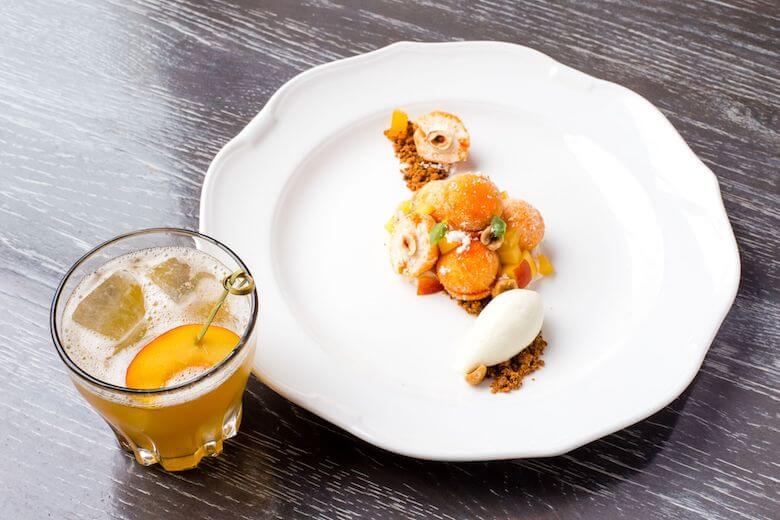 ---
Chatted with: Bar Manager Scott Stroemer
Dish: Pesche con Crema
Drink: Bourbon Peach Sour
Bar manager Scott Stroemer often heads to the farmers market with pastry chef Leigh Omilinsky, pulling together the same ingredients for desserts and cocktails. With peach in high season, using peach was a no brainer for this summer-driven pairing. Behind the bar, Stroemer serves a riff on a whiskey sour, using Woodford Reserve bourbon, Italian vermouth, Michigan peaches, honey, lemon and hazelnut. It's a natural fit for Omilinsky's peach cake with praline crunch, toasted hazelnuts, peach mousse and olive oil-peach gelato. "Woodford Reserve is loved by the bar staff here just as much as it's loved by our guests," he says. "I feel lucky to have a such a wonderful collaborator and kindred spirit on the other side of the restaurant, and it helps to bridge the gap between front and back of house for everyone."
---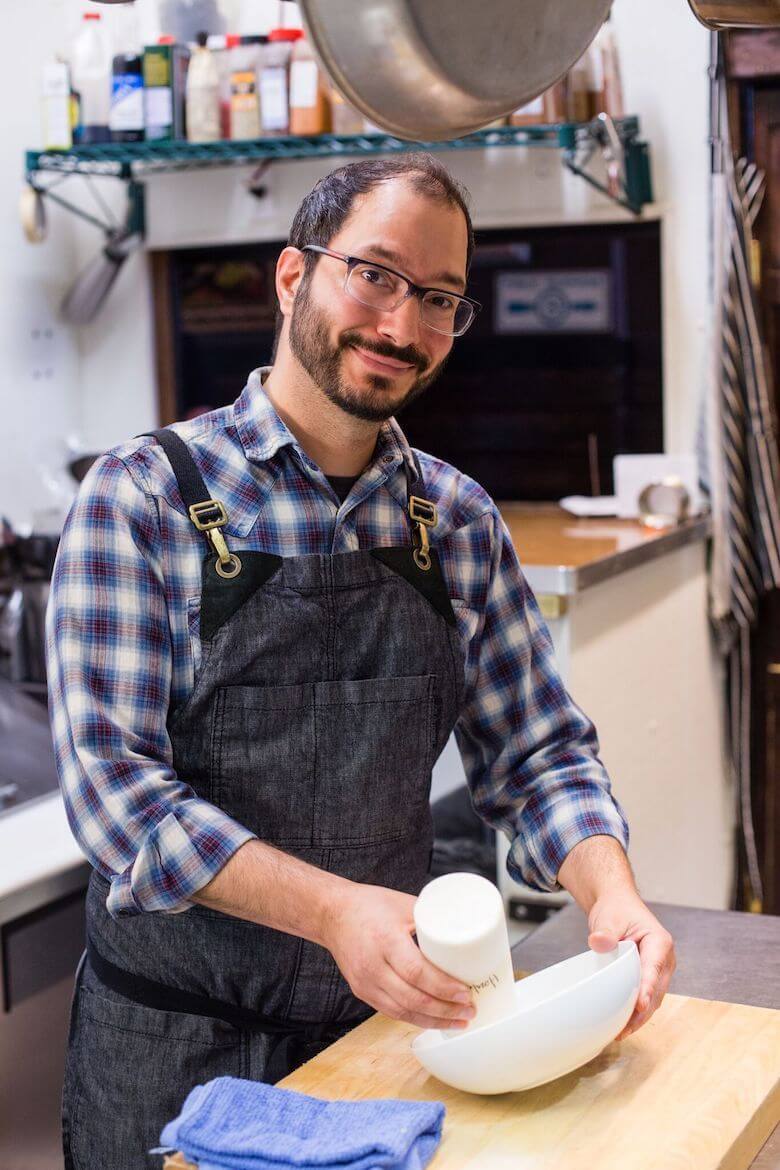 ---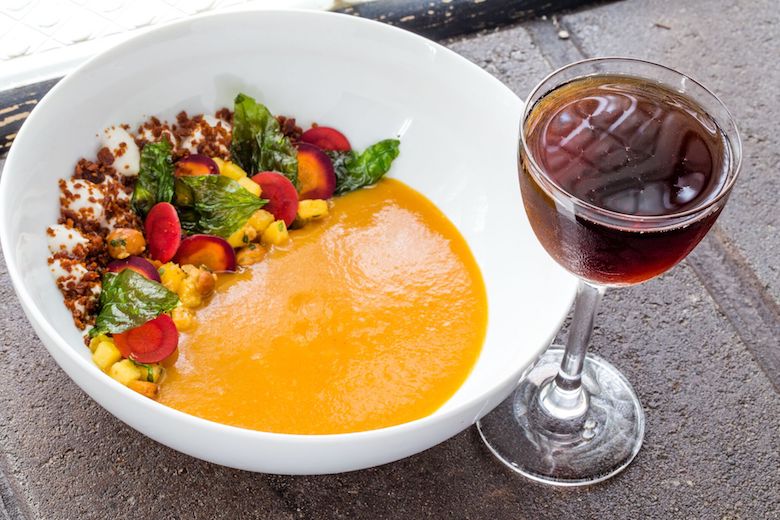 ---
Chatted with: Owner Christopher Marty
Dish: Chilled carrot and peach soup
Drink: Running Out of Angels cocktail
"Food and cocktail pairings are often difficult, or at least illogical," says owner Christopher Marty. "Each, in its own right, is typically a fully-composed entity and doesn't necessarily call out for accompaniment." Which is why he teamed up with Chef Steve LoTempio to make sure the flavors balanced just right. On the booze side, Marty stirs together Woodford Reserve rye, Bitter Truth EXR, Luxardo Angioletto, maple-smoked simple syrup and a few dashes of Peychaud's and Regan's Orange No. 6 bitters for the Running Out of Angels cocktail. Those complex earthy, slightly spicy, and smoky flavors enhance LoTempio's deceptively simple sounding chilled carrot and peach soup, packed with bold ingredients like fresh peaches, Woodford Reserve rye-pickled carrots, fried basil, crispy Spanish chorizo and hazelnut creme fraiche.
---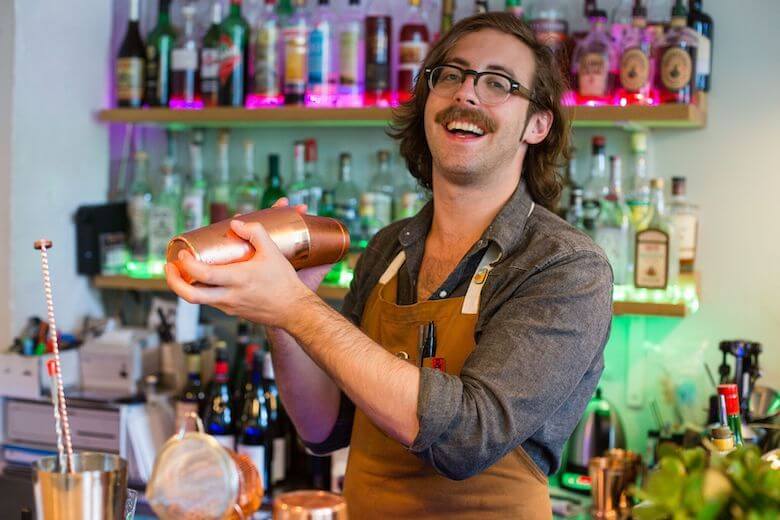 ---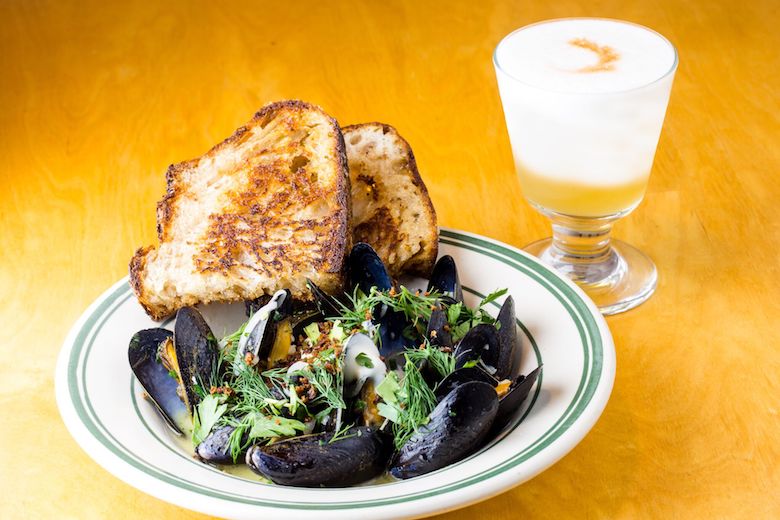 ---
Chatted with: Bar Manager Archie Powell
Dish: P.E.I. mussels
Drink: Swamp Witch cocktail
Sometimes the best pairings are the most simple. In this case, Bar Manager whips up a riff on a classic sour using Woodford Reserve rye and Meletti anisette to pair with Chef Jeremy Leven's straightforward P.E.I. mussels with cider, creme fraiche, tarragon, dill and parsley. "Given that rye is such a big, spicy beast I wanted to utilize it in a way that wouldn't overpower the dish since our kitchen errs on more delicate seafood fare," Powell says. "The Meletti anisette is meant to pair to the tarragon that's heavily featured in this dish and the creamy texture lent to this drink my the egg white is meant to play to the textural property of the creme fraiche."
---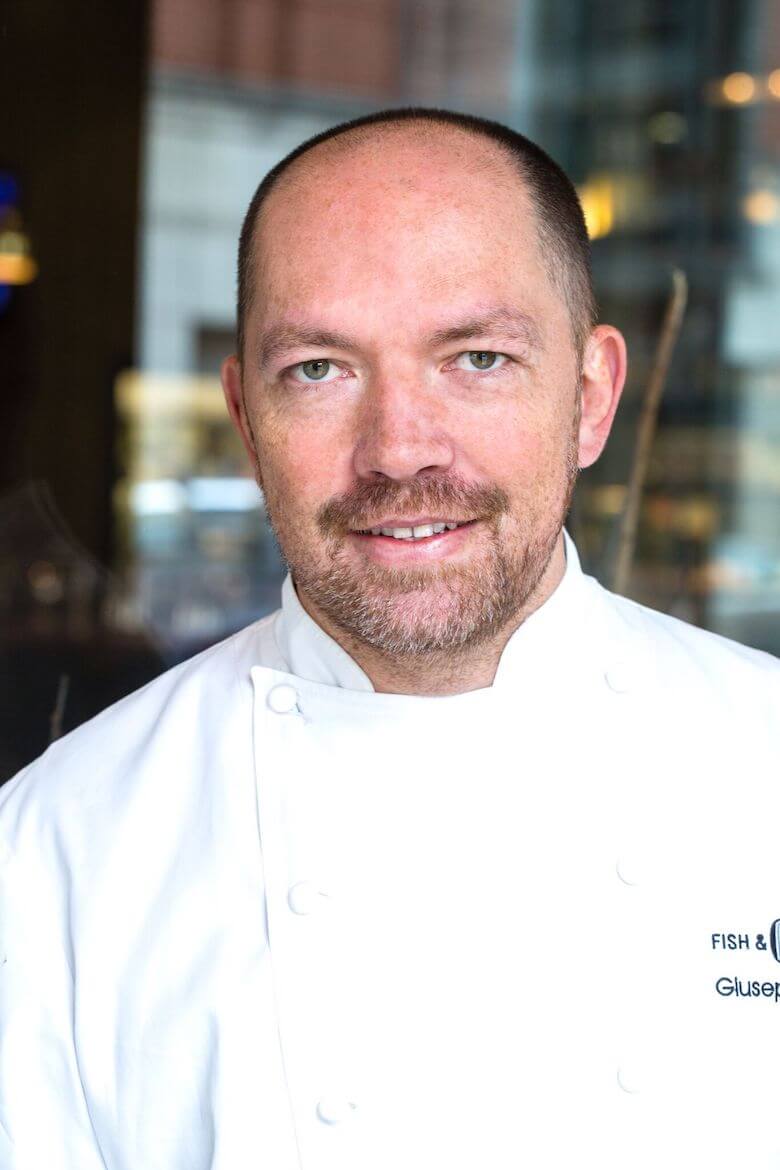 ---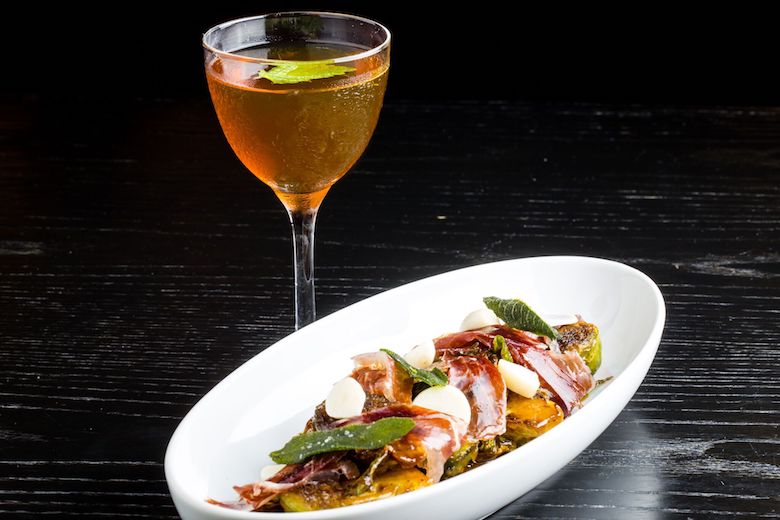 ---
Chatted with: Chef de Cuisine John Kirchner
Dish: Brussels sprouts
Drink: Stiff as a Board, Light as a Feather cocktail
Whiskey and bacon is a tried and true combo, which is why Chef de cuisine John Kirchner took a slightly different take, using Spanish ham to bounce off the rich, bold flavors of Woodford Rye. Brussels sprouts mingle with savory jamon Iberico, sweet maple butter, aromatic pickled garlic, and spicy long peppercorn, offering a whole flavor profile that brightens and wows. "The Brussels sprouts, maple butter and jamon are these rich, decadent elements, but the pickled garlic and peppercorn really cut that fattiness, creating balance," Kirchner says. Lead bartender Danielle Lewis's cocktail speaks true to its name: a stiff Woodford Rye tempered with the lightness of Dolin Blanc, and a popping hit of Fernet Branca and peach bitters to round it all out.
---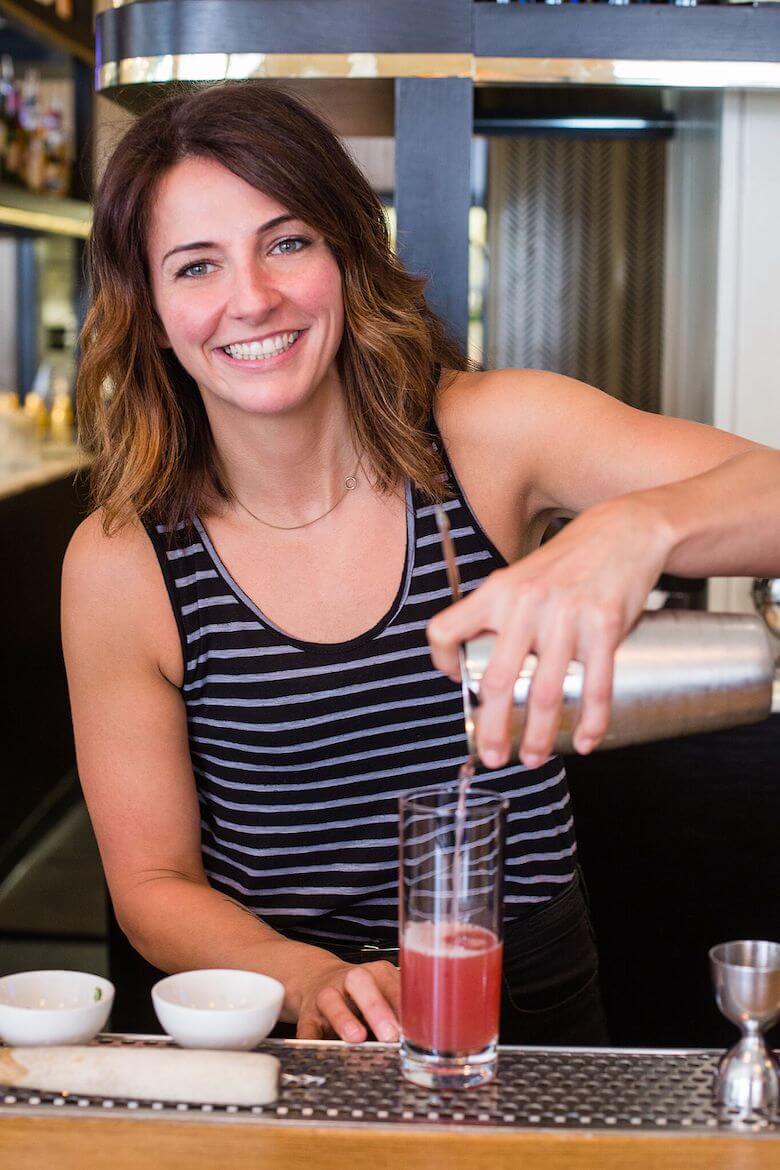 ---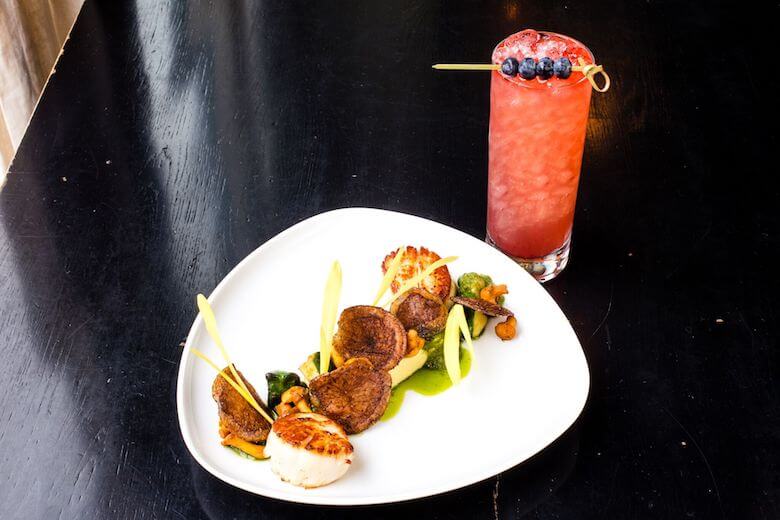 ---
Chatted with: Lead bartender Danielle Lewis
Dish: Seared scallops
Drink: Field of Dreams cocktail
This pairing takes full advantage of the end of season bounty, serving a seared scallop dish with locally-grown sweet corn flan as the centerplate star alongside pickled chanterelles and herb salsa verde. Lead bartender Danielle Lewis plays off the corn theme with her Field of Dreams cocktail, using corn cob syrup, blueberries and lemon to play up Woodford Reserve bourbon and Amontillado sherry. "Corn became the key element of the cocktail, obviously with the bourbon, but then I used the leftover cobs to make a corn syrup and blueberries, which are also perfect this time of year," she says. "Chef Andy said it was a no-brainer: 'If it grows together, it goes together.'"
---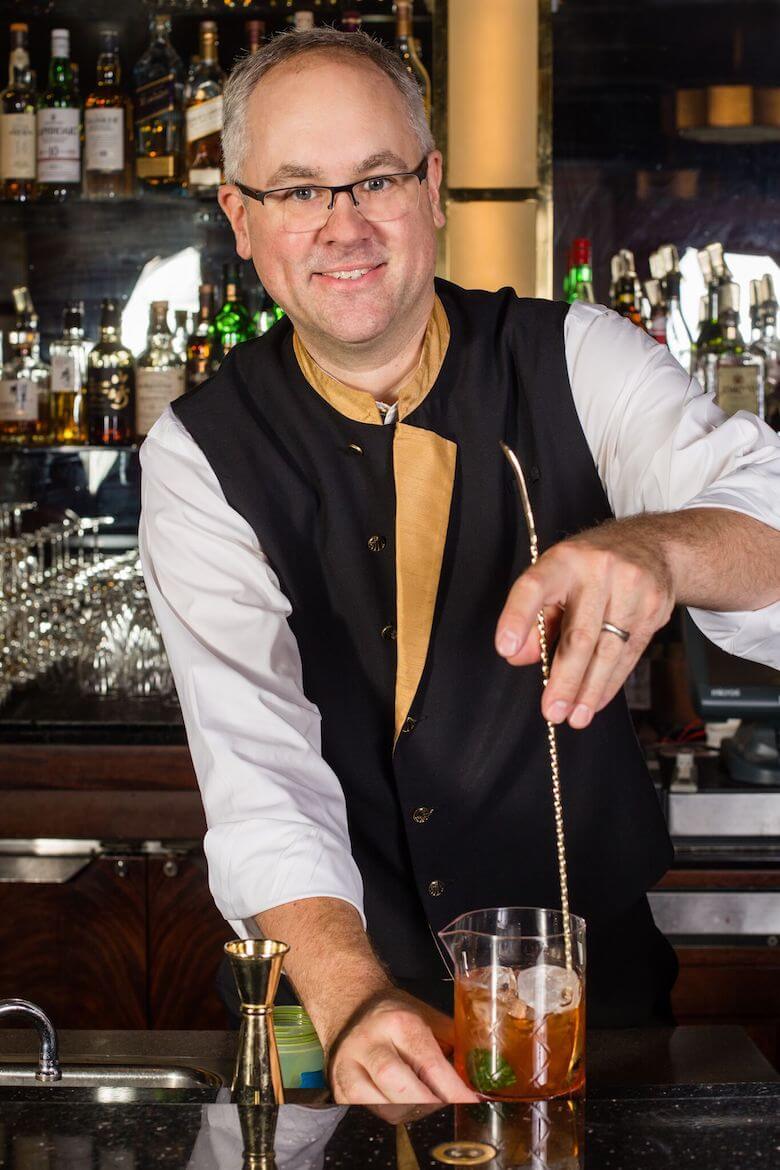 ---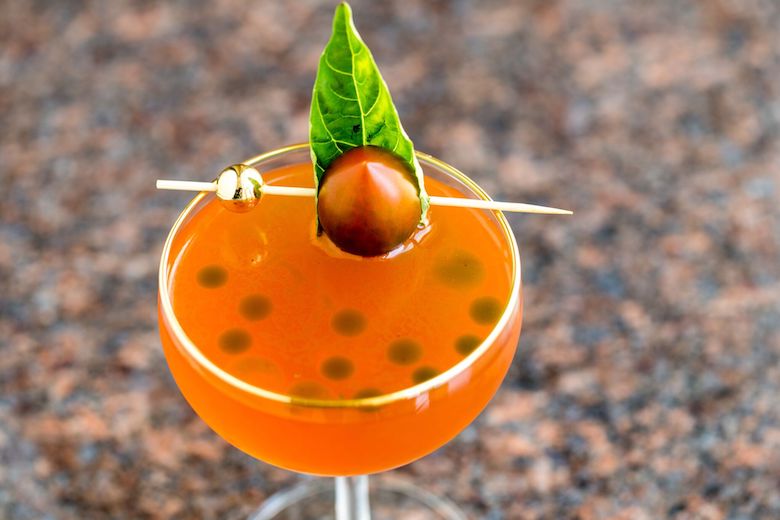 ---
Chatted with: Chef de Cuisine Jason Hedin
Dish: Heirloom tomato caprese
Drink: The Philosopher cocktail
Drawing inspiration from Trotter himself, Bartender Aaron Johnson created The Philosopher cocktail as an ode to the iconic chef's aspirations to study philosophy when he closed the restaurant in 2012. Johnson builds a savory blend of Woodford Reserve bourbon, aperol, Montenegro Amaro, Verjus Blanc, and tomato water from the kitchen, garnished with a cherry tomato wrapped in basil leaf and a few drops of aromatic basil oil. The seasonal drink matches up nicely with Chef de Cuisine Jason Hedin's updated riff on heirloom tomato caprese salad, using funky, soft ripened cheeses instead of mozzarella and 20-month aged prosciutto with peak-grown heirloom tomatoes.
"Chef Trotter would always use seasonal—only seasonal—products. If it wasn't in season he wouldn't use it," Hedin says. "This seems very common now, but back then, he was the pioneer of this and really pushed the industry to follow, and support the locals in as many ways as possible. I wanted to push what a person considers a "caprese" to be, and turn their heads with it. Nothing as you may expect it, but better than you have ever had it."
---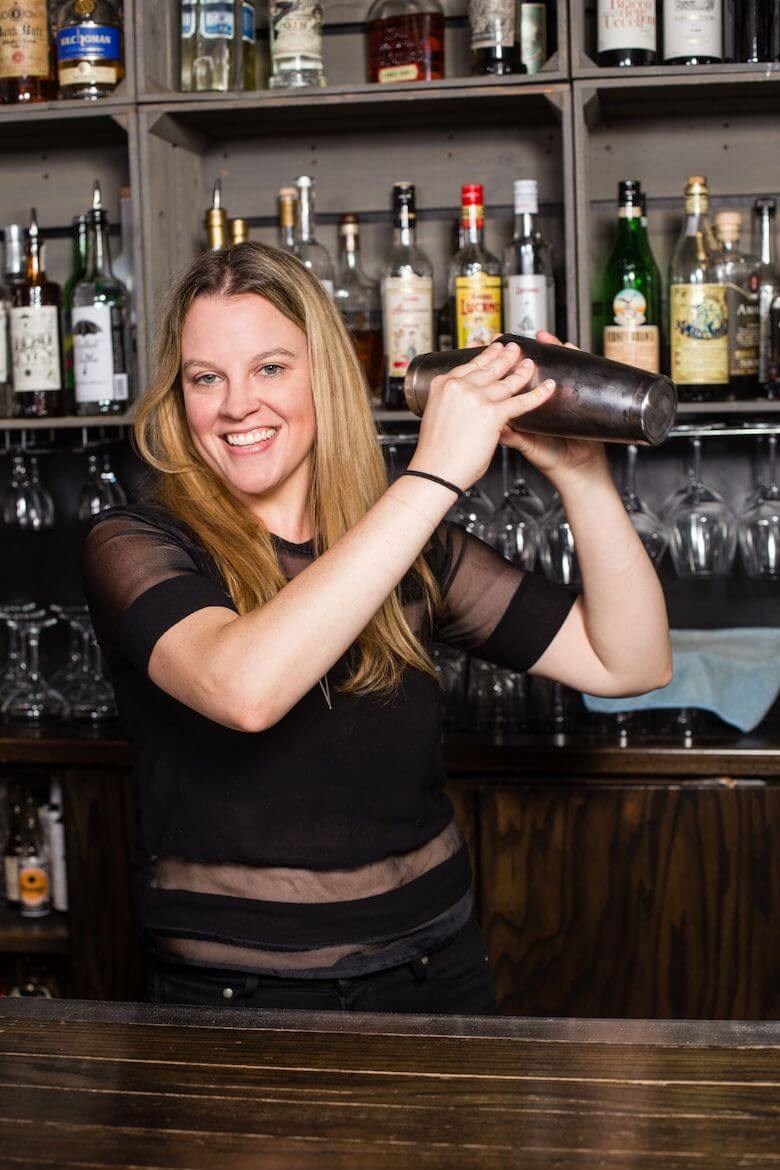 ---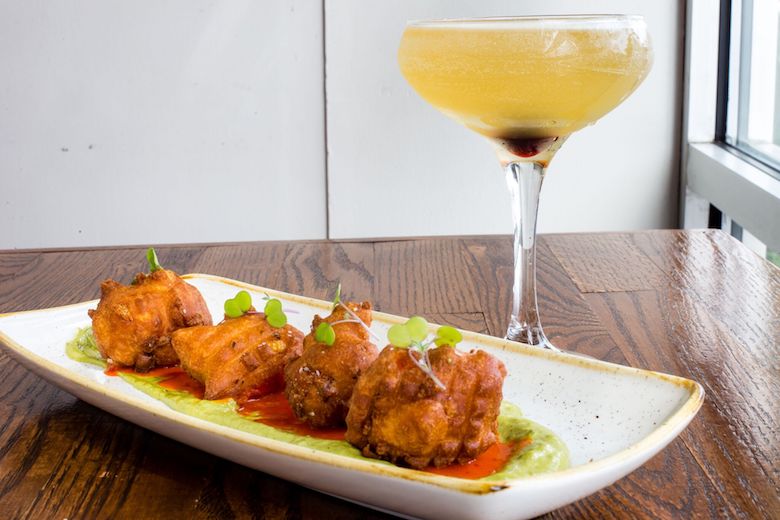 ---
Chatted with: Chef Scott Schaden
Dish: Mais Friti
Drink: Finish Line cocktail
In Venice, Italy, stopping off for afternoon cicchetti (snacks) is downright ritualistic. It was that inspiration that moved Chef Scott Schaden to whip up seasonal corn fritters with herb aioli and Calabrian chilies. "For me, a cocktail and appetizer pairing screams afternoon snack. And nothing says afternoon snack like something small and deep fried," he says. "At the height of corn season, fritters seem an obvious choice. Basil aioli and Calabrian chili coulis balance perfectly and put an Italian spin on a classic." Bartender Katie Hackmeister's Finish Line cocktail helps the whole thing go down, with Woodford Reserve bourbon, maraschino liqueur, Genepy de Alpes, honey, lemon and a little sparkling wine that will make you all five fingers the Italian chef kiss.
---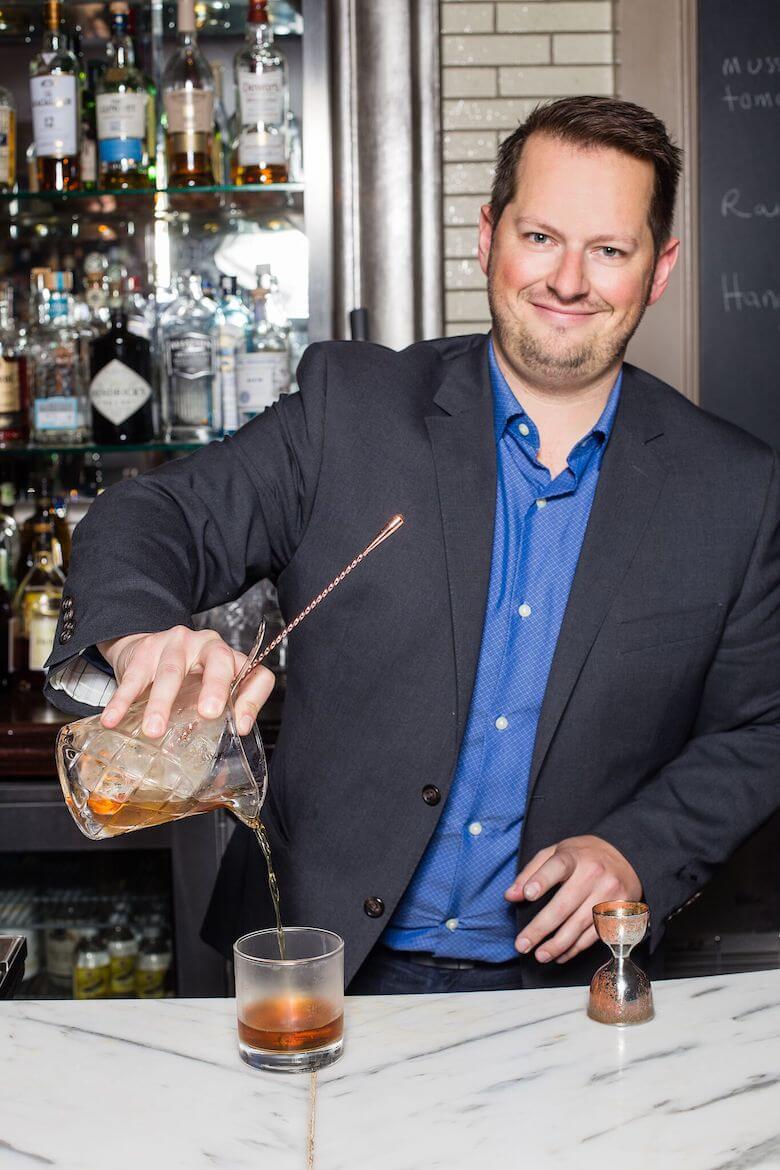 ---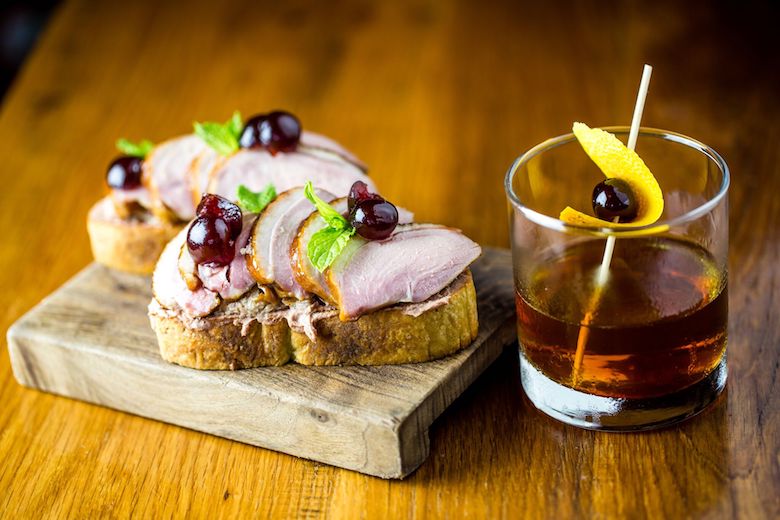 ---
Chatted with: Sommelier Jon McDaniel
Dish: Bruschetta Tre Anatra
Drink: The Toronto cocktail
Sommelier Jon McDaniel picks his favorite cocktail, The Toronto (a riff on a classic Manhattan that swaps in Fernet Branca for vermouth) as the team player for this pairing. The herbaceous, vegetal flavoring paired with Woodford Double Oak plays up Chef Christopher Gawronski's bruschetta of duck served three ways: smoked duck breast, rillettes, and duck liver mousse with preserved cherries—plus a little extra Woodford and Fernet for good measure. "Being able to have that cherry on top, like you would find in a classic Manhattan, a bit of mint to play with the Fernet, the nice gamey quality of the three different duck preparations makes for a perfect marriage between this great bruschetta and my favorite cocktail," McDaniel says.
---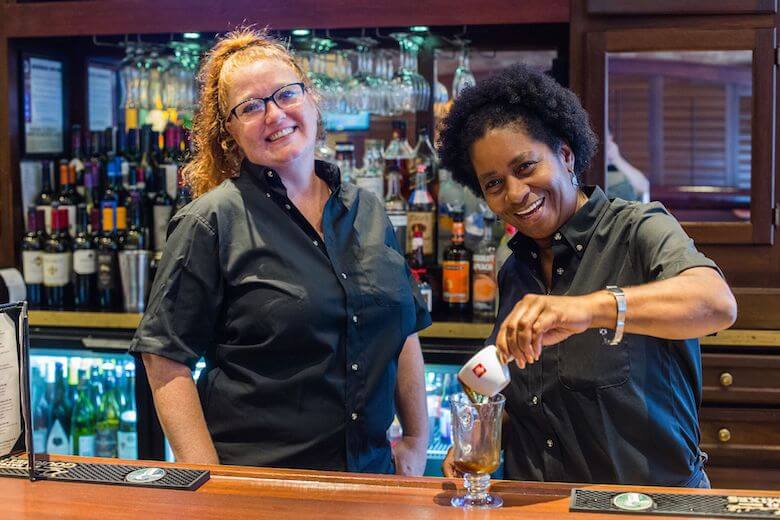 ---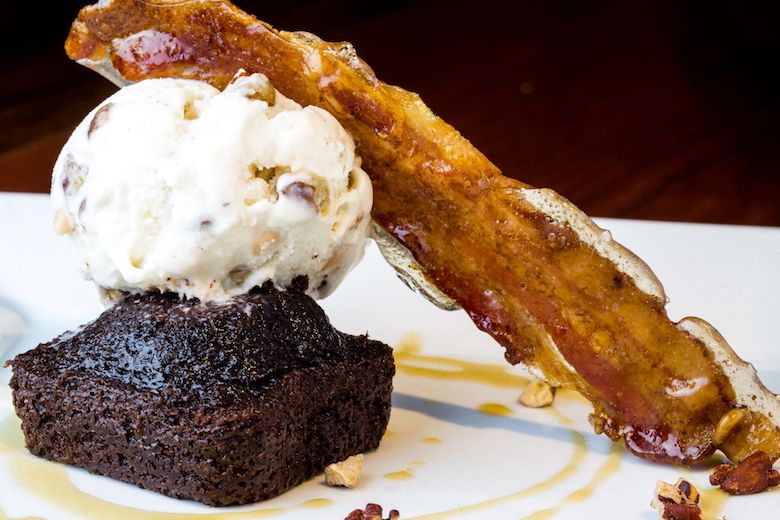 ---
Chatted with: Pastry chef Shannon Nowicki
Dish: Dark chocolate cake
Drink: Woodford "Choco" Latte
When pastry chef Shannon Nowicki thinks of Kentucky, home of Woodford Reserve, she thinks of her extended family. "When my grandmother lived there, I used to visit often and the food was always delicious. It was simple and comforting, never too fussy," she says. "So I wanted to create a dish that was approachable and familiar, but bumped up a notch. Who doesn't like a good piece of chocolate cake? Or bacon? Or a good cup of coffee?" All three of those flavors mingle in her dish: a dark chocolate cake with orange, brown sugar and bourbon glaze, praline ice cream and candied bacon. It's paired with a spiked coffee cocktail, featuring two shots of espresso, Woodford Reserve Double Oak bourbon, Godiva chocolate liqueur, a cocoa latte sauce and whipped cream garnish. "The sweetness of the praline ice cream is balanced with the salty-smokiness of the candied bacon, the acidity of the orange in the glaze and the depth of the dark chocolate. The drink was meant to add dark roasted notes and tie the cocoa in the dish."
---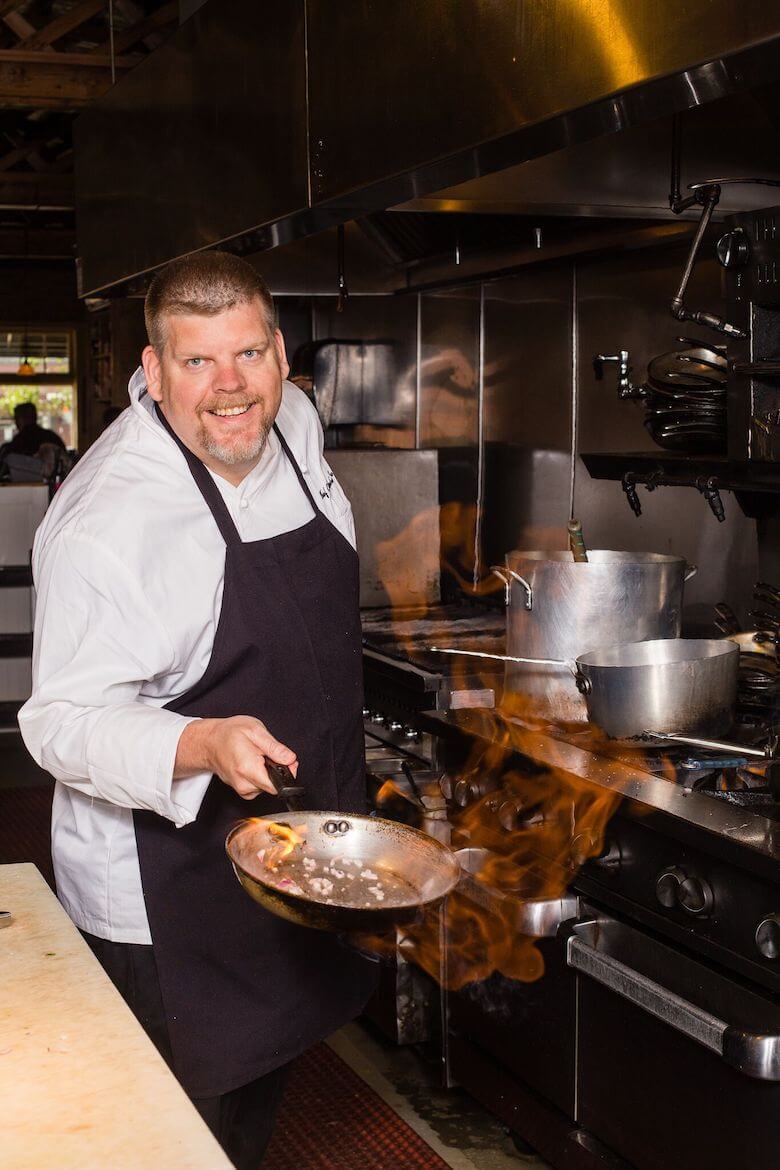 ---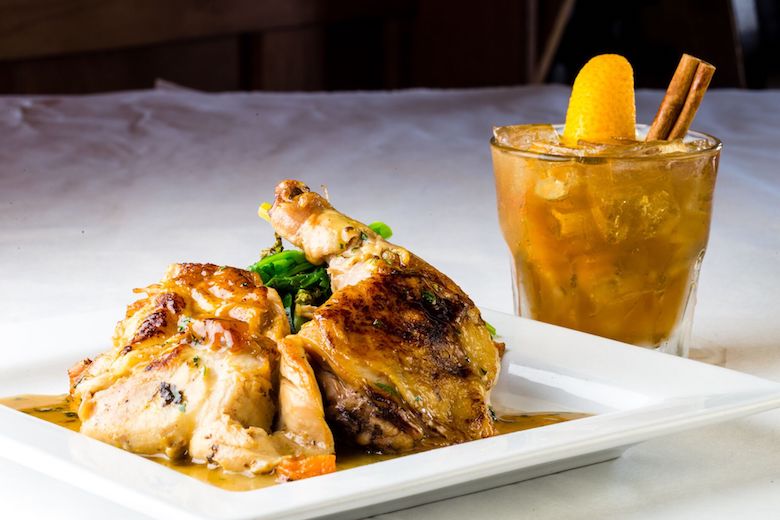 ---
Chatted with: Chef-owner KC Gulbro
Dish: Woodford's Bird
Drink: Major Fashion cocktail
Playing off a classic Old Fashioned, Sam Donovan spikes Woodford Reserve bourbon with a brown sugar-cinnamon simple syrup, garnishing with a cinnamon stick and flamed orange rind as the centerpiece to his pairing of roasted half-chicken. A maple-bourbon glaze (using Woodford's Reserve, naturally) and chorizo sweet potato hash brings the whole thing together, with a warming flavor profile that carries from late summer into autumn.
---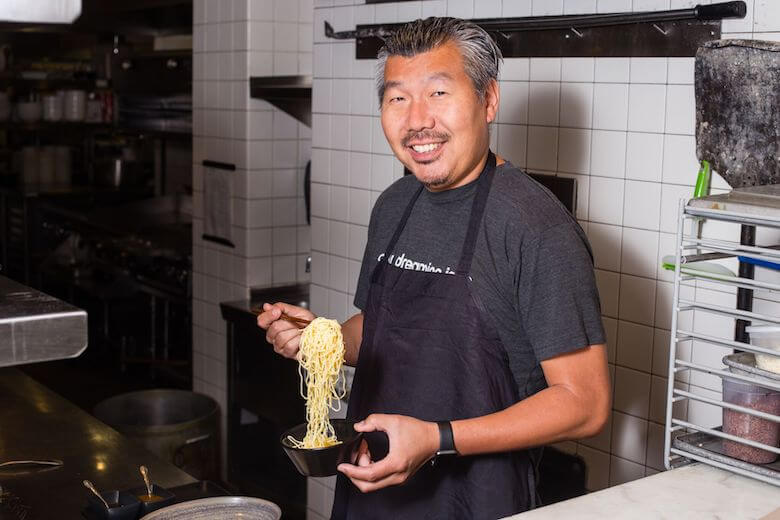 ---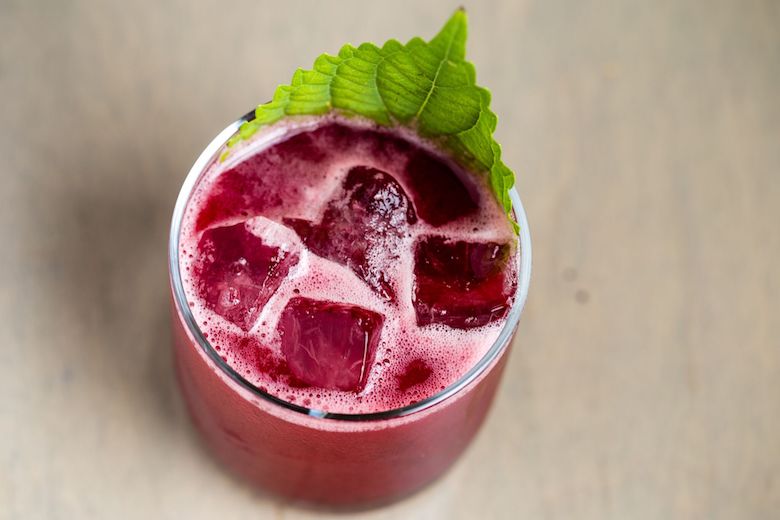 ---
Chatted with: General Manager Kate Bocson
Dish: Watermelon salad with shrimp and nuoc cham dressing
Drink: The Charlie cocktail
Finding the inspiration for this pairing wasn't a tough one for Chef Bill Kim. As the former chef de cuisine at his restaurant, Charlie Trotter was a long-time mentor whose legacy continues to inspire him daily. One of those lessons? Trotter didn't really care for pairing spirits with dishes because he felt they were too hot and intense on the palate. Which is why Kate Bocson reaches for a lower-proof, bourbon-based cocktail featuring Woodford Reserve bourbon, blackberry drinking vinegar, Cocchi Americano, lemon juice, Chareau aloe liqueur and lemon bitters. It adds just enough acidity and sweetness to balance out Kim's spicy-sweet watermelon salad with shrimp and nuoc cham.
---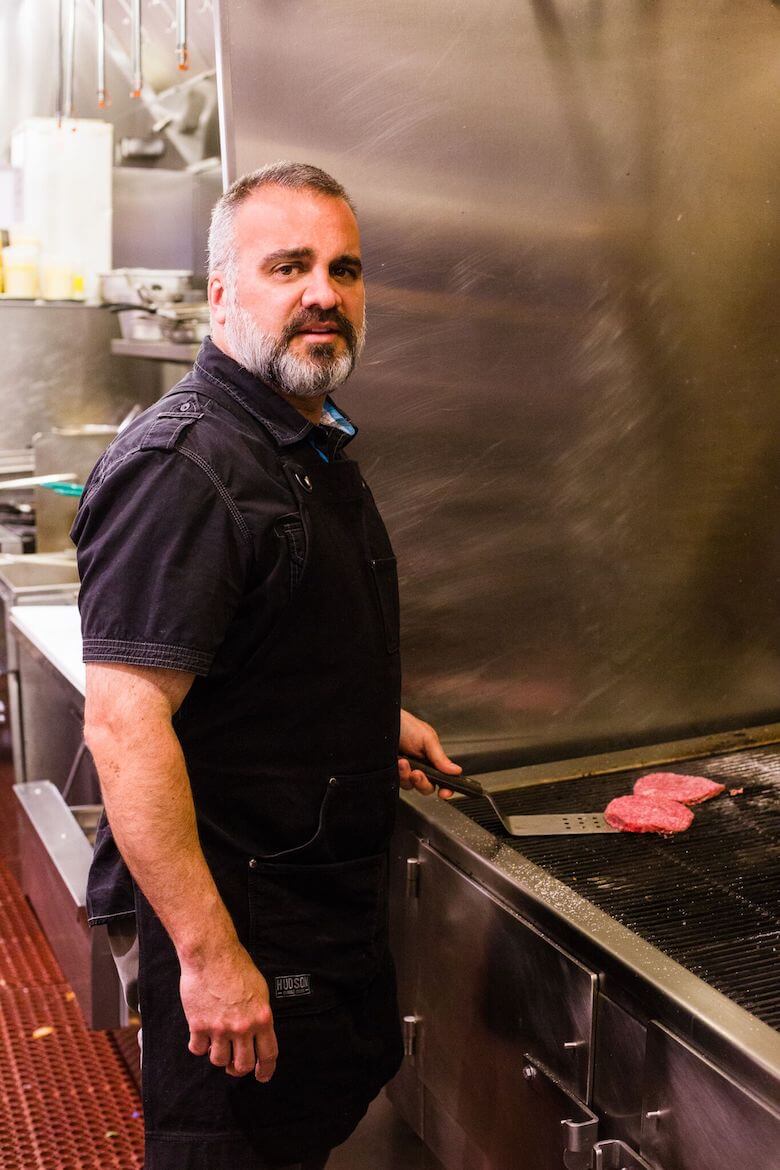 ---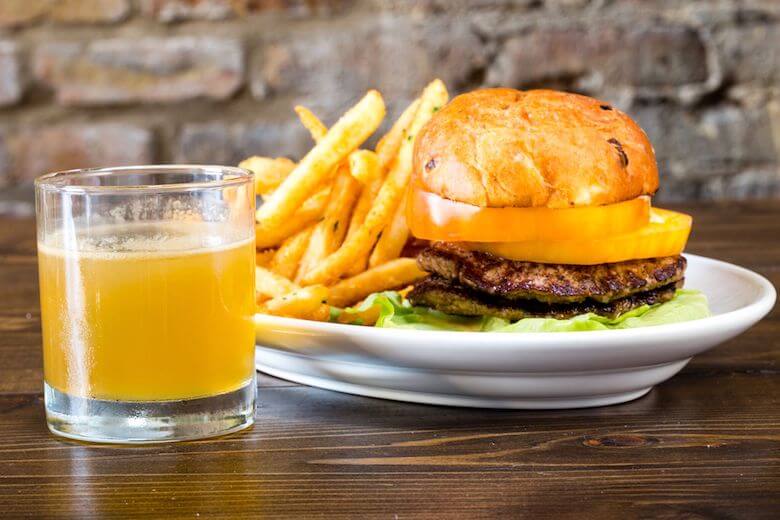 ---
Chatted with: Bar manager and lead bartender Matt Greene
Dish: Bourbon bacon burger
Drink: Whiskey and Sour
Whiskey and burgers go hand-in-hand, but an ode to an iconic chef like Charlie Trotter requires some extra tricks. As a brewpub, it only made sense to incorporate yuzu-fortified sour beer into Matt Greene's Whiskey and Sour, along with Woodford Reserve bourbon and the classic elements of whiskey sour. "The addition of the yuzu, along with the malt backbone provided by the beer base, along with the rich caramel and hints of orangey citrus of the Woodford Reserve should give people looking to find more complexity in their drinks plenty of fun tasting notes," Greene says. Griddled patties add richness to the house-made bourbon bacon bun, made with Woodford Reserve and toasted over a woodfire grill, served with and a beer cheese aioli to round it all out.
---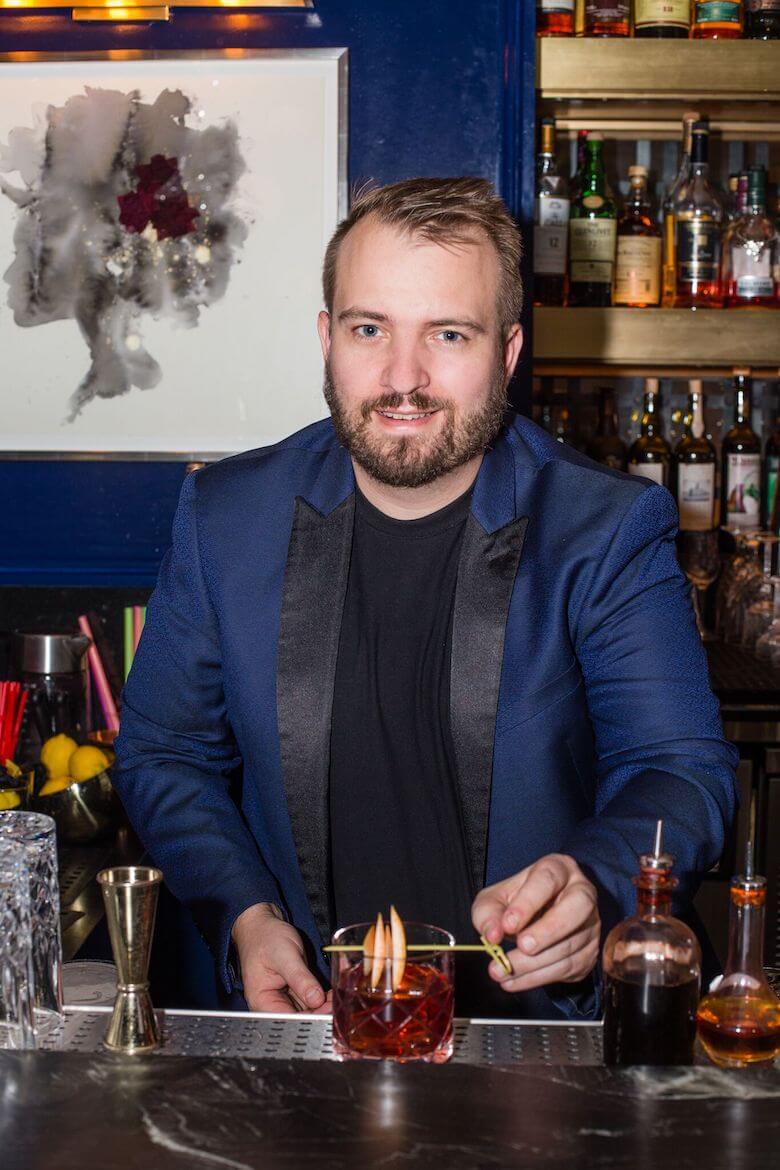 ---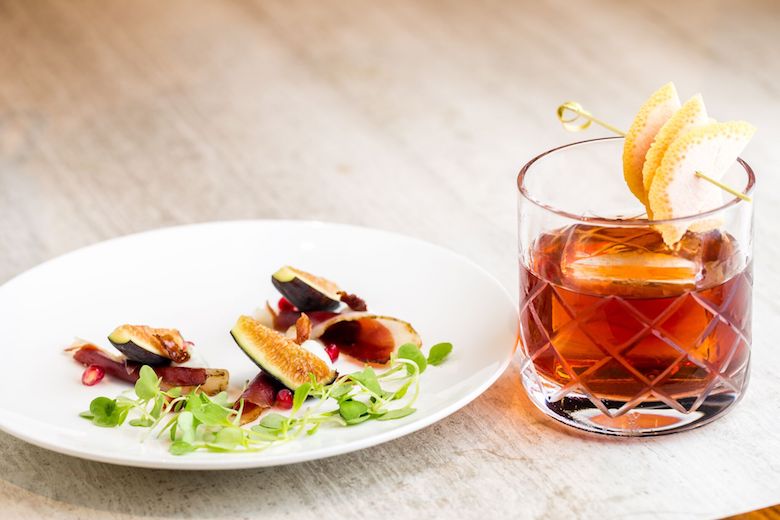 ---
Chatted with: Bartender Bobby Murphy 
Dish: Duck prosciutto
Drink: Henningfield Old Fashioned
As a wink to Trotter's peculiarities, Bartender Bobby Murphy created a spin on an Old Fashioned featuring Woodford Reserve bourbon and Grenache wine (because he was partial to wine), along with Grand Marnier, turmeric ginger syrup (a nod to bringing Asian-inspired cuisine to the U.S.) and orange and Angostura bitters. It's paired with Chef Brian Millman's duck prosciutto with delicate micro arugula, pomegranate, black fig and blue cheese.
---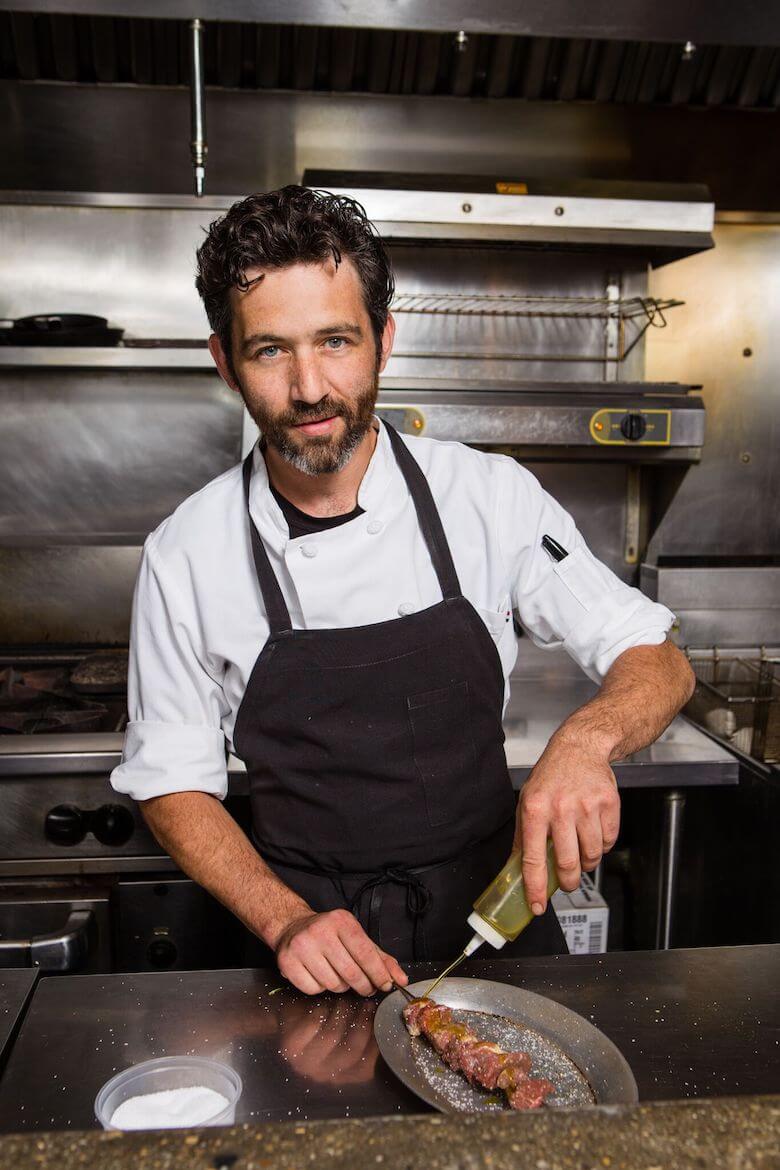 ---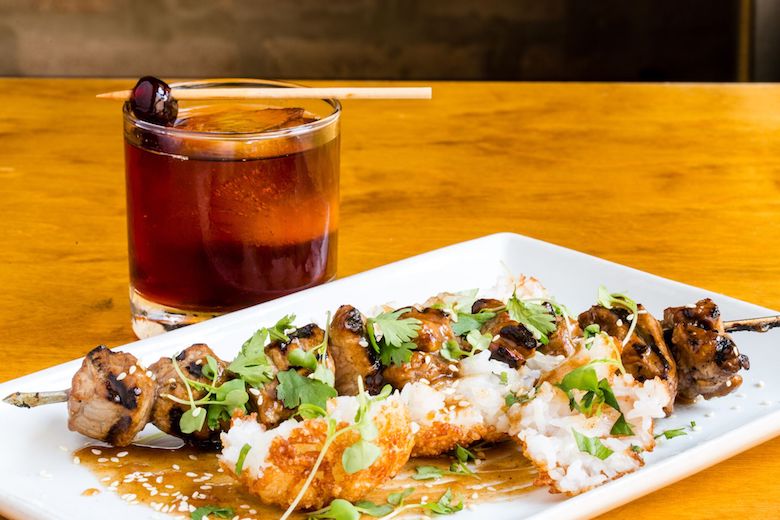 ---
Chatted with: Beverage Director Scott Koehl
Dish: Lamb skewers
Drink: Black Moon Spell cocktail
This pairing plays up rich, spicy flavor profiles starting with Beverage Director Scott Koehl's Black Moon Spell, featuring Woodford Reserve bourbon, spicy Fernet Branca and Amaro Nardini with a dash of cherry bitters. It's a sipper that could stand on its own, but lends well to Head Chef Scott Sax's rich, gamey Viking Farm lamb skewers with a heavily spiced tamarind ginger glaze and cracked sushi rice.
---
To learn more about the program and find a list of participating restaurants, visit http://www.thetrotterproject.org/pairing-and-sharing-charity-program/.
Text by Carly Fisher. Photos by Francis Son.
This is a paid ad sponsored by Woodford Reserve. CRAFTED CAREFULLY. DRINK RESPONSIBLY. Woodford Reserve Distiller's Select Kentucky Straight Bourbon Whiskey, 43.2%-45.2% Alc./Vol. The Woodford Reserve Distillery, Versailles, KY. WOODFORD RESERVE is a registered trademark. ©2017 Brown-Forman. All rights reserved.