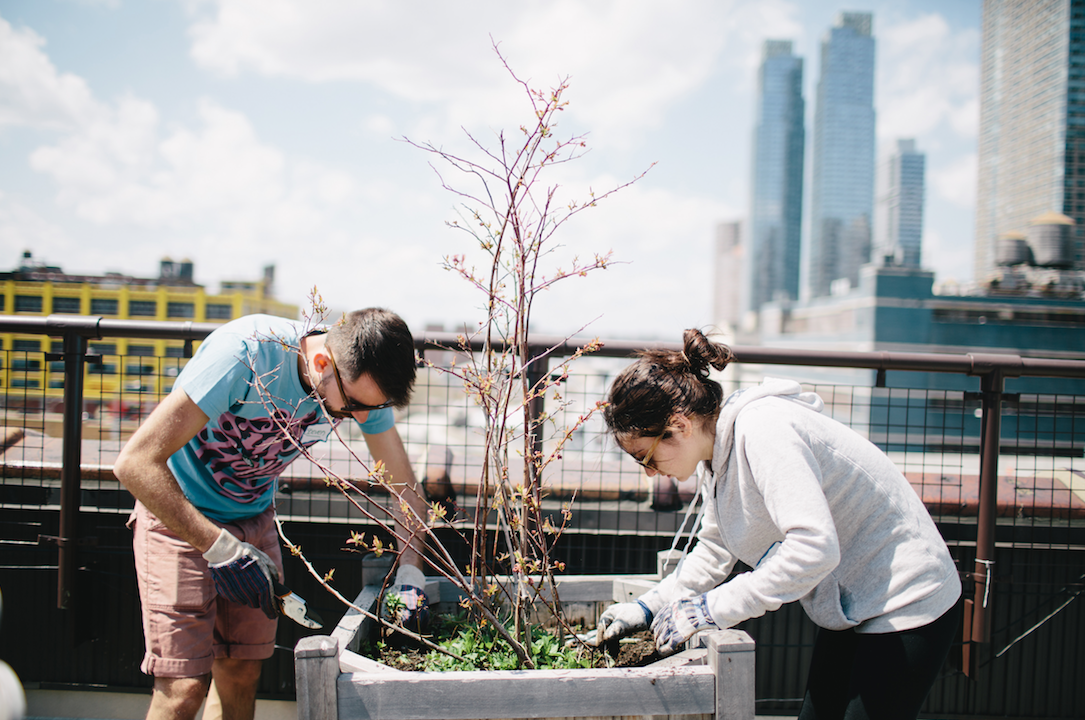 Rooftops in Manhattan are prime real estate, especially during the summer. The city is home to dozens of rooftop bars and restaurants, mostly all with a reputation for high-heel stilettos, velvet ropes and bumping DJs. But the hidden gems of Manhattan's rooftop scene are the bars, restaurants, farms and gardens marching their prized location to a different beat. Whether sourcing from rooftop farms and gardens, bringing the best of New York's local food and drink up to building tops or just being a green roof, these venues take rooftop culture to new heights.
In addition to serving some stellar local food and drink in a unique venue, these spots can support our local biodiversity (yes, it's real and important), educate us city dwellers about food and drink production and make creative use of space that might otherwise be empty. Sure, Queens and Brooklyn may be home to some of the city's largest green roofs (like Brooklyn Grange or Gotham Greens), but Manhattan hosts a number of important green spaces too, including the parks, several of the venues on our list and urban gardening and farming projects like Riverpark Farm. While this roundup is limited to penthouse plots and pads, we also support all flourishing urban green spaces that make being in New York City an even more vibrant experience.
So while you can, here's where we recommend you climb a few floors to take in the best of New York's local rooftop food culture. Any others that we should include in this list? Let us know by leaving a comment.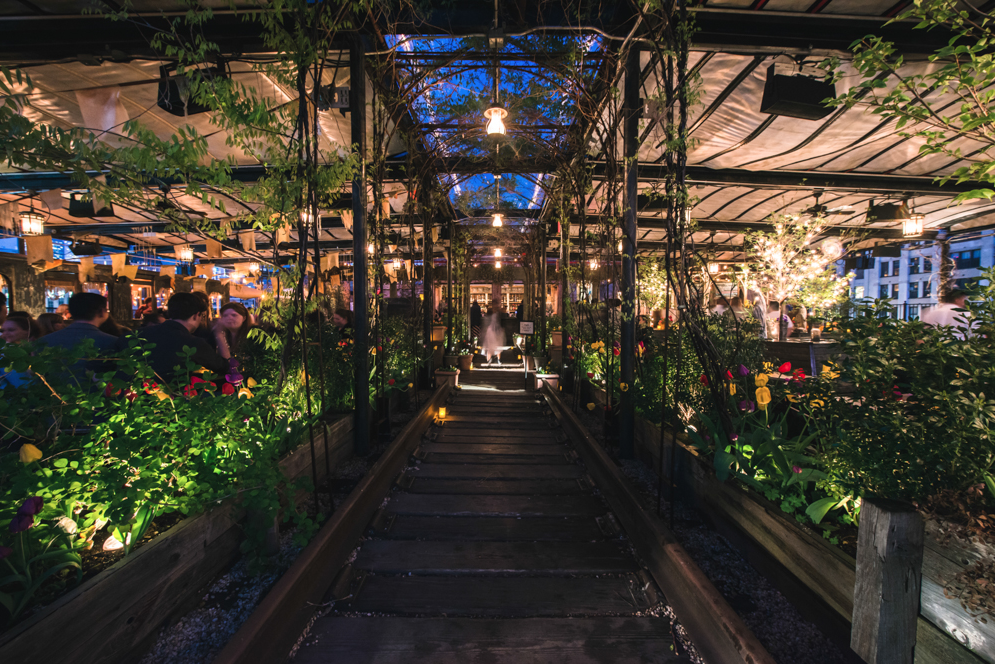 Gallow Green
542 W 27th St.
Meatpacking District
Gallow Green may seem like another rooftop bar in the Meatpacking District, but once up top, you'll understand why it's an oasis. The dramatically overgrown garden is thanks to the McKittrick Hotel below, site of the interactive theater experience Sleep No More. Once you step out out of the elevator and into the lush gardens, you'll feel like you stumbled upon Manhattan's best-kept secret. The food and drink menus change seasonally, where servers dole out bar bites like fried green tomatoes with jelly aioli, a glazed quail skewer and grass-fed short ribs pie. The drinks ring slightly of a 1920's Jazz era, with big format punches (including one with absinthe), takes on classic cocktails and "build your own" juleps. We're especially fans of their New York-state made beers and wine, like the Social Club Red merlot blend from Brooklyn Oenology and the Greenport Harbor Brewing's Saison.
Terroir at the Porch
High Line, above 15th St. and 10th Ave.
Chelsea
A wine bar on the Highline is just as good as it gets — especially when it's the award-winning wine bar Terroir at the Porch. Now open for the season, Terroir Porch sits in the open-air among the other cafes and shops along the High Line. Stop by for a New York-made glass of riesling or craft beer, and order bar bites straight from local farmers and producers (ricotta meatball subs, we're in). Of course the High Line is home to plenty of other terrific local food and drink options, including People's Pops, which we just featured in our summer issue.
The Crow's Nest at the Water Club
500 E 30th St.
Kips Bay
High above the Water Club (where we'll be gathering on August 13 for our Seafood Soirée event), nestled in the East River skyline, is the Crow's Nest rooftop. What we love most about the Crow's Nest: its dedication to using local ingredients in its menu, especially seafood. Its partnership with Dock to Dish utilizes the very best catches from local fisherman, which means fresh fish, straight from Long Island, on to your plate in less than 24 hours. The Crow's Nest hosts weekly of "dock to deck" barbecues to feature the best of the day's catches, which means plenty of fresh local seafood while you kick back for happy hour.
The Waldorf-Astoria Rooftop Garden and Apiary
301 Park Ave.
Midtown East
The Waldorf-Astoria has been doing rooftop dining since before it was a trend. While you can't eat or drink at the top of the Waldorf-Astoria anymore, you can check out the hotel's flourishing gardens and apiary. These days, many cocktails and dishes made at the Waldorf-Astoria now include rooftop-harvested honey from their six beehives (the honey is even used in some of the hotel's Guerlain Spa treatments!). The hotel also grows its own figs, apples, strawberries and lavender on the rooftop. Tours of the garden, as well as the rest of the hotel, are open to the public on Thursdays and Saturdays.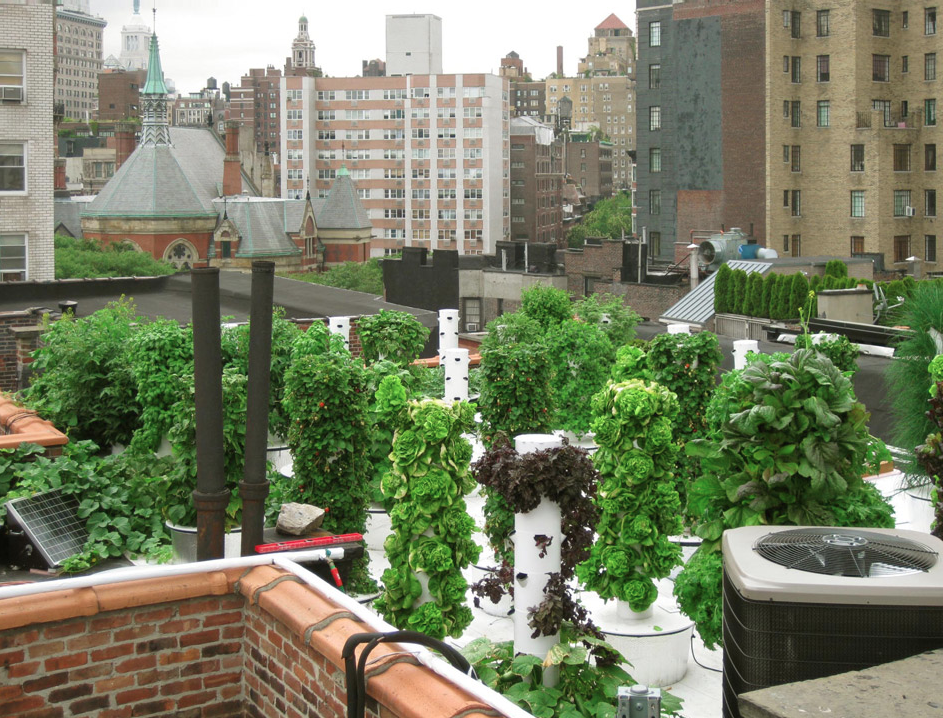 Bell, Book & Candle
141 W 10th St.
West Village
From the outside, this West Village haunt looks like another hip restaurant in the area. Make no mistake, though — Bell, Book & Candle has helped lead the way for rooftop gardens in New York City. The restaurant has been sourcing from its soil-free aeroponics rooftop garden for sage, eggplants, tomatillos, arugula, romaine and a variety of other herbs and vegetables. While you can't visit the rooftop garden, you can feel good knowing that your rooftop greens salad traveled just a few short stories down to your plate. Enjoy a glass of Finger Lakes Riesling, can of New York-made Porkslap beer or a 2057 cocktail made with Brooklyn's Greenhook Ginsmiths beach plum gin liqueur.
Birreria NY
200 5th Ave.
Flatiron
We love a good rooftop beer, and we especially love it when that beer is made just feet away from us. At Birreria, the rooftop brewpub at Eataly, brewers Teo Musso of Baladin and Leonardo Di Vincenzo of Birra Del Borgo make their selection of unpasteurized, unfiltered and naturally carbonated cask ales just 30 feet away from dining tables. And when Dogfish Head's head brewer Sam Calagione is in on the brewing process, you know the beers will be quite tasty. While the brews on tap rotate often, you'll find at least three house-made beers on tap (this season, there's thyme pale ale, a witbier and a chestnut mild ale). You'll also find northeastern craft brews, like seasonal selections from Kelso, He'Brew, Victory Brewing, Two Roads Brewing Co. and Empire Brewing Co. on tap as well. For the complete experience, pair your Birreria brews with a housemade sausage, or a pork shoulder sandwich — Birreria gives its spent grain from brewing to its upstate purveyors, to buy the pork back from them. It's as close to a circle of life — grain, to beer, to pig, to pork — as it often gets.
Press Lounge
653 11th Ave.
Hell's Kitchen
You'll get all of the glamor, plus a serious locally-driven menu, here at the Press Lounge. While it sits atop the Ink48 Hotel, the Press Lounge is also the sister venue to the West Side's Print Restaurant, which we recently profiled in our summer issue. It's obvious that chef Adam Block is dedicated to a sustainable mindset (with an onset of sophistication) at both venues since adjacent to the Press Lounge, there is also the rooftop garden where Print sources its herbs and vegetables. Grab a glass of a Red Hook Winery or Gotham Project Wine, or a pint of Sixpoint Brewery, and snack on farmstead cheeses while you recline in a chic rooftop lounge.
Hell's Kitchen Farm Project
410 W. 40th St.
Hell's Kitchen
It's a rooftop garden making a big impact in a neighborhood where fresh produce isn't easy to come by. In 2010, local organizations transformed the rooftop of a local Baptist church to a garden made of — you wouldn't believe it unless you saw it — kiddie pools. These cheap and durable "planters" now host a number of growing vegetables and herbs, including peas, peppers, potatoes, tomatoes, kale and collard greens. The rooftop farm now provides hundreds of pounds of fresh produce for a neighborhood CSA and food pantry. To get involved — and put that green thumb to good use — check out Hell's Kitchen Farm Project's website for details on volunteering on Thursdays and Saturdays.
Rosemary's
18 Greenwich Ave.
West Village
Named after the owner Carlos Suarez's mother, Rosemary's was directly inspired by her own vegetable garden in Italy. Now, that garden has found a new home atop of the West Village restaurant's rooftop. It was even modeled after the same design as the most famous rooftop farm across the East River, Brooklyn Grange. Dine on prosciutto and salami with rooftop-raised tomatoes, zuchinni, radishes and herbs. The heavy New York craft beer tap list only seals the deal.