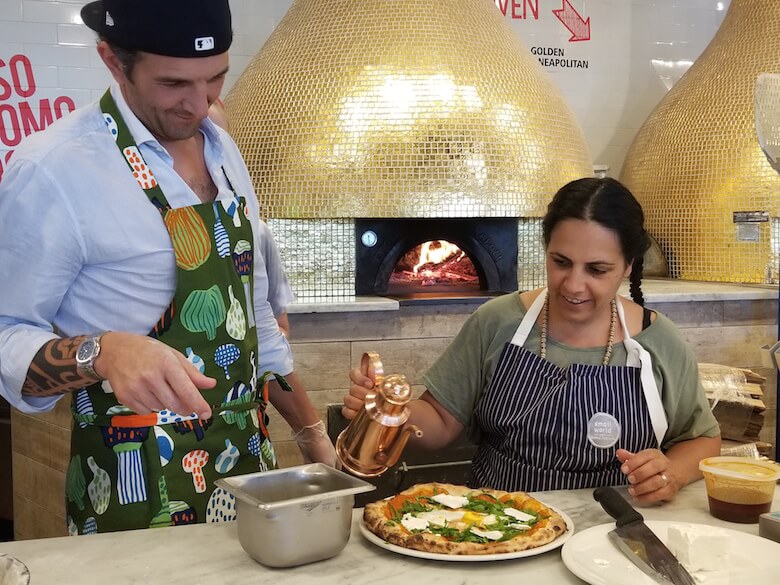 Sometimes, the best of all worlds just come together and you can only question why it didn't happen sooner. Case in point: Rossopomodoro at Eataly Downtown (4 World Trade Center) has teamed up with renowned Israeli Chef-owner Einat Admony (Balaboosta, Taim, Bar Bolonat) as part of their ongoing Star Chef Pizza Collaboration Series to unveil—wait for it!—shakshuka pizza.
Egg on a pizza isn't anything new, but a shakshuka pizza is pretty much genius. The deep baked dish already has most of the components you'd find on a pizza (tomato, cheese, spices) with a Middle Eastern spin: spicy tomato chrime sauce, goat feta cheese, spinach, slightly cooked eggs and a healthy sprinkle of za'atar. To help translate its thickness to a thinner handheld slice, Admony worked with Simone Falco, Owner/Executive Chef of Rossopomodoro in the West Village and President/CEO of Rossopomodoro at Eataly USA.
"We had a few ideas before, but the shakshuka just made sense," Admony says. "Simone's dough is the best I've ever had, especially if it's a spicy marinara. This dough is very unique, and I've worked with many.  It's very forgiving and one of the best dough."
She's so impressed with the results, Admony plans to add her own riff on a shakshuka pizza to the menu at Balaboosta within the next few weeks. Unlike the version at Eataly, the one at Balaboosta will strike a chord similar to a Chicago deep dish pizza. Can you say meta-pizza?
The collaboration thin slice is only around for a limited time (through the end of November), so get it before it's gone so you can see how it stacks up against the deep dish version.