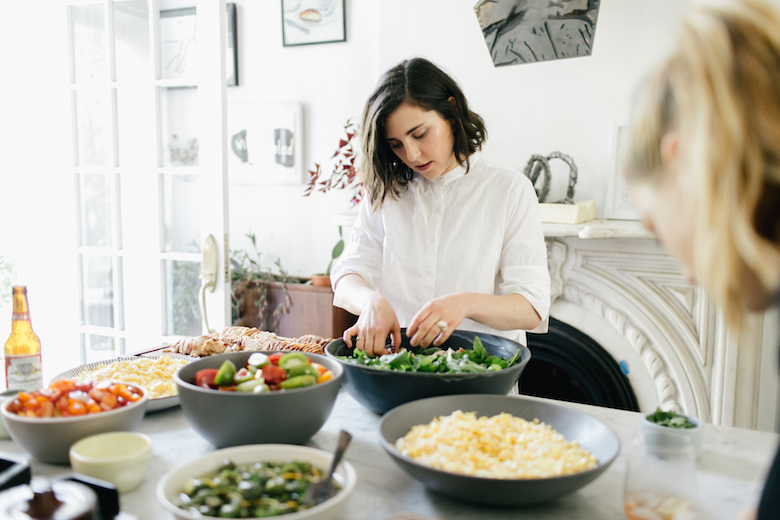 In each post on her website Salad for President, Julia Sherman makes a salad with an artist, creative, musician or writer. There's illustrated matzoh, arugula and pistachio with anchovy, even a jackfruit salad. She's been interviewing people and getting their go-to salad recipes since 2011—a long time to explore creativity through a healthy lunch—and now is gearing up for the release of her first cookbook, Salad for President: A Cookbook Inspired by Artists, coming in May. Right now, though, we've got her talking about her go-to restaurants for whenever she's not eating a heaping bowl of greens.
https://www.instagram.com/p/BOS8sGkh2yi/
51 B Canal St., Lower East Side
This tiny traditional Malaysian spot is a like a round trip ticket to Penang smack-dab in the middle of the trendiest part of Chinatown. Chef Kyo Pang whips up intense flavors in her mini fluorescent-lit kitchen—sticky rice dyed blue with flowers from her mother's backyard, broken tapioca omelette with tiny oysters or simple soft-boiled eggs with a salty soy sauce. For dessert, don't miss the sweet, pillowy homemade mochi. This spot could be mistaken for another kiosk for the Chinatown bus tickets, but it's actually some of the most sophisticated food in the neighborhood.
https://www.instagram.com/p/BOnOO_rATg2/
22 Orchard St., Lower East Side
A little slice of the way things were can be found on Orchard Street. Upon entry, Scarr's Pizza appears to be a classic pizza parlor, with to-go slices in glass cases and wood paneling, but you'll soon notice that alongside the traditional slice, they are serving orange wines and vegan Caesar salads. Old meets new, in the best possible way.
https://www.instagram.com/p/BDbtyukE0QH/
78 E 1st St., East Village
Cheap, fast and to the point, Cafe Himalaya is a BYOB spot that would be easy to pass by. It's nothing fancy, but the food is on point. Step inside and you will find Tibetan-style dumplings lovingly called "momos" (I like the beef or veg), and cure-all broth-y soups. Don't miss the avocado salad, either.
https://www.instagram.com/p/BQY5xHnF_r1/
Full disclosure, I am the creative director at New York's long-standing favorite fast-casual salad restaurant, Chopt, but their to-go salads are made with the best ingredients: Seed and Mill tahini, Hot Bread Kitchen croutons and domestic, wild Gulf shrimp. The Astor Place location is bright and airy, with cheeky wallpaper that features human cannonball performers flying through the sky on vegetables. Go for the Destinations specials; the menu changes every 60 days and takes a deep dive into the cuisine from places like Oaxaca, Thailand or Spain.