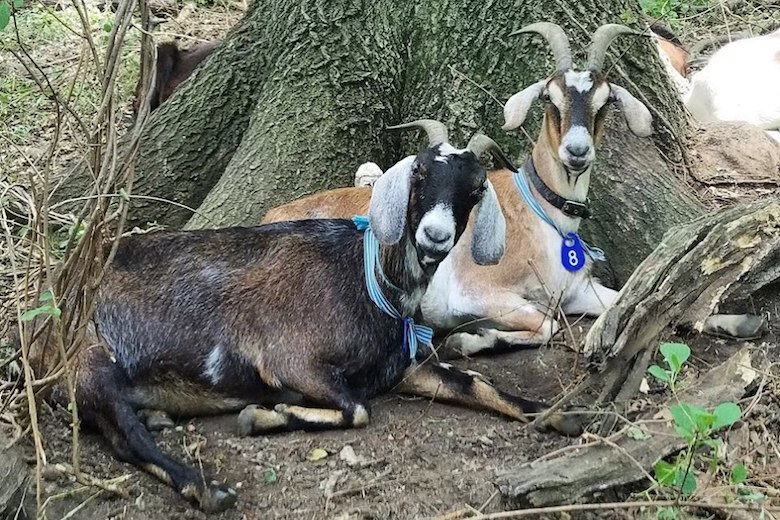 Even if you're barely online, you're probably conditioned to the charisma that is The Goat. Maybe you're one of @goatsofanarchy's 650,000 followers. Or a few of the 29 million views on "Funny Goats Screaming Like Humans" belong to you. Either way, it's hard to think of a higher compliment than being called The G.O.A.T.–the greatest of all time.
It's a millennial phenomena to fall in love through a screen. But, like all good modern romances, the Internet crush must meet offline to make it real. Now, New Yorkers, and those looking to dive deeper into yeehaw culture than listening to "Old Town Road" on repeat, can beta-test their curious connection with these cute-as-hell hooved creatures in real life, thanks to "Goatham," a new program from the Riverside Park Conservancy.
"These goats are more than just a great Instagram shot," said Gale Brewer, the Manhattan borough president, to a sea of observers wearing goldenrod goat-printed bandanas tied every which way. On May 21, an estimated 1,200 people gathered together with city officials to witness two dozen goats from Rhinebeck, New York, take their first steps onto the runway of their new home in Riverside Park.
https://www.instagram.com/p/Bxu3VBlBgBE/
"I am delighted to welcome Skittles, Cheech, Chong, and the rest of the 24 goats who will join our outstanding team of staff, volunteers and park users this summer," Dan Garodnick, CEO and president of Riverside Park Conservancy, excitedly yelled into the microphone like a sports announcer revealing an all-star lineup. A wave of cheer erupted from his captive audience, which was clad in the formally requested "haute goature" attire—custom goat get-ups that were accompanied by goat-face cutouts pasted on wooden sticks.
The "summer interns," as the goats were fondly called throughout the "Goatham" welcoming ceremony, will roam in a fenced-in area between 119th and 125th streets in search of weeds in "hard to reach" parts of the park.
"Putting them to work in 'Goatham' is like treating them to an 'all you can eat' buffet,'" said Garodnick. "It is healthy for the goats and good for the environment—it is the ultimate farm to table."
"Like all New Yorkers, these goats like their food," echoed Brewer. And, like all good New Yorkers, goats don't discriminate. "They will eat anything and everything," she said.
https://www.instagram.com/p/BygHoPjA9vl/
Despite the FOMO you may have from goat snuggle sessions being offered in Virginia earlier this spring, Garodnick noted no one should touch the goats as they will be "hard at work" until August 30th, making their way through a menu of poison ivy, porcelain berry, lesser celandine, multifloral rose, wineberry and bittersweet.
The "natural weed whackers," who are mostly retired from milk farms, are on loan from Green Goats, an upstate farm which facilitates goats to clear vegetation. Green Goats' founders Ann and Larry Cihanek claim that parks occur "20 percent plus bumps in attendance" due to the public's fascination with goats.
"I am a goat enthusiast," said Ravi Roth, a Riverside Park area resident and self-described gay travel blogger who received "countless emails and texts from friends" telling him about the event. "I did goat yoga in Mesa, Arizona, and it changed my life." His vlog from that day shows career-oriented goats from across the country working as yoga-instructor aids on a ranch.
As unpaid internships are illegal in NYC, the conservancy's $45,000 budget for the program equals out to the goats taking home $1,875 for the three months of work. Though this doesn't meet Mayor Bill de Blasio's quest for a flat $15 hourly wage, free room and board on the Upper West Side is not to be ignored.
https://www.instagram.com/p/By0dAEkn9ju/
Mark Levine, District 7 council member and "Goatham" speaker, joked that he called the Department of Labor on the way to the event to inquire about goats' rights to a fair wage, the city's required lunch break and—"most importantly"—whether they will be given 12 weeks of parental leave should "extracurricular recreation" occur.
Given the oldest of the goats ("Stewey" aka the "grandpa" of the group) is nine years old and "Brooklyn" (who likes to "wear black clothes around Williamsburg") claims her "worst fear" is—simply "hard work"—you'll have to see for yourself, sans screen, if these new kids on the block are worth their salt lick, which, already seems to be true, given the goats have reportedly conquered more land than expected after their first few weeks on the job. If you missed Cheech, Chong or any of the other fan favorites who were hit by the layoffs, you can read about each one of the OG's past lives, current interests and "vote the G.O.A.T." along with fellow fans on the conservancy's website.
Because, as Winnie-the-goat reportedly said, "Online, no one knows you're a goat."