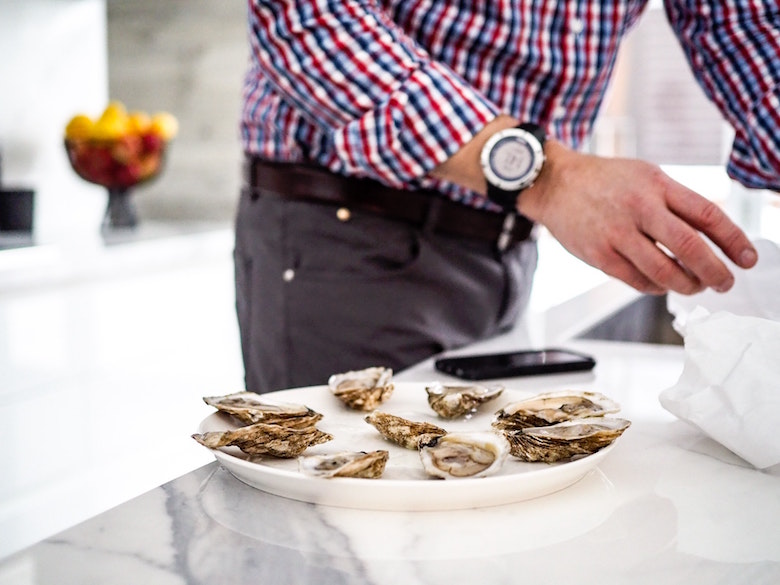 Embarrassed by what you'd do for some oysters, wine and socialization right now? Us too. But thanks to Billion Oyster Project and Moët Hennessy, we can reserve our embarrassment for other cravings, as they will deliver all three of our desires—that's right; oysters, wine and socialization—on Thursday, May 7 with their first-ever virtual "Oyster Hour" from 6:00 to 7:00 p.m.
This is not a new celebration of wine and oysters; each May for the past six years, Billion Oyster Project and Moët Hennessy have gathered to throw the Billion Oyster Party. This year, however, due to the COVID-19 pandemic, they had to push their annual fete back to September 24—but couldn't resist toasting to Billion Oyster Project's mission in the meantime.
Here's how you can get in on the fun: If you purchase tickets for the annual Billion Oyster Party, now rescheduled for September, you are welcome to attend the live "Oyster Hour" over Zoom for free. If you don't purchase tickets for the IRL party, you are still welcome to participate in the virtual event for $50 per person; tickets are available online here.
The virtual event will feature Billion Oyster Project's executive director Pete Malinowski in conversation with Julie Qiu of In a Half Shell and George Motz of The Food Film Festival . Special guests will teach viewers how to order, shuck, store, prepare and pair oysters at home!
Special guests will include Billion Oyster Project Shell Collection partners Chef Kerry Heffernan of Grand Banks, Assaf & Naama Tamir, the brother-sister duo from Lighthouse, and Moët Hennessy's Education Specialist Angela Sauve.
The organizers will also be hosting their first-ever Virtual Shucking Competition, featuring winners and runners up from Billion Oyster Party shucking competitions of yore.
Recommended pairings for the event include Cloudy Bay Sauvignon Blanc and Veuve Clicquot Yellow Label—two perennial Edible favorites!
 For more information on Oyster Hour with Billion Oyster Project and Moët Hennessy, or to purchase tickets, please visit the event's website.