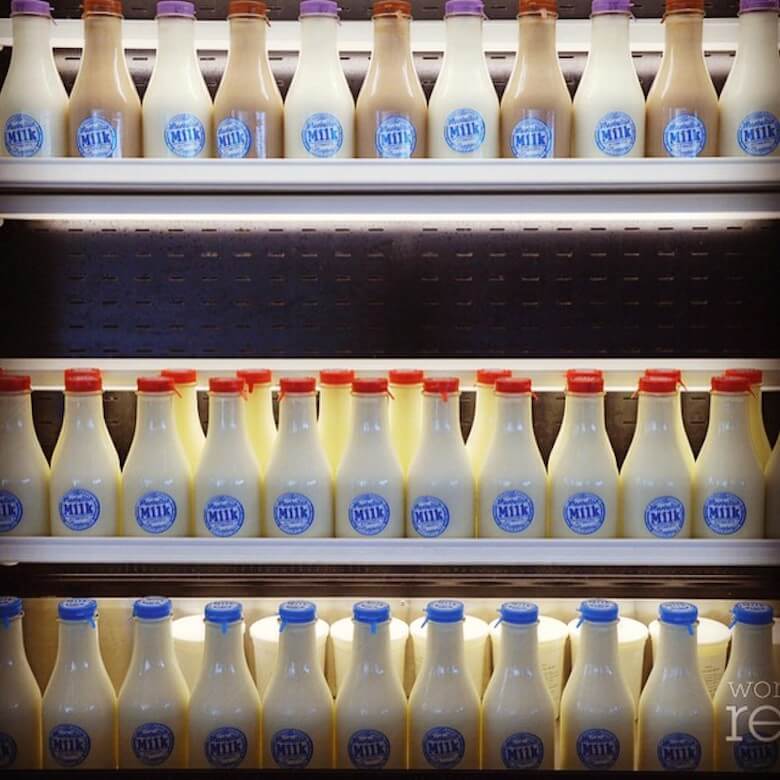 Editor's note: We kicked off our first annual Food Loves Tech event last summer in Chelsea—here's a recap. We're bringing a taste of the food and farming future back this year, but just across the East River at Industry City. Leading up to the event, this story is part of an ongoing series about technology's effects on our food supply.
With the initial 20th-century rise of "big box grocery" stores like Kroger and Trader Joe's, the iconic milkman, who delivered glass-filled bottles of milk and cream while garbed in an all-white suit, joined the list of seemingly dying jobs like butchers and cheesemongers. But in New York City, such jobs have seen a resurgence during the aughts, so that once again New Yorkers can enjoy the '60s-era novelty of the fresh, locally sourced milk (alongside other groceries) delivered right to their doorsteps.
In 2007, Frank Acosta and Matt Marone founded Manhattan Milk, their nostalgic twist on the milkman of yore. Be it customers yearning for the romantic ideal of having jugs of milk personally delivered or a need to support a local food business, Manhattan Milk was making dozens of deliveries throughout the Big Apple. But despite accolades from the Michael Pollans of the world and arguments for locavorism that align nicely with Manhattan Milk, in recent years, these revivalist milkmen are facing increasingly crowded and unnerving competition among tech and grocery companies.
Although home delivery for groceries is a popular topic since the Whole Foods and Amazon alignment, at Manhattan Milk's inception, Acosta and Marone were in some ways revivalists, especially when it came to dairy products. Between 1960 and 1990, the United States Department of Agriculture estimates that home delivery of milk dropped from 30 percent to less than 1 percent. This, however, didn't stop Marone, who already had a milk delivery route in Westchester, and friend-slash-Michigan transplant Acosta, from attempting to capture a niche market demand.
"At that time, it was something that was unique," Acosta said, adding that the only other real competitor in 2007 was Fresh Direct. Since starting their company, the second-coming of the milkman with their own line of locally sourced milk ($5.99 for a half-gallon, today), their range of sundries has expanded. Now, customers can order granola, steak and a variety of locally produced condiments like maple syrup or jam from nearby producers upstate and in New Jersey and Pennsylvania. (In addition to regional produce and goods, they do sell larger brands, including AppleGate and So Delicious.)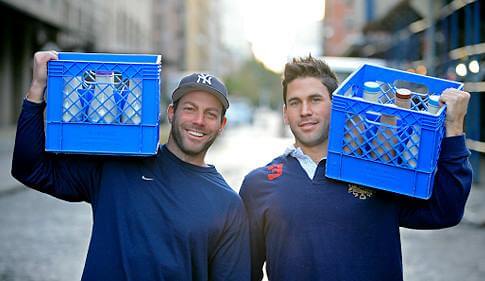 Nostalgia and appealing to the concern for buying local was Manhattan Milk's initial selling point among New Yorkers in the early years. But recently, Acosta says, their home deliveries have died off, making their main customers predominantly businesses like daycares. Compared to large-scale online delivery retailers like Amazon Fresh and a revamped Fresh Direct, the extra dollar or two on Manhattan Milk's price tags are a steep disadvantage when it comes to New Yorkers.
"People don't care," Acosta said. "They'll pay for gazillion dollar homes but would rather pay $3.99 cheaper prices from big companies than a few bucks more for something local."
Of course, the argument for why people enjoy buying from the farmers market applies to Manhattan Milk: The little guy still offers a human connection. Rather than dealing with rote customer service arguments or getting your orders delivered from FedEx, you see who you're buying from and also can discuss last-minute issues at a greater ease. Furthermore, echoing the sentiment of recent think pieces and op-eds, which claim that choosing to purchase food locally is an act of politics itself, Acosta hopes that people will return to buying milk from their local milkman to help local food economies.
"What we're doing is also a local movement," Acosta said. He added that he enjoys stocking Manhattan Milk with regional food products because "yes, there's a mission [for Manhattan Milk] to be successful, and we've done okay. But also there's a mission to do something, to not be a chain on every corner [and] to have that opportunity to do something they'd want to do without pricing them way out."
Featured photo credit: Flickr/elliottbledsoe