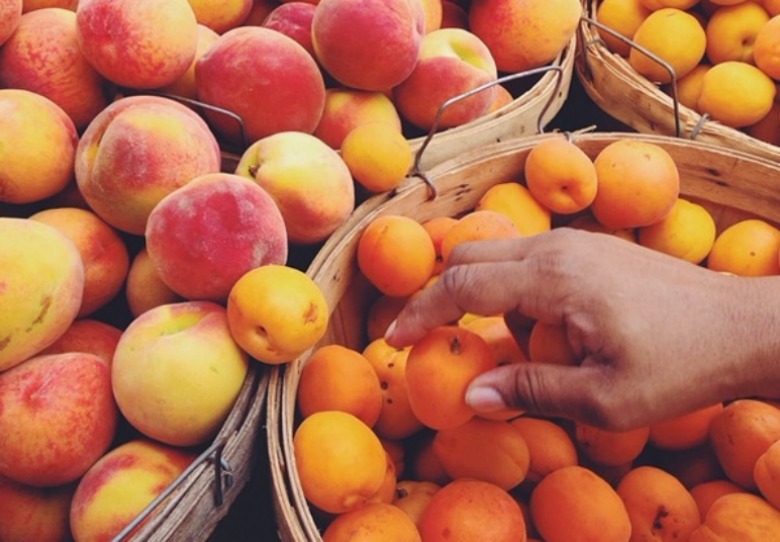 The windows are open. The fans are on full blast. We're working on our summer kitchen projects — jam? pie? pickles? — and we're listening to some of our favorite music while we do it. Here are the tunes our editors love so much they'll swap out the rolling pin for the air mandolin.
Rachel Wharton: "Custard Pie" by Led Zeppelin
If I was forced to pick just one song I'd say "Custard Pie," the first track on the 1975 Led Zeppelin masterpiece Physical Graffiti. It's a great song from one of my favorite albums, but I choose it because I still mainly listen to vinyl when I am cooking, and they key is to pick a record with a fairly long playing time on each side so you don't have to run over and flip it over. Physical Graffiti is a double album so that's four sides of about 20 minutes apiece, an extra bonus!
Lauren Wilson: "Muleskinner Blues" by Bill Monroe
To me, summer means barbecue, which means bluegrass, which means Bill Monroe. I'm no singer, but I can't help but whoop, holler and maybe play a little air mandolin along with Bill when I listen to this track. It's one I've known by heart for years, so when I need to focus my attention in the kitchen, it's my go-to background jam.
Eileen M. Duffy: "Knockin' on Heaven's Door" by Guns N' Roses
This Bob Dylan cover isn't an everyday dinner song, I mostly listen to it when my friend Jennifer and her son Disston are over. Some people are surprised I like Guns N' Roses, but they've always been one of my favorites. And when Axl starts banging on the piano about halfway in, I defy you to not to pick up your air guitar and do your best Slash impression.
Caroline Lange: "Say You Love Me" by Fleetwood Mac
I moonlight most weekends as an ice cream scooper at Van Leeuwen in Boerum Hill, Brooklyn, and we have a pretty great collection of records on our back shelves. It's a novelty for a lot of our smaller customers, and a happy surprise for folks who grew up listening to LPs. The staff behind the counter has Fleetwood Mac on heavy rotation, and it's followed me home from the ice cream store to my kitchen. The whole eponymous album is wonderful to listen to (loudly) while working on cooking projects.
Gabrielle Langholtz: "You Said Something" by PJ Harvey
When I'm in the kitchen, my earbuds are always in, but they're never piping music. Instead it's all podcasts, all the time. Between work and parenting, I'm usually behind on everything, and multi-task by getting media through my ears instead of eyes. So I chop, whisk and wash to the beat of green news like Earth Eats and Living on Earth or political comedy like The Bugle and the Jimmy Dore Show. But if you prefer tunes, I suggest you crank up PJ Harvey's "You Said Something." I had the album on non-stop repeat back in 2000, and since visiting Brooklyn Grange and Gotham Greens earlier this month, I haven't been able to get PJ's "On a rooftop in Brooklyn" hook out of my head. Which is appropriate while cooking because these days, if you shop at Whole Foods or Good Eggs, a rooftop in Brooklyn may well be where your dinner grew.
Anne Goldberg: "Nick of Time" by Bonnie Raitt
When I head into the kitchen to do something other than frantically throw together a weeknight meal, more often than not I put on Bonnie Raitt's 1989 album "Nick of Time" to accompany me while I chop and knead. The title track is my favorite, and while it shows its age with a synth-y opening line, it has a subtle driving beat that recalls Beyonce, and keeps me moving through my mise. Best of all is Raitt's relaxed, singable melody, and conversational lyrics about love and ageing — I sing along, feeling like I'm chatting with a friend while I cook.
Feature photo: Instagram/carolinelange13