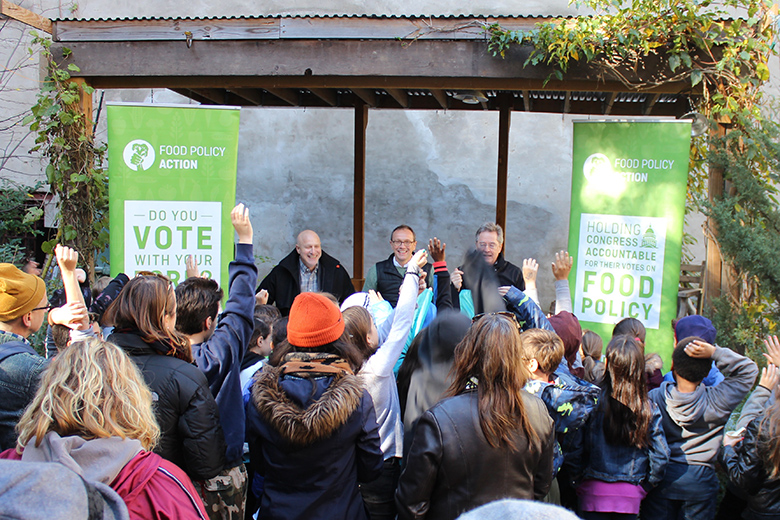 Chefs are becoming more political says Top Chef star and advocate Tom Colicchio, and he'd like to see those in politics taking a greater interest in food. Issues of accessibility, affordability, nutrition, the well-being of our food- and watershed and the farmers and fishers who work them are only some of our food system's unfortunate but addressable ills. To bring pressure to bear on the powers that be, Colicchio and environmentalist Ken Cook founded Food Policy Action: a collaboration of national food policy leaders meant to hold legislators accountable on votes that affect food and farming. The group's consensus builder is a scorecard that was just updated for the fourth time last month (see New York's results here).
In a charming gathering of schoolchildren and food folks in the East Village's Campos Community Garden, Cook and Colicchio joined forces with chef Bill Telepan to release the scores along with a dose of civics lessons and a cooking demo for good measure.
"Let me ask you a question," began Cook. "Does anybody here eat food?" Arms and squeals shot up in the air.
"Does anybody here get grades in school?" Arms up, not as high.
Relevance established, he continued, "So what we're talking about today is we're giving grades to people who are in Washington and are supposed to be the grown-ups, as Tom likes to say, and sometimes they are and sometimes they aren't, right?" The rapt young audience nodded appreciatively.
He explains that when our elected representatives "vote to make sure that the school lunch program is really good, we give them a thumbs up. And when they vote the wrong way, thumbs down. We give them a bad score. And when they vote to make sure that our water is clean to drink and clean for our food, thumbs up. And when they don't vote for clean water…" Fired up, the kids finish his sentence.
"We scored everybody, we gave everybody in Congress a grade. And this year they're doing a little bit better than they did last year. They got a little bit better grades," said Cook, explaining, "That's why we send them to Washington, to do the right thing. So that we all have good healthy food, everyone gets the meals they need and everyone knows that when they eat food it's going to protect the environment and protect the animals and not hurt them."
According to the scorecard, while 116 congresspeople got 100 percent, 280 got less than 50 percent. ("What?? Boooo!!" cried the audience.)
Colicchio says that in Washington he'll hear, 'Well, had I known someone was keeping score I would have voted differently." He smiles/winces and tells them, yes, that's the point.
"What we're doing is simply trying to make food more political, where people actually start thinking about our food supply in terms of policies," he says. "There's 47 million people in this country that are struggling to feed themselves and there's very little discussion about food."
The latest FPA campaign is called "Plate of the Nation," which aims to make nutritious food more accessible and affordable. The method? The campaign proposes a shift in subsidy distribution. Rerouting a portion of what's currently 85 percent of food subsidies away from corn, soy and cotton so that it's more representative of the food plate's dietary guidelines of 50 percent fruits and vegetables and 25 percent whole grains.
"It takes time, it's a process" says Colicchio. But he's hopeful. "This is our fourth scorecard, and the first one, you know, people kind of brushed it away,  the second one made a little more noise, and by the third one, people started paying attention, and I suspect, well, we already know that the press releases are going out by members of Congress that do well. So we're using this as a tool," he says. "And, you know, it's working."