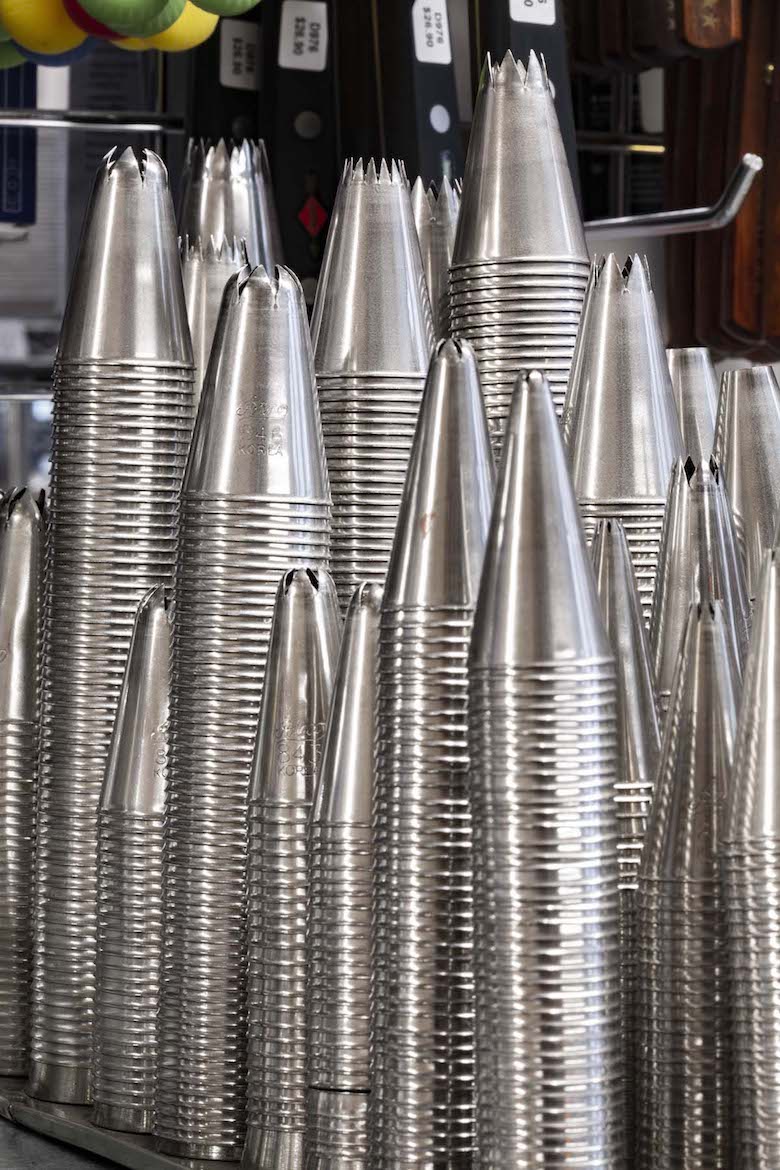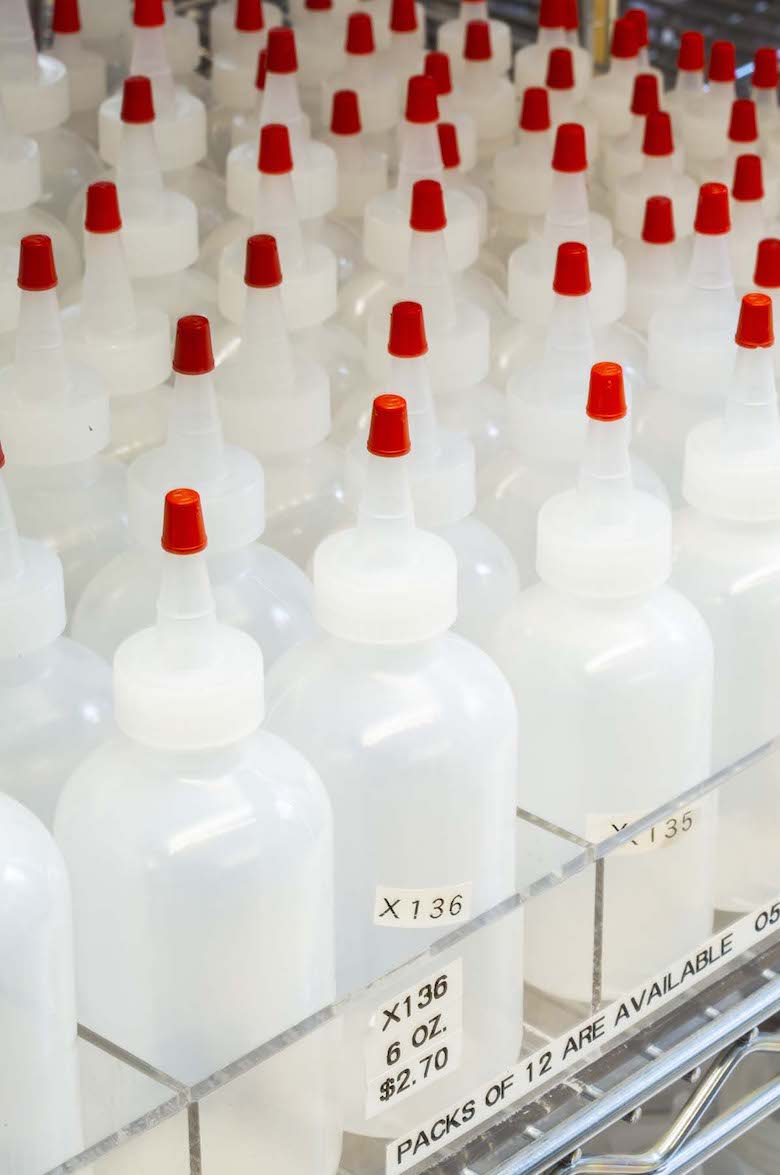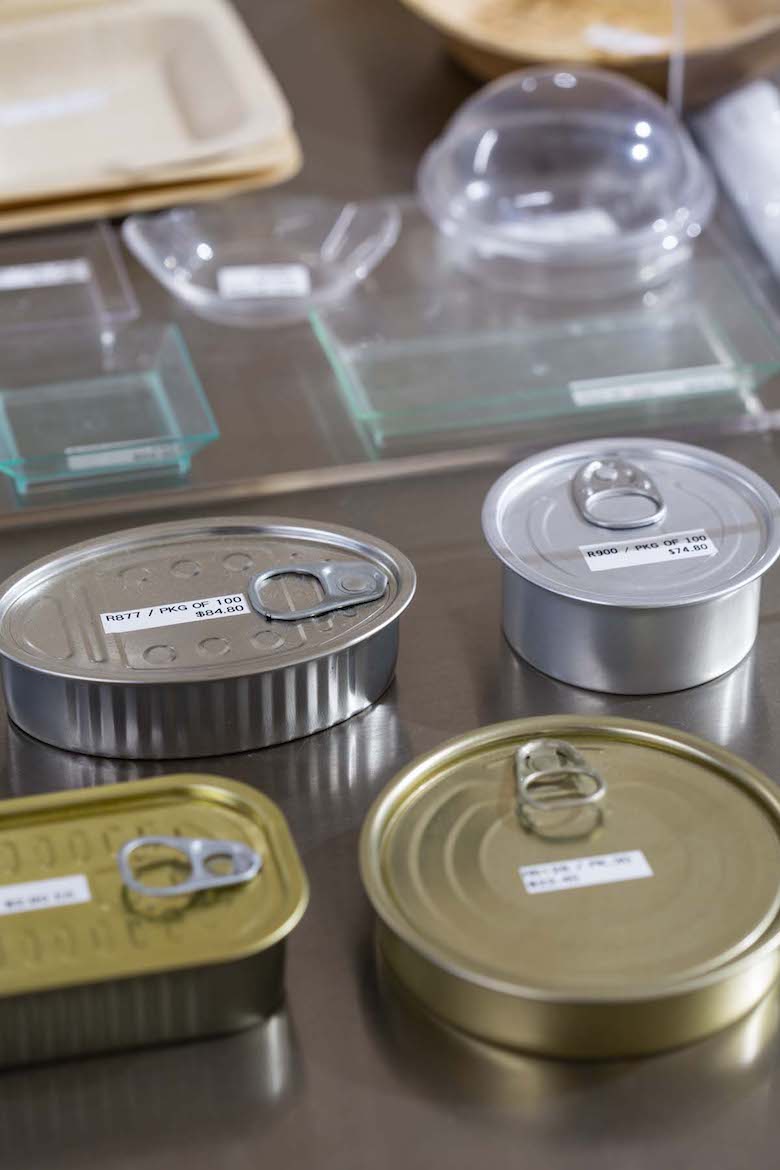 While sitting at the bar of a café newly helmed by one of New York City's coolest chefs, I noticed her in my periphery having a meeting. But before I could register her face, I saw on her closed laptop a red sticker with "JB Prince" in big white letters—something like the Supreme logo, that streetwear brand kids and adults alike line up for when there are new releases. But this wasn't a brand she was representing. It's a store in an office building at 36 East 31st Street.
The cookware shop that specifically serves chefs has been open since 1976, when Judith Prince began going into restaurant kitchens to ask what tools were needed and began importing them. Now in its third location, JB Prince continues to be the go-to for chefs—whether they need a knife, a pair of Hedley & Bennett temperature-regulating socks, or a box of 200 faux-sardine tins in which to serve a passed hors d'oeuvre. From bar tools to pastry tips, for over 40 years, this has been the place to go.
Read more: These 6 Kitchen Supply Stores Have All the Cooking Equipment You Need
In that time, so much has changed in the restaurant industry—from the styles of cooking to the costs of labor to what's acceptable in kitchen culture. Of course, certain things will never go away. "A fry pan is still essentially a fry pan," Tim Mussig, CEO, tells me. But there has also been a realization among chefs that they need to streamline processes to compensate for a shortage of cooks, he says, leading to more interest in sous vide and induction technology.
He's seen those technologies make the transition from being purely the arena of professionals into home cooking, but in general, the innovations for home cooks have been more like throwbacks. "I think people have a much more vested interest in the quality of the cookware they buy," he says. While chefs have long been interested in cast-iron and French iron pans, home cooks would "buy anything that had a handle and metal attached to it."
An interest in great heat retention no longer concerns only those sweating on the line, and more and more home cooks see the advantages of having two great items rather than a big set. Quality over quantity has affected knife-buying habits as well. "Rather than have a block of knives when you'll only use two," Mussig says, "it's better to fill your drawer with quality pieces."
What counts for innovation in cookware, then, is simply the shifting levels of acceptable geekery. And for any geek, whether working at home or in the city's best restaurants, there's that one store we all turn to—the unassuming streetwear brand for cookware.