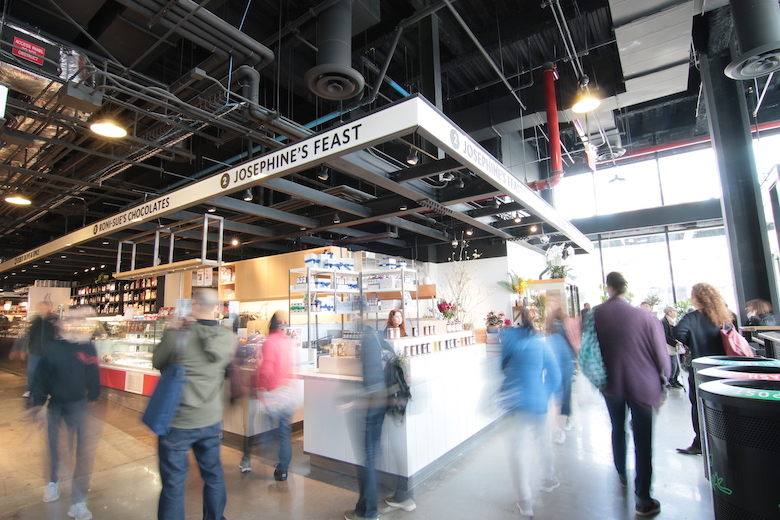 Manhattan's Lower East Side has a rich history of bustling streets, big deals, and small business. Originally an unofficial open-air market frequented by pushcart vendors, Essex Street Market was forcibly moved into its first indoor location at 120 Essex Street during the LaGuardia administration, in an attempt to curb overcrowding in the streets and give the Jewish and Italian communities who made up the neighborhood at the time a permanent residence. As immigration patterns evolved, the market did as well, with new stalls opening to honor and cater to the diverse cravings of the neighborhood it has become a part of. Earlier this year, the market moved into a new home at 88 Delancey Street, complete with a second level for seating and state-of-the-art demonstration kitchen available to rent. While the new space is shinier and boasts new "luxury" vendors, many of the familiar faces and flavors remain.
Also opening soon in the basement level, although confusingly unrelated, will be the Market Line, a second market featuring stalls from established neighborhood restaurants, an information booth by the Tenement Museum, and at least three places to drink, including a wine shop, sake bar, and beer hall. The opening date is currently stated for November 20 but has already suffered multiple push backs.
Vendor hours vary, so check if you plan on stopping by early or late.
Carry-over Vendors
Arancini Brothers
Sicilian Rice Balls with vegan and dessert options, as well as frozen balls to-go.
Cafe D'avingnon
Queens-based bakery specializing in breads and serving espresso drinks.
Cuchifritos Gallery + Project Space
Contemporary Art Gallery featuring emerging artists.
Czar's Grooming
Old-school barber with affordable prices.
Davidovich Bakery
Wholesale bakery from Queens known for their bagels, also offering sandwiches, pastry, and coffee.
Dominican Cravings
Classic Dominican dishes such as patacón, yuca, and roast chicken.
Eat Gai
Thai street foods Khao Man Gai and Hat Yao, made using locally raised heritage chickens.
Essex Farm
Grocer with organic and specialty items.
Essex Olive & Spice
Importers of spices, olive oils, jarred foods, and cured olives.
Formaggio Essex
Specialty shop for cheese and charcuterie.
LES Girls Club
Handmade items crafted by the students who participant in the programs offered by the LES Girls Club.
Louis Meat Market
Butchers offering a wide variety of animals and cuts.
Luna Brothers
Tropical fruit and vegetable vendors, specializing in fresh food and spices from Latin America.
New Star Fish
Fishmongers with a wide variety of seafood, who cut and clean everything to order.
Ni Japanese Deli
Japanese shop featuring seasonal macro and vegan dishes, along with imported teas, dried foods, and kitchen items.
Peasant Stock
Soups, cornbread, and cookies made in house daily.
Porto Rico Importing Co.
Coffee, tea, small cakes, and cookies, as well as whole bean coffee by the pound.
Puebla Mexican Food
Mexican food with all-day breakfast and an extensive menu.
Roni-Sue's Chocolates
Bonbons and other confections created with organic and fair trade dark chocolate from Belize.
Shopsin's
Classic diner fare alongside inventive dishes, served with a lot of personality.
Viva Fruits & Vegetables
Fruit and vegetable importers focusing on foods from Mexico and the Dominican Republic
Zerza
Moroccan food, featuring tagines, kebabs, and kefta.
New Vendors
Don Ceviche
Peruvian ceviche bar with other regional specialties.
Essex Shambles
Whole animal butcher focused on reducing food waste.
Flower Power
East Village–based shop for dried herbs, flowers, and roots, along with extracts and powders.
Heroes and Villains
Sandwich shop inspired by lunch counters and bodegas.
Josephine's Feast
All-natural small-batch preserves, salts, spice blends, and cakes from upstate New York.
Lower East Side Ice Cream Factory
Ice cream shop with flavors inspired by Asian cuisines.
Mille Nonne
Italian comfort food with a focus on plant based offerings.
Nordic Preserves
Scandinavian appetizing counter with preserved fish and pantry staples.
Riverdel
Vegan grocer with house made cheese, sandwiches, and oat milk drinks.
Saffron
Brooklyn-based floral boutique with made-to-order arrangements highlighting unique and unusual plants.
Sugar Sweet Sunshine
Neighborhood bakery outpost serving cakes, puddings, and cupcakes.
Top Hops Beer
Local craft beer shop's satellite bar, with to-go cans, bottles, and growlers.
Valley Shepherd Creamery
Cheese shop featuring sheep dairy products from their farm in New Jersey.