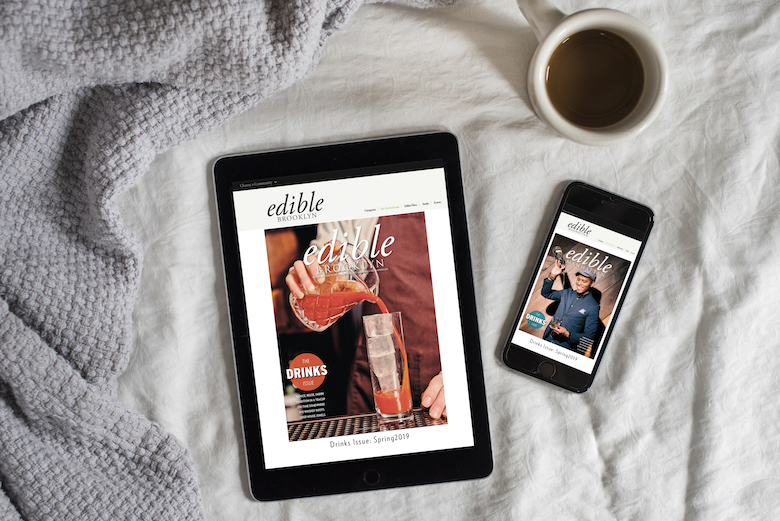 We know it: When most people think of Edible, they think of our print magazines. And why wouldn't you? They're how we started well over a decade ago and we'll be the first to say that we think they're beautiful, rare objects.
But we want to meet you where you are, too, and we know that's mostly online.
So welcome to the latest iteration of our website, which we made just for you. Looking back at our most popular stories, newsletters, events and social posts, we've revamped our design to give you what you want.
Let's start with the homepage:
We cleaned up the header to spotlight one story at a time. We'll be changing this up throughout the week.

Scroll a little, and we're putting our current issue front and center. Here you can easily jump to our latest seasonal edition and find a hard copy near you. 

We'll also be featuring our weekly giveaways here, where you can score everything from new pots and pans to drinks for two at one of our favorite local bars. The best way to follow what we're giving away each week is subscribing to our newsletter. We also drop the news and some special one-offs on our Facebook, Twitter and Instagram.
Next, see our picks for events happening each week. If you're familiar with our calendars then you know that during any given week in this city, you can count on us to find out where you can learn how to do everything from making yogurt to starting your apartment garden from seed.
Now for our new menu bar:
These updates are only the beginning of our Web reset. You can subscribe to our newsletter to stay up to date and follow us on Facebook, Twitter and Instagram.
And we want to hear from you, too. Got a question, story or idea you'd like us to consider? Feedback on the new site? Write to us at: submissions@ediblemanhattan.com.
We're watching, reading and listening—and we can't wait for you to see what's next.