Whether you can blind-taste a Bordeaux from a Burgundy or can only differentiate wines by their color, you may never want to leave the cozy confines of Corkbuzz Wine Studio. Opened by Laura Maniec two years ago as a place to drink, eat and learn about wine, Corkbuzz, just south of Union Square, has grown to be a go-to destination for oenophiles and their grape-loving cohorts.
Maniec is probably best known as the world's youngest female master sommelier, but the BR Guest veteran has also been called the "It Girl" of the New York wine scene by the Wall Street Journal and was named to Crain's New York Business "40 Under 40" and Food & Wine's 2013 "Sommeliers of the Year." But don't expect any attitude to match her outsize accomplishments. Maniec is as bubbly and easy to be with as a glass of Lambrusco on a hot summer night.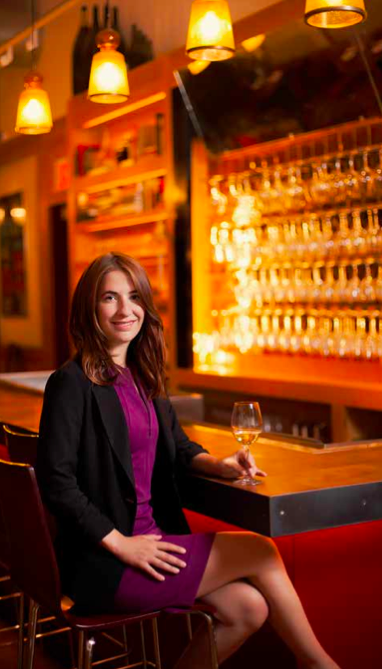 Her goal was to offer wine education that was down to earth, in that "hey, come have a drink with me" kind of way. Classes, taught by Maniec herself or other top-tier industry professionals, include everything from "Wine Basics" to "A Tour of Napa" to "An In-Depth Guide to Piedmont and Tuscany" and even a "Pizza Party Wine Tasting." That's my kinda school.
"My intention with Corkbuzz was to create a community center of sorts, where some people would come to eat and drink, some would come to learn, some would come for a communal dinner and others would join for a party hosted by a winemaker," she said. "I want everyone to feel welcome." Her formula has worked so well she will repeat it with a second Corkbuzz set to open somewhere in Manhattan this spring.
Her wine list includes nearly 250 bottles, and she encourages adventure every Friday and Monday night, where from 5 to 6 p.m., a flight of reds or whites to blind taste is just $15. And the setting could not be lovelier: The lofty space, designed by Chris Sheffield of SL Design with lots of light oak and burnished copper, evokes an enviable TriBeCa living room.
But for Maniec, the most important part of Corkbuzz is its sense of community. She was intent on opening a place that would be inclusive and encourage mingling as much as imbibing. Her monthly Cassoulet Sundays at the communal table offer a family-style meal to share with friends old and new. She also hosts communal dinners on Thanksgiving and Christmas Eve, and held a fancy dress Belle Époque bash for New Year's Eve.
"The great thing about these communal dinners is that when you look at the table, you'd never know who came alone."
The food is no afterthought. Chef Phil Conlon, a veteran of Swine, favors big, bold flavors painted on seasonal local ingredients: crispy pork belly with sweet chile glaze and cabbage slaw; saffron pappardelle with lamb Bolognese and tarragon; duck breast with black garlic and squash grits; and scallops with bacon-onion marmalade. Your kale-coveting pals won't go hungry either. Conlon may love animals, but he's partial to vegetarian dishes like Brussels sprouts with pecorino; baby beet crostini with walnut pesto and horseradish; and spicy carrot salad with rabe, squash and chickpeas with tamarind yogurt and pepitas.
Needless to say, the wine pairings are knockout. Clos Cibonne Tibouren rosé is rich enough to stand up to steak tartare, while a pinot noir from Burgundy is as silky as the duck breast it washes down. Maniec says the crispy pork belly with sweet chile glaze needs a wine with ample acidity but a little sweetness, too. So she pairs it with an off-dry Gamay/Plousard from one of the most obscure regions of France. Only partially fermented, it retains some sugar, which helps with the dish's spice and the sweetness, while the bubbles cut through that rich pork belly.
Chef Conlon, it should also be noted, is a kind of a god of brunch: poached eggs with ricotta and Swiss chard; short rib hash with sunny side eggs and jalapeño aioli; eggs Benedict with pork belly; lamb shakshuka with chickpeas, poached eggs and green harissa; and the ultimate hangover sandwich: eggs, guanciale, tomato, avocado and Sriracha. It works, believe me.
And in case you want a little bubbly with your Sunday brunch, Maniec, who worked a harvest in Champagne and is a huge fan of this sparkling wine, slashes the price of every bottle of Champagne in half.
You know they know wine, but how about bitters? Find a recipe for Corkbuzz bitters here.