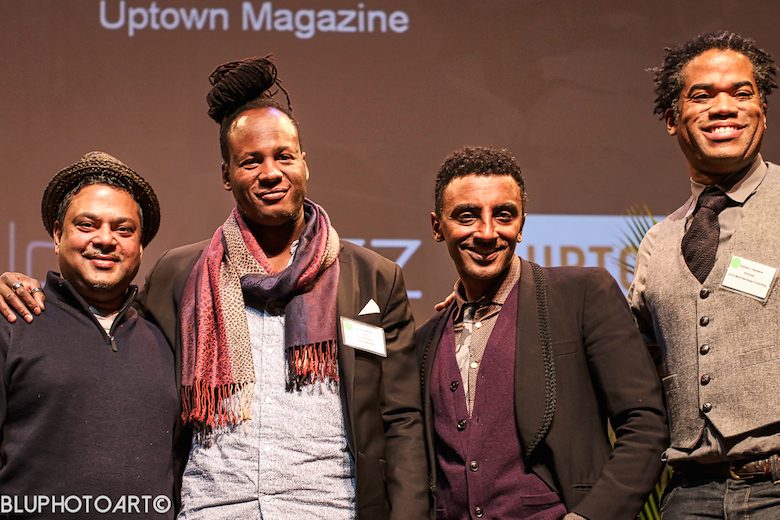 Thirty years ago, on the corner of 120th Street and Malcolm X Boulevard, composer and trombonist Craig Harris could hit three dope dealers with an under-handed throw.
Last time he was on that corner was not too long ago and this time, he had a latte in one hand and was considering buying a chocolate apricot to fill the other. Times have changed in Harlem. There's a dedicated and fiercely passionate crew of business owners that are hell-bent on making the neighborhood a destination for tourists and especially New Yorkers from other boroughs.
An organization that has taken up this task is Harlem Park to Park. Founded in 2009 by just a handful of local businesses with the idea of putting cooperation before competition, the group is now 83 businesses strong.
On February 17th, Harlem Park to Park held its third annual Hospitality and Culinary Conference to discuss their progress and what steps should be next in elevating Harlem to meet and exceed the glory it saw in the height of the Harlem Renaissance in the 1920s.
"What does the 21st century version of the Harlem renaissance look like?" asked Beatrice Sibbles, a founding board member of Harlem Park to Park and managing partner at BOS Development.
The conference started with a panel on "Harlem Renaissance: Then" — a frank discussion of the successes and failures of previous generations to hold onto both real estate and the soul of the community between 110th and 135th, from river to river. According to City Council member Inez Dickens, in decades past, "The art of our history was not presented in any way that welcomed the world."
So, as discussed in subsequent panels, the mission now is to make an environment that is welcoming without watering Harlem down. Sibbles threw down the gauntlet for Harlem Park to Park to make Harlem into what she called  a "heritage space" — calling up examples like New Orleans and Havana. After discussing the past, the conference turned to the present and future or Harlem's culinary and hospitality businesses.
What is hospitality in Harlem like now?
Harlem's comeback in the last ten years has been largely (and debatably) due to the restaurant and food scene, which has lauded some serious acclaim. The work of organizations like the Harlem Congregations for Community Improvement (honored as Community Builder of the year by Harlem Park to Park) have helped to keep affordable housing alive in Harlem. Accessible real estate has welcomed waves of immigrant populations over the years and as the neighborhoods have evolved, restaurants have sprung up and flourished. The calibre of the restaurants and bars have brought young professionals to the neighborhood and the new residents and businesses feed each other in a symbiotic cycle, redeveloping some areas.Leon Ellis — owner of Emily's Restaurant and Bar, Chocolat Restaurant Lounge and Moca Lounge — is one such example. "When we opened Emily's, you couldn't get a yellow cab in Harlem, it just wouldn't stop. That may seem insignificant, [but] it's not —  it's a major psychological shift," said Ellis.A pioneering restaurateur in Harlem, Ellis opened Emily's in 1992. When opening his third restaurant Chocolat Restaurant Lounge in 2011, Ellis was told "There's no way that a restaurant that seats over 140 people can survive in Harlem." Four years later, Chocolat is still open and Ellis was awarded the Legend Award from Harlem Park to Park.
Frederick Douglas Boulevard is the "gate" of Harlem. Sivan Baron Ouedraogo, owner of The Shrine World Music Venue, Yatenga French Bistro and Silvana — an Israeli cafe, boutique and restaurant at the corner of Frederick Douglas Boulevard and 116th Street — said that the restaurant corridor on Frederick Douglas between 115th Street and 120th Street is the welcome center that Harlem has always needed. This neighborhood has seen a rush of residential development in the last decade as the corner restaurants, coffee shops and retailers gain notoriety and traffic. It offers an easy entry point for New Yorkers from downtown to experience Harlem in an approachable and unintimidating way. She hopes that New Yorkers who enjoy a meal on Frederick Douglas will eventually make their way uptown and keep exploring.
For black men, cooking is a good gig, but a hard road. Restauranteurs in Harlem are focused on promoting black chefs in a tough city. There are certainly names to throw around when discussing seriously accomplished African American chefs — Patrick Clarke, Banks White and Marcus Samuelsson (who was an event panelist) just to name a few. But Samuelsson, rising star Joseph "JJ" Johnson and master bartender Charles Hardick all agreed that rising to the level of industry recognition is simply more difficult as a black man since both customers and chefs seem surprised when you show up with talent and skill. Johnson, who became a James Beard Foundation semifinalist for "rising star of the year" just hours before the conference, said that he and chef Banks White, when they worked together at another popular Harlem haunt Corner Social, used to say that every ten years, there is a black chef that people talk about.
Harlem offers the opportunity to revive the concept of the African diaspora its food. "Nobody was ever saying that American cooking comes from Africa. The food that I cook today is diaspora cooking. The French used to tell me that the guinea hen was their bird… The guinea hen comes from Guinea," said Johnson, who took a trip to Ghana in 2011 at the invitation of The Cecil head chef Alexander Smalls. Many of the restaurant concepts thriving in Harlem have a nod to West African cuisine in addition to, and sometimes concurrently, with the soul food one might expect.
What's the future of Harlem's hospitality industry?
Ownership is a serious concern if any culture-building efforts are going to last. "If we don't lockdown available real estate, this conversation is going to be m-o-o-t." said Beatrice SIbblies, managing partner at BOS Development, a local real estate developer. As new money comes into Harlem, businesses, developers and restaurateurs are certainly looking to take advantage, but they worry that the traditional flavor of the area could be fleeting if ownership is overwhelmingly granted to the highest bidder. And beyond individual restaurants, three new mixed-use developments are slated to arrive on 125th Street in the next few years, which is a boon and a worry to the stalwart businesses and organizations who think of 125th as the heart of Harlem. "125th Street is going to look completely different, but will it look like us?" said Sade Lythcott, chief executive office of the National Black Theatre, which is on the corner of 125th Street and Fifth Avenue.
Development and growth should not be allowed to price-out the community that has been here for decades. Lythcott, who has lived in Harlem for 37 years, said that she is concerned about getting priced out of the restaurants that are opening to great celebration around the block."We're in a very powerful place in our history, but it's also a precarious place," said Lythcott.
Social justice takes sacrifice, but it doesn't have to be all or nothing. Panelists seemed both frustrated and a little overwhelmed by effecting change from their positions for black men in the culinary world. Johnson suggested, perhaps half facetiously, a city-wide sickout to demonstrate how "black lives matter" to New York City. But while still working, all the chefs agreed on the importance of mentoring. "I dont think you can be a chef without thinking about mentoring," said Samuelsson. Many of the panelists support the Careers through Culinary Arts Program, which provides scholarships and internship placements for underserved youth. But the consensus was that individual hiring practices is a simple and important way to effect change. Johnson said, "If you're in a position to hire somebody who's been formerly incarcerated — do it. Give them a chance."
At the end of the day, the conference posed more questions than answers: What will Harlem look like in 5 years? Who will own it? How can the community maintain control of the authentic culture in Harlem while doing what is best for business? What responsibility do business leaders have to the families living in Harlem for more than 50 years?
The conversations and panels were spirited with the audience chomping at the bit for question time. All were excited about this moment in time for Harlem. But simultaneously and in equal measure, interested parties seem concerned about the future of their neighborhood. When hundreds of people are building the same house, it's hard to know what the result will look like.