On a warm September night in Bushwick, over 400 cake enthusiasts waited in line to indulge in wine, dessert and Parlor Coffee on a rooftop deck.
Who would dedicate their night to confections? People who know, that's who! These are no ordinary cakes. These instagram-bakers cultivated a group of captivated devotees of their abstract sculptural creations. Piled high with impressively light whipped frostings, orbs of cream cheese buttercream balancing delicately along the sides, intricately placed strands of fresh herbs shooting up from the top; these cakes come with a cult following.
It's no surprise that the food scene is changing; bakers come to the table with crafted, easily identifiable aesthetics. These bakers act as subversive artists, challenging the ideas of traditional cake decorating. Gone are the days of simply picking up a grocery store sheet cake —why settle for the simple and mainstream when you can feast on a cake as unique and creative as you? They symbolize more than just confection and sugar; people show up for these cakes, uniting to celebrate an art form growing in real time. An art form made to be devoured.
Excitement filled the air as the crowd trickled into Cherry on Top; fans dutifully peeking at each baker's display. Would they tempt fate, entering Amy Yip's (Yip Studio) giveaway for a bright blue, mossy Oolong Rose Lychee cake? Luxuriate in Julie Saha's (foodbebo) mini lemon cakes, with fig jam and both lemon and rose buttercream? Indulge in Lulu Prat's (Bodega Cakes) immaculately stacked double chocolate cake slices? Or, treat oneself to Aimee France's (yungkombucha420) chocolate pumpkin marble cake, blanketed with a ginger turmeric buttercream?
Better yet, one of each.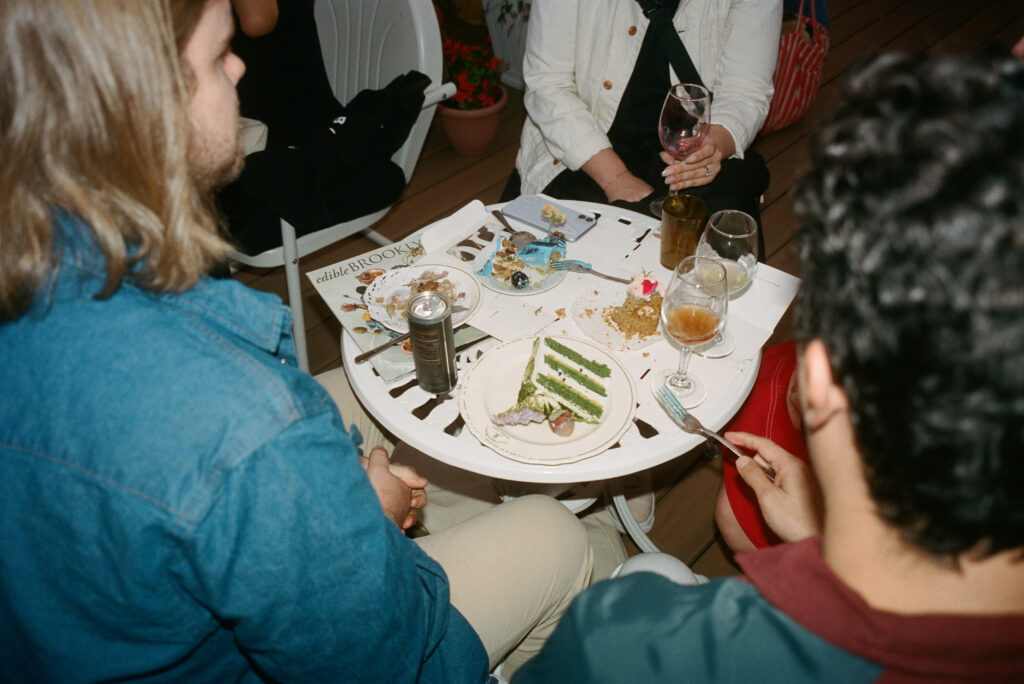 Throughout the evening, Brooklyn's sweet scene gathered; sipping on cans of Parlor Coffee's chocolatey cold brew; clinking glasses of vino, splitting chaotic cakes they've thirsted over on social media; 'gramming snaps of Graza Olive Oil bottles to win the Graza giveaway; and getting first looks at our fall issue of Edible Brooklyn featuring our first DEVOUR story: "Cake's Chaotic New Frontier", the inspiration for our deliciously fun pop up event celebrating the comeback of dessert.
Make sure you subscribe to our Newsletter, and follow us on TikTok and Instagram, to keep up to date with all our incredible events.
Parker Hao captured the entire night on film.