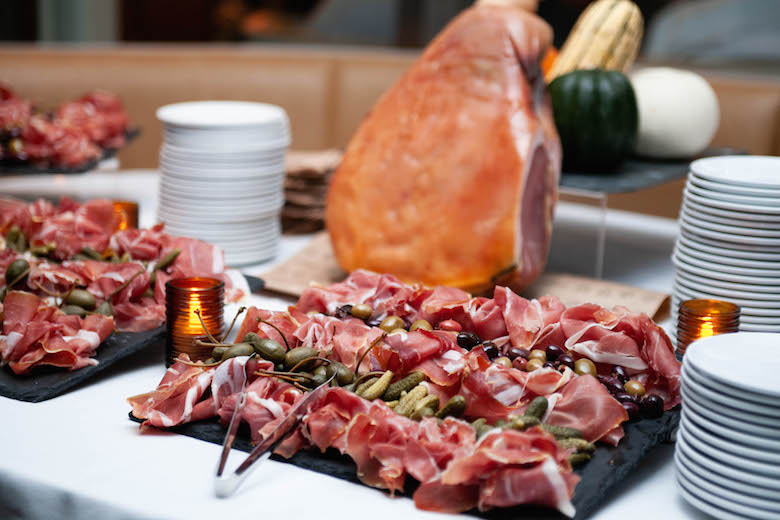 On Tuesday, October 15, over 100 fashionable guests showed up as Bayonne Ham arrived to Manhattan's financial district for a lovely event at Beaubourg at Le District, downtown's French food mecca at Brookfield Place.
One of Europe's most acclaimed hams, and the first French food product to be awarded the Protected Geographical Indication (PGI) in 1998, Bayonne Ham has been served at the tables of historical figures such as King Henri IV and French author Rabelais.
Event guests enjoyed Bayonne Ham while sipping cocktails and tastings made with bottles from Long Island Spirits, beer and canned cocktails from Brooklyn's Interboro Spirits & Ales, and organic Greek wines from 1427 Wines. The Bayonne Ham itself appeared on extensive charcuterie boards, studded with cornichons and plump caperberries for a balance of acidity and crunch to pair with the salty deliciousness of the ham slices. The hors d'oeuvres—Jambon De Bayonne, Asparagus, Gruyere; Crostini, Comet, Jambon De Bayonne, Raw Honey; Warm Ratatouille & Goat Cheese Tart; Jambon De Bayonne & Avocado Toast, Micro Arugula; Croque Monsieur, Jambon De Bayonne, Gruyere, Béchamel; Melon & Jambon De Bayonne skewers, Aged Balsamic—were all specifically developed to pair with the distinct beverages, showing off the diversity of the ham, which can be enjoyed by cocktail, beer, and wine lovers alike.
The event itself passed much more quickly than Bayonne Ham's own production process as guests ate and drank to their heart's content, mingling with copies of the latest issue of Edible Manhattan in hand to take home. Each ham takes between nine and 12 months to make, with its PGI status ensuring the pigs were born and bred in Southwest France and that all subsequent curing took place within the Adour river basin.
Take a closer look at Bayonne Ham's event at Le District in the photos shot by Lane Weaver below.