With the news last month that all fully vaccinated travelers arriving in France no longer need to show a negative COVID test upon entry, traveling to France is easier today than it has been at any other point in the last two years. Vive la liberté!
Still, for those of us not quite ready to board a flight just yet, there are ways to savor the best of France right here: its food.
And inherent in that food, and in French cuisine as a whole, are so many of the values and traditions that France, as a nation, holds dear. Nowhere is this more apparent than in the case study of Jambon de Bayonne (Bayonne Ham), which offers eaters everything from a history lesson to an epicurean journey.
"Having been a chef for over 20 years, I have become more than familiar with Jambon de Bayonne," says Guillaume Thivet, chef de cuisine at La Grande Boucherie in New York City. "Its flavor profile paints a picture of a curing process in use for over 1,000 years and the pride of the Basque region, a place I've yet to visit, but can imagine through the flavor profiles of this ham what a culinary mecca it must be."
This is, of course, what great food does: it meets the tongue and ignites the imagination, telling complete and compelling stories about the place and people from which it comes. Here are just a few of the things Bayonne Ham shows and tells us about France and the people who call it home.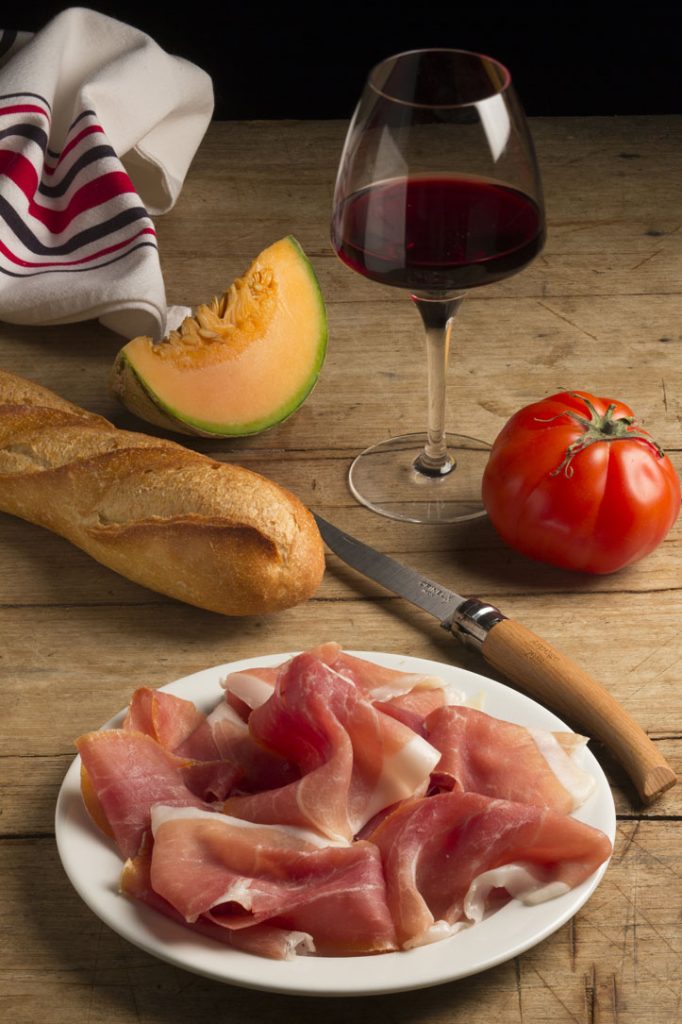 In France, The Past Is Always Present
France is a nation that values its history and actually does the work of preserving it. Nowhere is this more apparent than in the more than 1,000-year-old production process behind Bayonne Ham. While producers the world over have spent the past several centuries, and especially the past several decades, working to figure out how to accelerate processes both culinary and not, the makers of Bayonne Ham have clung to their historical roots. As a result, the Bayonne Ham of today is identical to the Bayonne Ham of old. This consistency and superior level of care earned Bayonne Ham a PGI certification in 1998—a point of pride to the people behind it, and to everyone who calls the Adour Basin home.
In France, Tradition Trumps Trends
In many corners of this country, fast fashion and fast food reign supreme. Not so in France. There, so many of the world's best couture houses meet so many of the world's best agricultural products, where they are married forever not only in terms of nationality but in their shared commitment to doing things right—however painstaking and time-consuming that may be. For Bayonne Ham, the production process spans seven steps, with the drying process alone requiring upwards of nine months.
This refusal to cut corners results in a truly superior product, with Bayonne Ham internationally renowned for its unparalleled flavor and ability to elevate every dish it touches. "Boucherie, with its attention to seasonal change and traditional dishes, now includes Jambon de Bayonne in its newest menu addition: Cassoulet de Toulouse," says chef Thivet. "[It is] a rich, traditional winter dish showcasing French sausages, pork belly, pancetta, and Jambon de Bayonne [that is] sure to leave you satisfied."
In France, The Pursuit of Pleasure Is Paramount
But just as important, in France, as historical pride and the work of production is this, which may seem foreign to many Americans: the appreciation of pleasure for pleasure's sake alone. This pleasure is, after all, the raison d'etre for the work and weight behind products like Bayonne Ham. So the next time you're looking for something to savor or celebrate, pour yourself a glass of something French and break out your favorite board for an at-home, French-inspired date night.
"A loaded charcuterie board is a thing of beauty," says Thivet. "Assorted sensual, sweet and salty flavors, encouraged sharing, adventurous eating… What more do you need to encourage romance?"
For that, nothing beats a real or imagined trip to France.
Photos courtesy of Bayonne Ham