At 5 o'clock on December 7, the Beaujolais wine of region of France effected a friendly takeover of New York City when it launched Beaujolais Market, an event that united 17 vintages from the region's 12 appellations in one epic tasting at Essex Market. On the Market's mezzanine level overlooking the bustling food hall, visitors were treated to hard-to-find Beaujolais wines (including whites and rosés), all thoughtfully paired with globe-trotting dishes supplied by Essex Market vendors. The foods served at the event exemplified the diversity of New York City's food scene, and the event showed that the wines of Beaujolais are perfect for how New Yorkers live, eat and drink today. Music played, visitors mingled, and many New Yorkers had their first experience of Beaujonomie, that mysterious but happy thing that happens when people gather to enjoy the party-friendly wines of Beaujolais.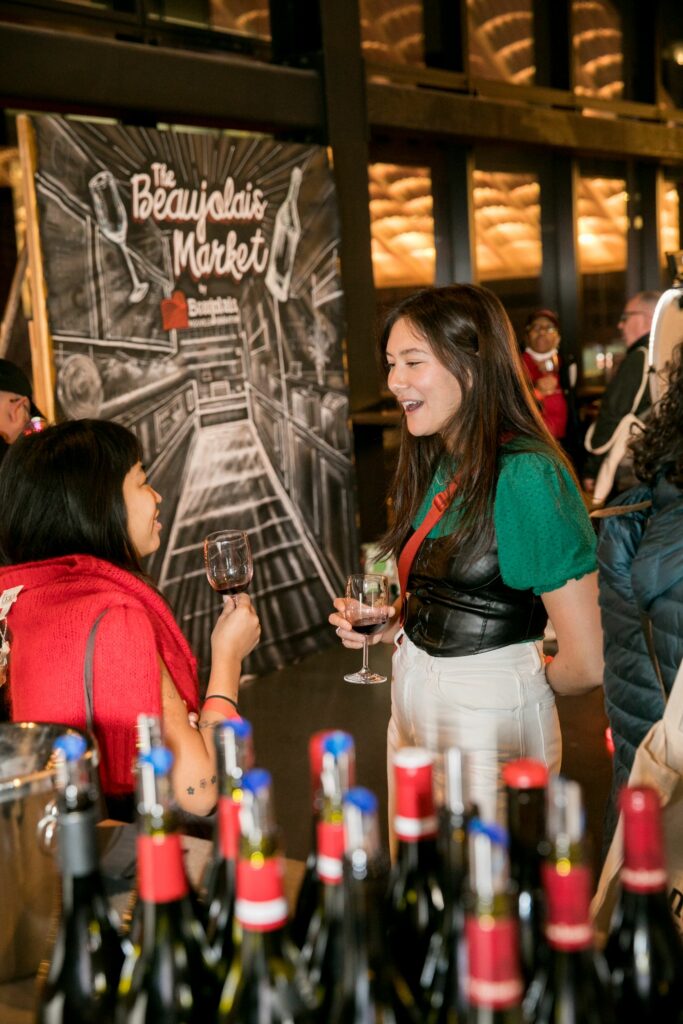 To start, delicate ceviches from Don Ceviche were paired with Domaine Dupeuble Beaujolais Blanc 2021, Jean-Paul Brun Domaine des Terres Dorées Beaujolais Blanc 2021, and Domaine Dupeuble Beaujolais Rosé 2021. Visitors could experience how these unusual white and rosé wines from Beaujolais each spun the dish in a different direction. The citrusy Jean-Paul Brun Domaine des Terres Dorées Beaujolais Blanc 2021, a Chardonnay, was a perfect complement, while the floral and fruit notes of Domaine Dupeuble Beaujolais Rosé 2021 (made with Gamay grapes) made for a lovely contrast.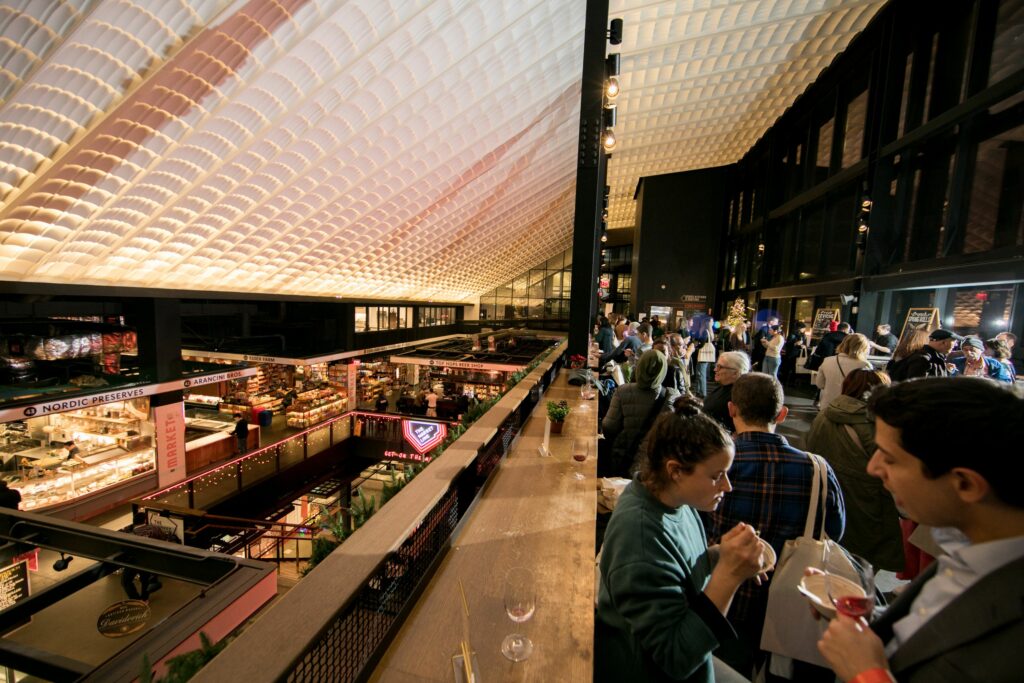 Moving toward warmer and richer flavors, four Beaujolais and Beaujolais Villages vintages were paired with crispy vegetable spring rolls from Eat Gai. Domaine Chasselay Beaujolais Is Not Dead 2020, Jean-Paul Brun Domaine des Terres Dorees Beaujolais L'Ancien Vieilles Vignes 2020, Jean-Marc Burgaud Beaujolais-Villages Vignes de Lantignie 2020, and Dominique Piron Beaujolais-Villages 2019 together demonstrated what classic Beaujolais wines do: they're the easy-drinking, all-pairing wines that everyone loves. The same is true of crispy spring rolls!
Aromatic Crus were the star of the third pairing station where Berliner style, chicken and vegetable doner kebabs were provided by Kotti Kebabs. The wines chosen for this pairing demonstrated that Beaujolais wines are strong partners to the big flavors of harissa and garlicky, tangy yogurt sauce. The wines showcased in this pairing were Duboeuf Fleurie Domaine des Quatre Vents 2020, Chateau de Javernand Chiroubles Indigene 2020, Domaine Julien Sunier Régnié 2021, Stephane Aviron Chenas Vieilles Vignes 2019, and Chateau de la Chaize Brouilly 2019. Experts in the wines from this region circulated to answer questions and guide visitors toward which wines might appeal to their particular palates.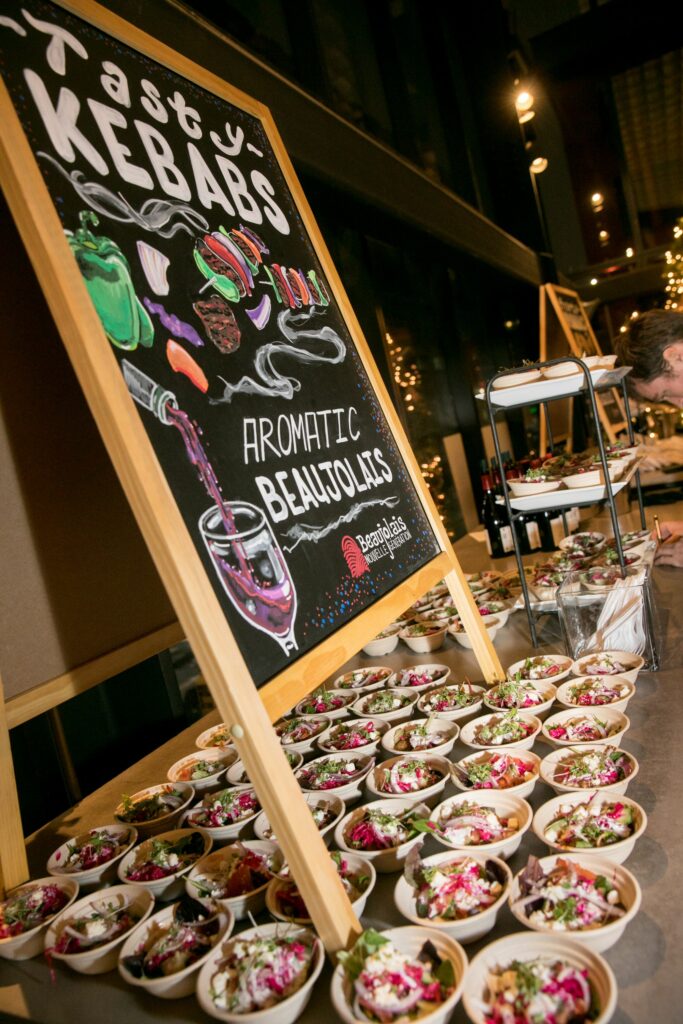 Five big, expressive Cru Beaujolais wines were the stars of the fourth pairing station, where soulful, richly flavored empanadas by Dominican Cravings were served. The warm, spiced pastries were served alongside Domaine Les Roches Bleues La Baraquée Cote de Brouilly 2021, Domaine de la Pirolette Saint Amour 2019, Domaine Michel Chignard Julienas Beauvernay 2019, Domaine des Marrans Morgon Corcelette 2019, and Chateau des Jacques Moulin-a-Vent 2017. This selection of wines—some aged—showed that many Beaujolais wines have enough depth and expressivity to stand up to rich, complex flavors.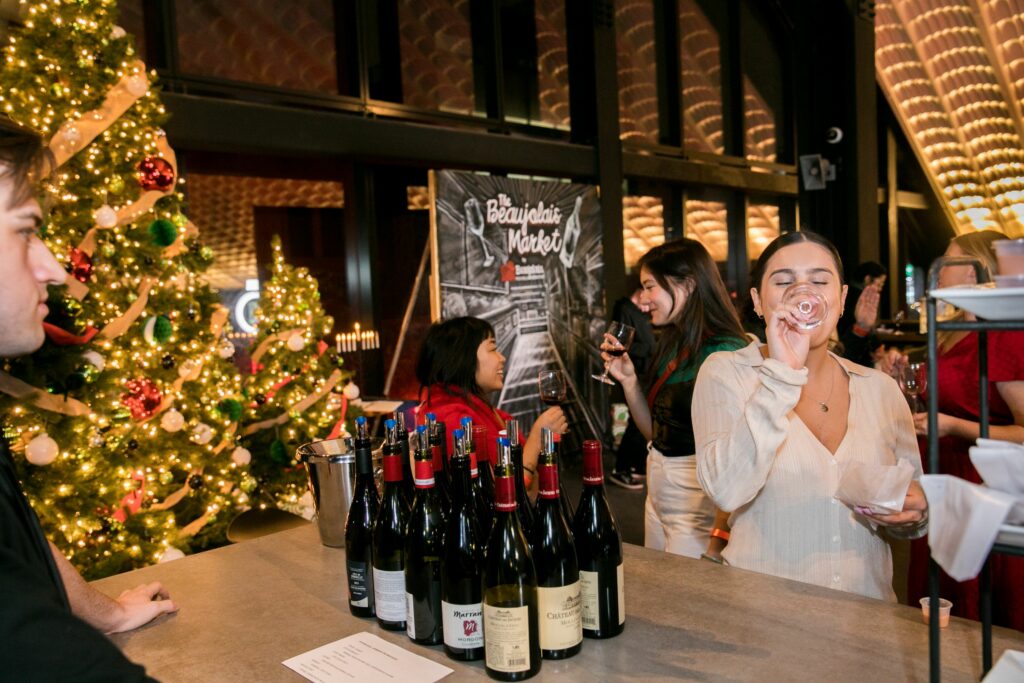 While many New Yorkers believe that they know the wines of Beaujolais, it's likely that they know one Beaujolais wine: the Nouveau. To counter this limited perception of a wildly diverse winemaking region, Beaujolais Market set about introducing New Yorkers to aged Beaujolais wines, white Beaujolais wines, rosé Beaujolais wines, light Beaujolais wines, and intense Beaujolais wines, all served together in one epic tasting event. The result is the Beaujolais Market showed that the vineyards operating in the 12 appellations of Beaujolais are producing wines as complex, as interesting—and as diverse—as New York City itself.
RELATED: Beaujolais, the Holiday Wine
Photos by Lydia Lee Photo
@lydialeephoto