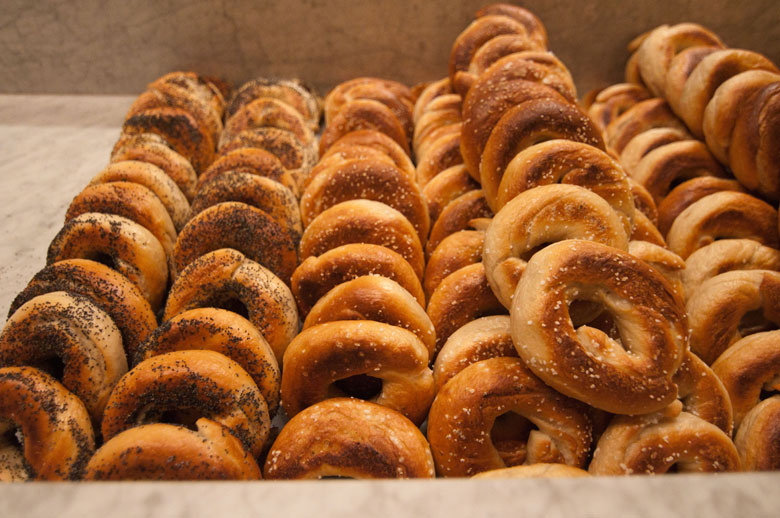 All-nighters are primarily associated with high school exams and college procrastination, but sometimes in modern, adult life, they're necessary. Especially when 600 bagels need to get out the door at 5 a.m.
Enter the vampire shift at Black Seed, the bagel project from Mile End's Noah Bernamoff and The Smile's Matt Kliegman. Their hand-rolled bagels, first boiled then baked in a wood-fired oven, were so popular the first week, folks waited in a line long enough to warrant cronut comparisons. Since then, the team has smoothed out production, adding on an outpost at Hudson Eats, and are aiming to expand their hours (right now, they're only open until 4 p.m.).
We dropped by just at the beginning of the vampire shift, when head baker Dianna Daoheung and her crew were getting the oven up to temperature and rolling the very first batches of bagels. It was the start of a seven hour shift. "Sometimes two or three hours will go by and we won't say anything to each other because we're just zoning out," Daoheung says. "I'll just put TLC on and keep singing to stay awake."
10:15 p.m.
Dianna works on hand-rolling the first batch of bagels, while Rob Rohl gets the oven up to temperature.
10:18 p.m.
To get the oven up to 450 degrees, Rohl starts the wood on one side of the oven at the starter flame, before moving the wood to the left.
10:25 p.m.
The first batch of 24 bagels is rolled within a half-hour — 576 to go.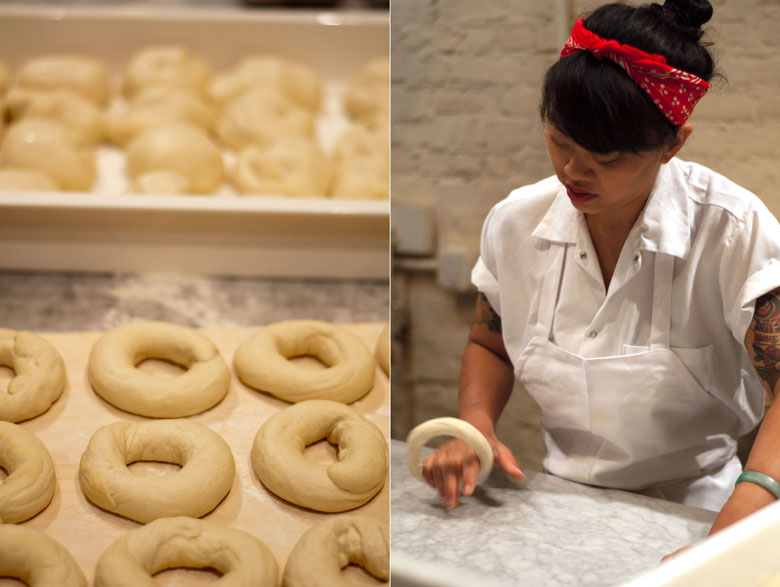 10:58 p.m.
Bagels are first boiled in honey water before seasoning and baking. "We like to say they look like giant Cheerios," Rohl says.
11:00 p.m.-midnight
Post-boiling, bagels are sprinkled with toppings, placed on wooden slate, and baked.
12:51 a.m.
Bagels are turned three times in the oven; each batch takes approximately 15 minutes to finish.
12:58 a.m.
Bagels get tossed into the bagel shoot. Gradually, the shoot fills up.
1:14 a.m.
Meanwhile, there are many more boxes of unrolled dough to go through.
1:23 a.m.
One of the last batches before the shoot fills up; once the bagels are cooled, the team starts packing them up to transport downtown, typically at 3 or 4 a.m.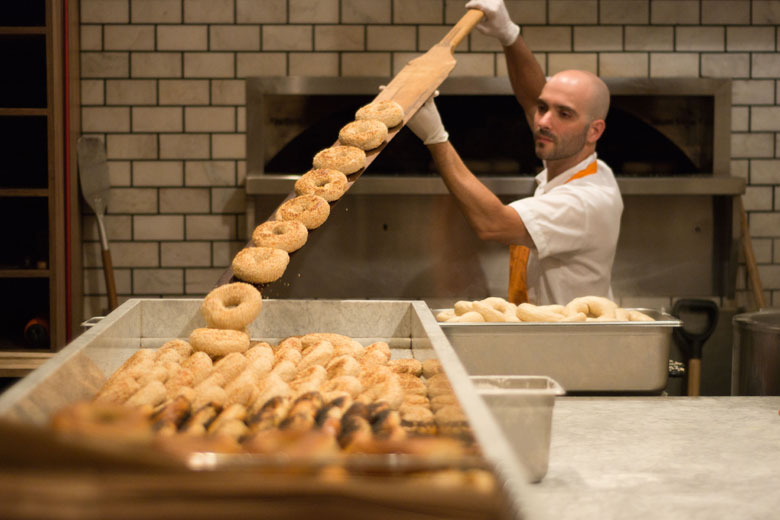 1:30 a.m.
The shoot is completely full (12 batches have been baked at this point, some 288 bagels).