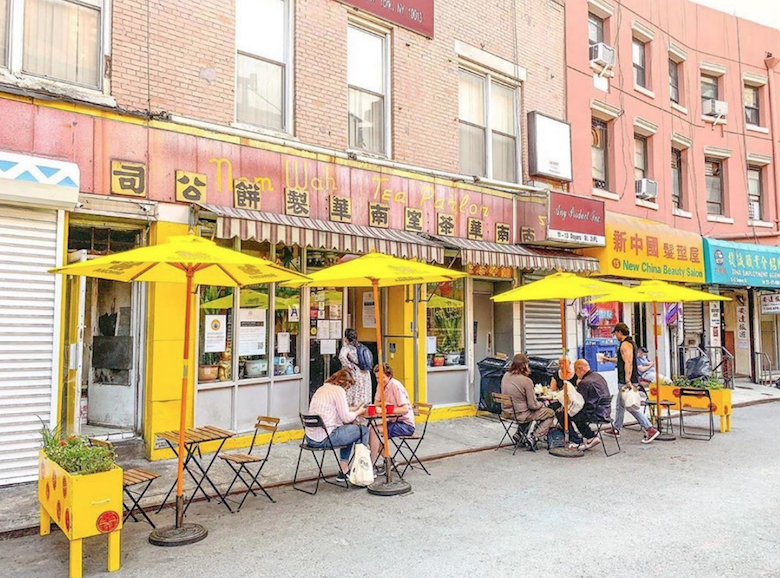 Dim sum may conjure the image of a congested dining room—just what we're all aiming to avoid right now—but that's precisely not what you'll be getting at Nom Wah Tea Parlor right now. This historic restaurant, which opened on Doyers Street, in Chinatown, in 1920, is not all rolling carts and bustling crowds in 2020. Instead, they're invoking a Springsteen song that I just can't get out of my head. When I'm out in the street. Oh oh oh oh oh. That's right. Nom Wah has taken the party outside.
I like the idea of dumplings any which way, and Nom Wah has no shortage of those. Pan fried chicken and cabbage. House special pan-fried. Shrimp and chive. There are pork dumplings, mixed dumplings, soup dumplings, and things that are not dumplings, like rice rolls, and fried crab claws, and shrimp balls, and scallion pancakes, all of which bring immeasurable joy. And then there are buns, a category unto themselves.
If you live in either Manhattan or Brooklyn, you can eat on the streets and then retreat to your home and order more dumplings in a leisurely, feet-up kind of way. These days, Nom Wah is also selling 1.5-pound bags of frozen dumplings to locals close enough to experience the magic of urban delivery. Bags include dumplings, naturally, as well as instructions for how best to prepare them. Homemade sauces are included.
https://www.instagram.com/p/CCKCCvmH6bB/
The restaurant is also a well-oiled machine when it comes to takeout. On Toast, you can order everything your dumpling-craving heart desires, from steaming hot soup dumplings to shrimp and snow pea leaf dumplings to boiled edamame dumplings. You can even order a spiked watermelon lemonade, which gains its steam from the alcoholic punch proffered by Soto Junmai Saké.
But if you're feeling nostalgic for dim sum as it used to be—a casual meal enjoyed casually, without pretense—it's off to the streets for you. I can't say for sure when dim sum will be what it once was, in loud and crowded rooms where it was hard to move without hitting another human being, but this brave new world is all about embracing change, after all. Take your love for dim sum out on the New York City streets this summer and dig in on Doyers. It's a piece of New York's long culinary history.