It all started with hummus.
When Manal Kahi moved to New York from Beirut for graduate school in 2013, there were two things that took her by surprise: one, how popular hummus was among Americans, and two, how disappointing American hummus was.
"Most, if not all, of the brands I saw at grocery stores were not necessarily…" Kahi delicately changes course, "let's say, not even close to what my standards dictated." A lightbulb went on. She saw an untapped market for better hummus in New York City, maybe even in the entire United States.
Meanwhile, the international refugee crisis was building back in Lebanon, where an influx of Syrian refugees was rapidly expanding the country's population. Today, Lebanon has the highest proportion of refugees per capita of any country in the world. Manal's background is in international environmental affairs, not food or human rights, but her brother Wissam Kahi has a business background. That (plus Manal's hummus idea) was all the siblings needed to start addressing the refugee problem.
They went beyond hummus almost immediately. The start of Eat Offbeat, which the Kahi siblings launched in 2015, was building a catering company staffed by refugees resettled in the U.S. They brought on Chef Juan Suarez de Lezo, a cook and culinary consultant with a Michelin-starred resumé, as their chief culinary officer.
Flash forward to spring 2020. As the pandemic settled over New York, circumstances were less than optimal for catering. So, like many food businesses, Eat Offbeat pivoted to keep their staff on the payroll. The quarantine turned out to be an excellent opportunity for meal subscription services. As folks were turning to Green Chef and Hungryroot, Eat Offbeat started offering fully prepared meals. Either vegan or not, their meals were from menus designed and executed by refugee chefs. Eat Offbeat customers would subscribe to a monthly box of between four and 12 meals, themed to explore a place, holiday, or foodstuff.
Partnered Up
For their switch to home delivery, the Kahis partnered with Adriana Urbina. A three-time "Chopped" winner; the mother-and-son team Claudia Sidoti and Christopher Weathered; and Harold Villarosa, the Filipino-born founder of The Insurgo Project, an entity that addresses local food insecurity. All designed boxes that celebrate the cuisines of their respective heritages for Eat Offbeat. The meal box program is now on hiatus, though, as the small team turns their attention to some newly viable opportunities. They're returning to the world of catering in partnership with Great Performances, a catering and hospitality company that now offers the Eat Offbeat team's talent and creations to its clients.
Their newest venture is even bigger: a storefront in the iconic Chelsea Market. Since their opening on World Refugee Day (June 20), they've been serving tourists, 9-to-5ers, and Chelsea locals the option to build their own bowl or salad from bases, mains, and sides of their diverse culinary team's design. The counter-serve restaurant serves what are essentially literal melting pots—a plate of food with elements of different cultures, like Senegalese jollof rice topped with Venezuelan caraotas negras and a serving of Sri Lankan katarica curry. In the grab-and-go section you'll find housemade drinks, desserts, and of course, hummus.
Cooking for a Cause
Unlike most commercial kitchens, theirs is largely non-hierarchical. Most of the cooks come to Eat Offbeat through the International Rescue Committee. This is a resettlement agency that helps refugees make the transition to life in a new country by, among other things, helping them to find employment. The countries of origin of Eat Offbeat's chefs are diverse: Afghanistan, Sri Lanka, Syria, Iraq, and Myanmar, just to name a few. And while some of Eat Offbeat's chefs have formal culinary training, Manal estimates that about 70% of them don't.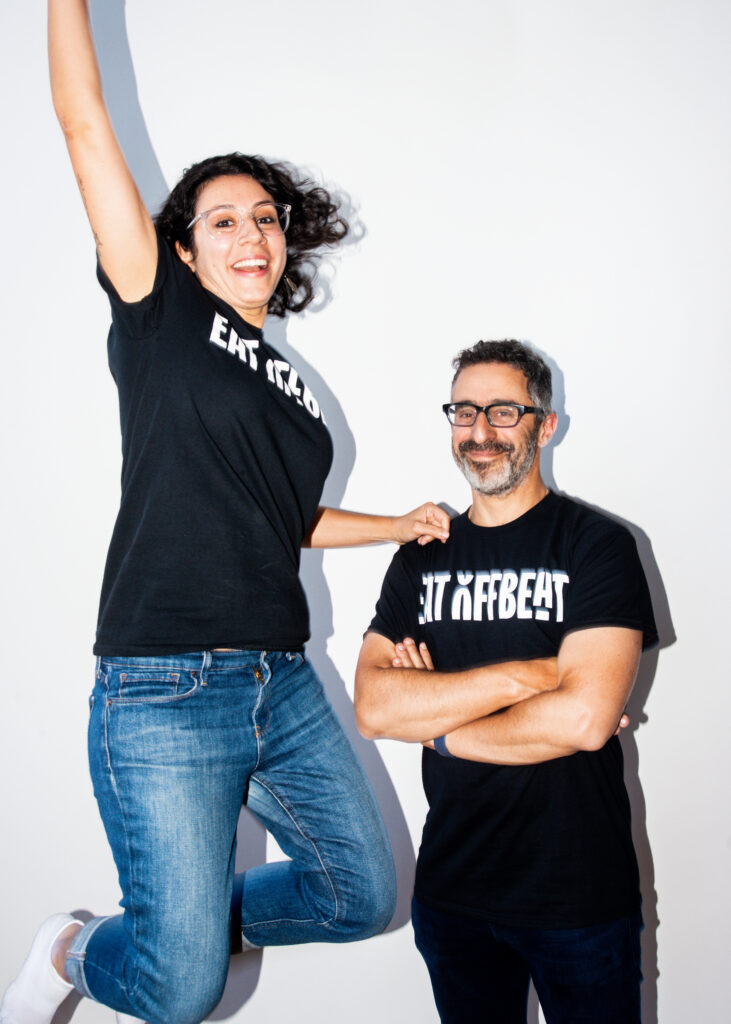 "We hire really talented home cooks," she says. "The only requirement for us to hire a chef is that the person has a passion for cooking. And the second thing we look for is the willingness to share your culture through food." She feels that the rest—knife skills, commercial hygiene standards, etc.—can be taught.
RELATED: Meet the Folx Making Farming a Safe Space for Queer and BIPOC People
Manal's background in international environmental concerns comes into play at Eat Offbeat. For instance, the company strives to minimize its plastic use. She describes Eat Offbeat's first priority as "human sustainability." By which she means providing their chefs with creative and fulfilling jobs that pay a living wage. But despite the humanitarian ethos, Kahi makes it very clear that the refugees they hire are partners and leaders, and not recipients of charity.
"It's a story where refugees are the chefs. They are the heroes, they are the ones helping New York discover something new, discover something different. To go off the beaten path," she says. "So we never really say that we are a company that helps refugees. That's not the way we see things."