Oh, I resisted it. I really tried, despite David Chang's ever-presence on my Instagram feed whipping up E-Z dishes using Momofuku noodle kits (with seasoning packets!) and his branded Soy Sauce, Chili Crunch, and Savory Seasoned Salt. But here's the thing: I am an idiot for everything chili crunch. My Laoganma container is as big as a jar of Hellman's, plus, I've slowly accumulated its rivals—Fly by Jing, S & B Chili Oil with Garlic. I've even tried to make it.
Look, I just had to have that Momofuku Chili Crunch.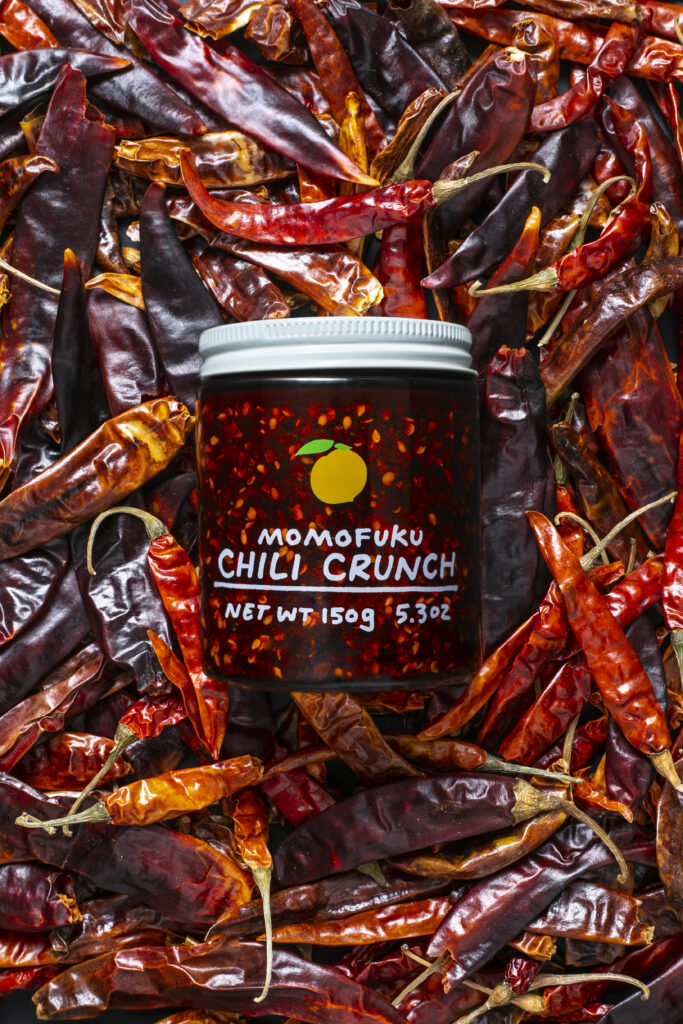 And there were periods of justification while my thumb hovered over Add to Cart. Like, my daughter loves noodles, maybe I should just buy the bundle pack for her? Also, I'd just written a story about MSG. In my head, I'm in a rabbit hole, going, 'Hey, doesn't Danny Bowein have a recipe for Mushroom Powder (powdered dashi kombu + powdered dried shiitakes) in the Mission Chinese Food Cookbook? Maybe I can do a taste test story that pits it against Momofuku Savory Seasoned Salt (yeast extract, kelp, tamari, seaweed and mushrooms)?'
But really, I just wanted that Momofuku Bundle Pack.
Then the price dropped from $76 to $65, and I took it as a sign. Down plunged my thumb, and I was instantly low-key embarrassed. I scolded myself, I am a serious cook who doesn't use convenience products! When it arrived, my husband opened the box (before I could snatch it and stow away its contents) and raised a judgey eyebrow. I went through all of my excuses, but he was buying none of it. I'd clearly weakened and bought the shiny thing that caught my eye.
Turns out, for instant noodles with seasoning packets (I repeat, this is not a thing we eat), the Momofuku Dried Noodles—Soy & Scallion, Spicy Soy and Tingly Chili Wavy Noodles—are pretty tasty, simply prepared according to the instructions on the back of the bag. Drop them in boiling water for 3 or 4 minutes, depending on the noodle variety, toss with seasoning, and eat. Thus prepared, these noodles certainly beat any box ramen that I've ever tasted—they're spicier, more opinionated, and not afraid of a bit of dankness. Also, the noodles have actual noodle texture, unlike that thready mush in a box of Top Ramen.
But real the charm of Momofuku noodles is not in back-of-the-box preparations. Instead, it's all about the opportunities that these packages present. I can see myself pulling the small pucks of ground beef or ground pork that are plastic-wrapped in my freezer, there because they were too small to make an appreciable burger or were left-over from something else. I'd mostly defrost one in the microwave, break it apart, and sauté the meat with Shaoxing wine, Sichuan pepper, and soy sauce, constantly chopping it with the flat end of my wooden spoon 'til the meat was dry and nearly crumbly. I'd pop this on my noodles with some chili crunch and spinach leaves that I'd blanched right in the noodle water. Voilá—a pretty serviceable bowl of drunk food, 10-minute Dan Dan Mian.
Once you're on this train, it's hard to get off. Soon, you will be boiling up jammy soy eggs and tossing together ginger-scal. Sure, Momofuku offers recipes on its website (and links to them via a QR codes on the noodle bags), but where is the fun in that? The best thing about these noodles is that they're a quick, blank—but very attractive—canvas.
RELATED: The Big Pivot: Tales of the New York City Dining Scene Now
That said, I still prefer my Laoganma.
Feature Photo courtesy of Momofuku Goods